Baby, baby, it's a wild world out there. Just ask the star-crossed crew of Team Vestas.
The Volvo Ocean Race has seen plenty of mishaps during its 40-year history: broken masts, hull de-laminations, sailors overboard - even a sunken boat when Spanish-entry Movistar went down in Atlantic in the 2005-2006 around the world race after its crew evacuated. But the race had never seen a fully-grounded boat, stuck on a reef in the middle of the ocean.
Somehow that happened to the Danish-entry Team Vestas when it hit a well-mapped reef called St Brandon about 250 miles northeast of the island of Mauritius in the Indian Ocean.
Veteran skipper Chris Nicholson said he was "upset with what happened" and how the 65-foot racing vessel ended up off course will be formally investigated.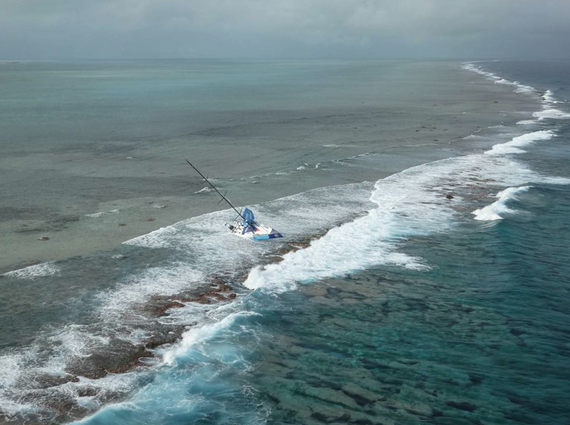 Nicholson said he and his crew "made mistakes which led to last night, but I have been simply blown away by the way the guys dealt with the situation."
Nicholson's boat was traveling about 19 knots, a little over 20 miles per hour, when it slammed into an area of shoals as it was heading north east through the Indian Ocean on the Volvo's Leg 2 from Cape Town to Abu Dhabi.
The incident happened at dusk and at first Nicholson and his nine-man crew planned to stay on the boat overnight for a morning rescue. But two hours before dawn, the boat began to break up on the reef. The crew couldn't wait any longer and abandoned ship.
"It was never, ever, my intention to get off the boat in the dark," Nicholson said.
Still, everyone made it off safely and the crew then spent two days on remote Ile du Sud, with Mauritius coast guard air-dropping food, drink - even chocolates. Nicholson described it as the worst night of his life followed by a night on tropical paradise.
Over the next two days, Team Vestas returned to the boat to remove crucial electronics and team equipment despite the dangers of sharks and barracudas.
Sponsor Vestas and race officials are now assessing if the boat can possibly be saved. As race director Knut Frostad said the site remains "in a very remote part of the planet. It's far away from ships, ports and services.
In all livelihood, Team Vestas will miss the start of Leg 3, which is scheduled to begin January 3 from Abu Dhabi heading to Sanya, China.