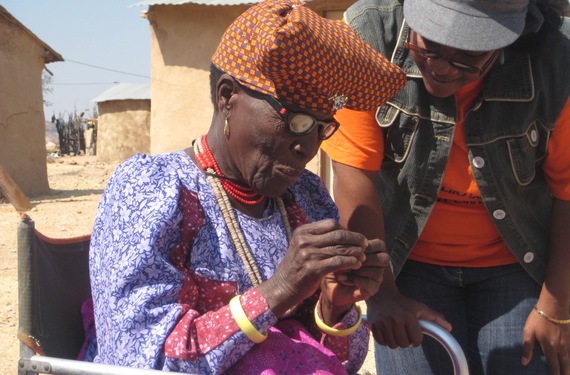 This is Lucresia Muharukua, 79, who has lived in Opuwo, Namibia, her entire life. For years, she was an avid seamstress but had to give it up due to failing eyesight. She has just been fitted with a pair of FocusSpecs adjustable focus glasses and is threading her own needle for the first time in years. "I can sew again!" She shouts, for all the world to hear.
Helen Keller once said, "To be blind is bad, but worse is to have eyes and not see."
To see clearly, something most of the world takes for granted, is an out-of-reach luxury for most of the estimated 2.4 billion people around the world who are sight challenged, and have no access to optometrists.
Even if they did, most of them are forced to survive on less than US$2.50 a day and cannot afford either the optometrist or their prescribed eyeglasses.
These people have eyes, of course, and while they are not blind, they cannot see - not like they should, and could, like most of us do - for want of a simple pair of eyeglasses.
But thanks to the Focus on Vision Foundation, and FocusSpecs, their patented corrective eye glasses with adjustable focus lenses, Lucresia could see clearly again within seconds of putting them on, and at an industry defying retail cost of NAD$160 a pair - which is $US10. Adjustable, corrective eyeglasses at a cost less than what we pay for cheap drug store readers.
Imagine... newly-sighted people moved to sing out, for the first time, "I can see clearly now..."
Those of us who wear eyeglasses know it can be expensive to get them: see an optometrist or ophthalmologist for an examination; if corrective eyeglasses are deemed necessary the FTC requires the examining optometrist to provide the patient with a written prescription. Next step is to see a dispensing optician who can fill the prescription with a pair of custom-made lenses and eyeglass frames. Costs can run to hundreds of dollars, a small price to pay, some would say, for the ability to see clearly.
But there are millions of people throughout the world who don't earn this much money in a full year - and are forced to secure food and other bare necessities and provide for their families with what little they have.
Many millions of their children are handicapped with limited sight from birth, and worse, may not even realize it for years to come.
Denied the fundamental ability to see clearly. Words on a page. The chalkboard. A child's face. A sunset. Simple pleasures most of us take for granted.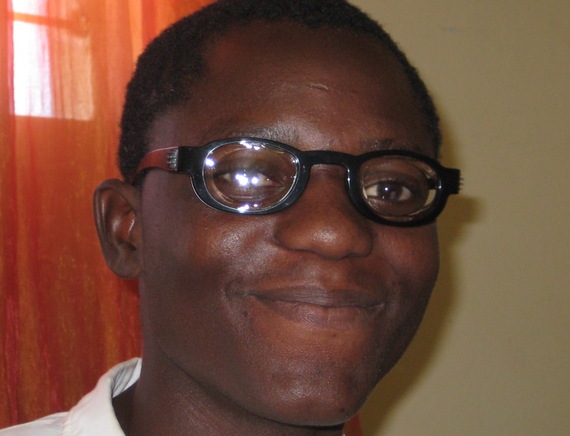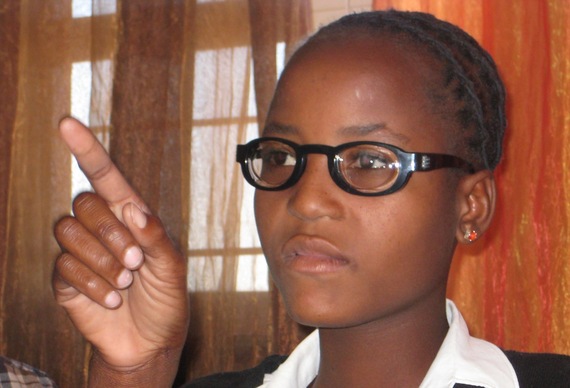 Petrus Nyambo and Ndinelao Kutako, students at Mureti Senior Secondary School, Opuwo, Namibia, fitted with corrective eyeglasses for the first time.

And to make matters worse, if that's possible, in sub-Sahara Africa, where these people live, there is but one optometrist for every million people. In Rwanda, for example, it's even more dire: there's less than three optometrists for every ten million people!
As a result, in Southern Africa, where up to 30 percent of secondary school children need glasses by the time they are 9 or 10 years old, and can't get them, "millions of kids are not finishing school because they can't see properly," says Dr. John Friedman, NGO Focus on Vision's project director, "teachers think they are naughty, and their classmates think they're stupid, but they're neither. They just need glasses."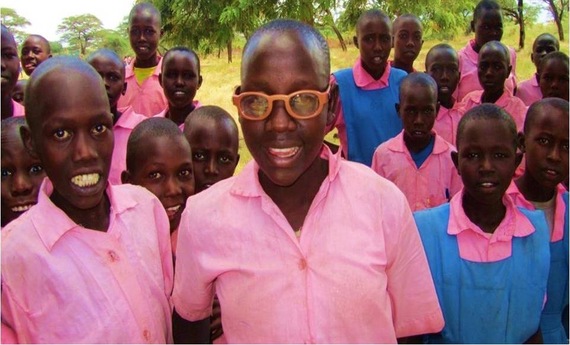 Middle school students in Kenya with a classmate who can see clearly now, for the first time.

FocusSpecs, developed by Focus on Vision, are assembled with two thin lenses that slide over each other, and can adjust the focus like a camera lens, or binoculars, with the simple turn of "worm wheels" built into each side of the plastic frames. Self-correcting, which eliminates the need for an optician, and means, in essence, one size can fit all (one each, for near-sighted and far-sighted; both are available as sunglasses, too).
It all started in 2002, when Frederik van Asbeck, a young Dutch student who is myopic, was visiting Tanzania and discovered that people with poor vision could not get their sight problems checked and resolved - simply because eye care service was unavailable and the cost of eyeglasses was out of reach anyway. Back home in the Netherlands, he got involved in a project to develop adjustable glasses based on an invention by Nobel Prize winning physicist Dr. Luis Alvarez - and ultimately earned his masters at the University of Delft, Netherlands, based on this work.
The Alvarez lens consists of two optical lenses with third grade surfaces. Because one lens is the exact inversion of the other, when they are positioned precisely behind each other the strength of the lens is zero. But converting the lens along the x-axis changes the intensity of the lens.


Click here to see an online demonstration of these adjustable lenses.

Various specialists in the field of mathematics, applied physics, optometry, mold makers, materials and injection mold experts - virtually all of whom are unpaid volunteers - work closely together to mass produce low-cost, quality glasses. The ultimate goal is to keep production costs at a minimum to make them affordable to the people who most need them - people that live in rural villages in Africa, Asia and other parts of the world.
While van Asbeck was at work, John Friedman was on a parallel path: after serving in the Peace Corps in Southern Africa, he spent another five years in Namibia, establishing and growing a youth center where he discovered many young people needed glasses - and none of them had a pair.
Some twenty years later he reads about Asbeck's work, sees a kindred spirit - and a practical solution - and is forever committed to doing something about it.
"I have poor eyesight myself," he says, "and could not function without glasses. I cannot imagine not having a pair. So I was deeply moved by what I saw in Namibia and had to do something about it. Had to."
Friedman earned his doctorate in social anthropology at the University of Cambridge. He later undertook three years of field research in Namibia to better understand people's post-apartheid experiences with democratization and governance, and currently teaches several courses at
University College Roosevelt, Middleburg, the Netherlands. All of which provides a rich context for his dedication to the people there.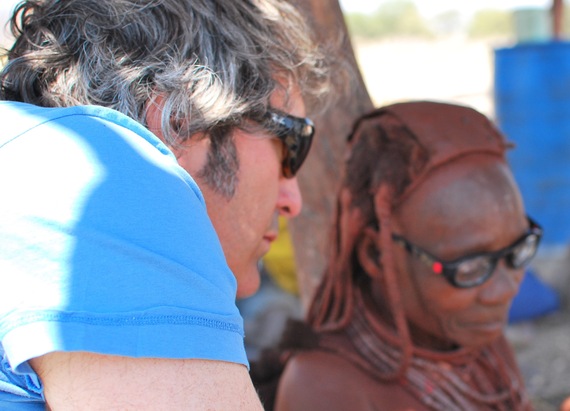 Dr. John Friedman in the field, Namibia, with a woman he's fitted with FocusSpecs.
She just got hers. He's had his a lot longer.
The result was FocusSpecs, a social enterprise, co-founded by Friedman and his long-time school pal Ben Feldman (both originally from St. Louis), to manufacture, further develop and distribute the glasses. And the first step was a field trial in, yes, Namibia. Now the 30,000 pairs of eyeglasses they produce each year are sold virtually at cost, with the revenues reinvested to produce and distribute more. "The social enterprise model - it's ultimately more effective than giving them away," says Friedman.
FocusSpecs are being made available for sale in the US - online for $19.95 - $29.95 for sunglasses - and for each pair of glasses sold here they are donating a pair to Focus on Vision projects around the world. They're currently funding projects in Africa and Asia. Consumers also have the opportunity to participate in a "buy one, give one" program.
Their goal is ambitious: "We want to have a million pairs of glasses distributed by 2020," Friedman says.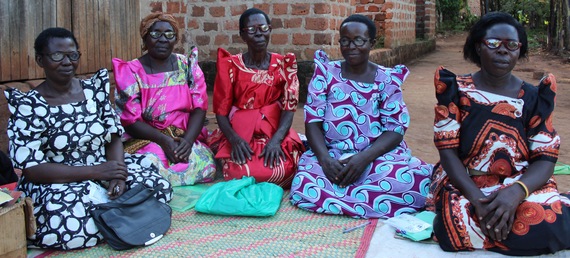 Women in Mukono District, Uganda, showing off their new FocusSpecs.

On a global basis, the project faces two formidable, potential hurdles - the first being the profession of opticians and optometrists who FocusSpecs theoretically makes unnecessary, at least for the basic first step for those in need of corrective eyeglasses.
The more daunting obstacle could come from the two companies who dominate the global market for corrective eyeglasses:
• Essilor, Charenton-le-Pont (near Paris), the world's largest manufacturer of ophthalmic lenses: One of every three corrective lenses sold in the world comes from Essilor!
• Luxotica Group, an Italian eyewear company - controls more than 80% of the world's major eyewear brands and owns 7,000 retail outlets in the US alone. Luxottica owns Lenscrafters, Sunglass Hut, Pearle Vision, Sears and Target Optical, et al. And many well-known brands that dominate global market share: Ray-Ban, Persol, Oakley. They also make sunglasses and prescription frames for Chanel, Prada, Giorgio Armani, Versace, Dolce and Gabbana, Donna Karan and others.
60 Minutes suggested in its June 16, 2013 feature on Luxottica that their eyewear "can sell for up to twenty times what they cost to make."
Friedman and his colleagues are taking this challenge head on.
He says that each step in the manufacturer-to-market process - manufacture, distribution, wholesale, retail - generates as much as 200% to 400% markups. This clearly puts the 150 million pairs of eyeglasses sold per year out of reach for the estimated 2.4 billion financially challenged people who need them.
Including all the people pictured here. Which is why it is so critical that Focus on Vision gains well-deserved support for their heroic efforts. See below for how you can help.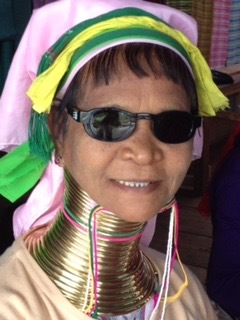 A woman who lives in Myanmar (Burma). This is her first ever pair of glasses, and her smile - and her rainbow of colors - shine in gratitude for seeing clearly for the first time in her life.

Vision is about more than being able to see: it enables people to learn. To gain a living. An opportunity to realize their full potential. To fully enjoy life. To be.
With a pair of FocusSpecs, and clear sight at long last ...
"I can see clearly now, the rain is gone ...
"Gone are the dark clouds that had me blind ...
"It's gonna be a bright, bright sunshinin' day."*
Imagine the possibilities.
There are a number ways readers can support this life-changing effort. See below for options.
Help. You'll be glad you did.

*Johnny Nash, "I Can See Clearly Now," Epic, 1972.
Tim Arnold
Donations can be made online, and would be greatly appreciated by the fine folks behind this magnificent effort.
A mere US$25 (EUR20) donation will allow Focus on Vision to deliver clear vision to a youngster in Africa or Asia, clear sight for the first time in his or her life. And, if you would like a pair for yourself, your purchase will also help support the delivery of glasses to those in need.
Click here to explore contribution options.
If you would like to really get involved in this project, you are encouraged to contact Dr. Friedman direct at friedman@focus-on-vision.org. There are a range of possibilities: Help them provide adjustable focus glasses; stock a local reseller; organize eye screening out in the field; help set up regional network of resellers and be identified as a sponsor. Help them set up a Country Representative and be acknowledged on their website as a participating donor.