When Eileen Ford died this week, I sent a condolence email to one of her closest friends, the legendary model Carmen Dell'Orefice. Carmen starred in my doc, About Face: Supermodels Then and Now and was in my studio the day Eileen sat for her interview for the film.
Carmen wrote back with her thoughts on Eileen and I persuaded her to allow me to post her words here.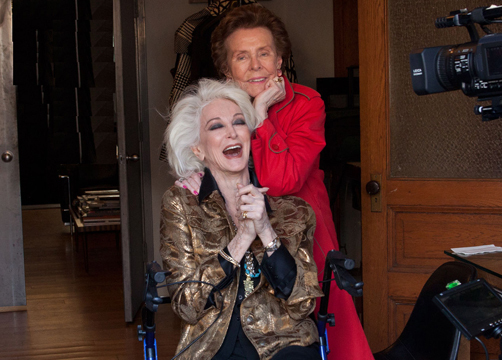 Photo© Timothy Greenfield-Sanders Studio.
"Eileen Ford was foremost a mother, who lived and applied her classic values to everything to which she put her heart and mind. She was a visionary. In 1947 Eileen started "The Ford Model Agency", a service to take care of young models, putting us together with legitimate clients and making sure we were properly and respectfully treated - and financially compensated. It was that year that she took me under her wing. I was 16 years old.
Eileen Ford was a liberated woman decades before women's lib. Her visionary ideas started a dynasty, in partnership with her devoted husband Jerry - who was squarely behind her all the way, until his untimely death several years ago. They loved each other so much that they even renewed their marriage vows some 50 years after their wedding.
Eileen single-mindedly gave birth to a new industry. All who came after her could not equal her achievements - only emulate! The life of any model lucky enough to be accepted at Ford under Eileen's mentorship was, one way or another, altered for the better.
She held sacred her family, her friends, and life itself.
Thank you, Eileen and Jerry, for the legacy of your four children and their children, living forward their way. Thank you for your strong human values. You will always be remembered by me, with loving gratitude, for all you have brought into my life since 1947".
Carmen Dell'Orefice, NYC