By some estimates, Instagram is the fastest growing social network in the world, as well as the network with the most active user base. Taken together? That creates a major opportunity for business, brands and individuals to make their mark and connect with others in a fun, authentic way.
I haven't been on Instagram very long, but in that time, I've been able to build an account of more than 350,000 followers. Here's how I did it, along with seven lessons anyone else who's looking to experience more success on this visual platform can learn:
Lesson #1 - Inspire others
One of the things I love about Instagram is its simple interface. Unlike Facebook, Twitter and other social networks, Instagram is pretty much free from ads, sponsored messages, lengthy newsfeeds and spam. It's a purely visual network - one where the quality of your content matters more than anything else.
For that reason, one of my favorite ways to use Instagram is to post inspiring pictures. As a stock trader who's made millions of dollars in trading profits, I get to do some pretty fun things, like travel around the world and buy the kinds of things most people only dream about. But as a trading teacher, I have an obligation to help inspire my students to achieve their dream lifestyles - and Instagram is the perfect place to do so.
I regularly post pictures of where I am in the world, as well as pictures showcasing the luxury trips I've taken in the past (bonus tip - tags like #WBW and #WayBackWednesday help these pictures get extra traction. I dont do this because I want to brag, although I'm proud of what I've been able to achieve in my life. I do it to inspire others to reach the same heights.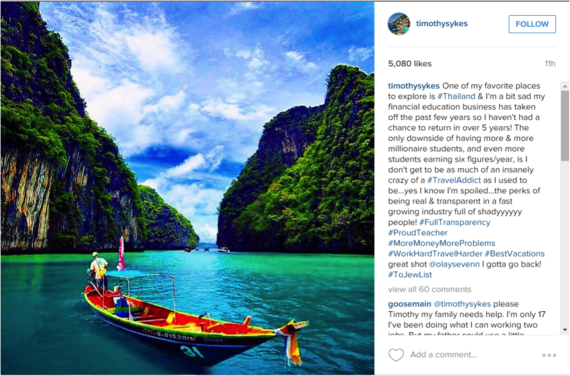 Lesson #2 - Be provocative
Inspiring people is a great way to grow a following on Instagram, but it's not the only strategy I've used to great effect. I've also found it useful to post provocative messages that drive engagement amongst my followers.
As an example, a few weeks ago I posted a picture of myself on my private jet, surrounded by stacks of money, with a message that read: "Don't be a communist/hippie, money can better your life & the lives of people around you, focus on making it, keeping it & growing it...and using it for good not evil."
Did that get some people riled up? You bet. But did it get people talking? Of course it did - and that's the point.
Lesson #3 - Use hashtags
Check out any of my Instagram updates, and you'll see that I use tons of hashtags in each post - as many as 10-20 tags at a time. Well, guess what? I do it because it's been hugely effective for me.
The way I see it, hashtags serve two important purposes. In some cases, hashtags can be used so that followers can see other posts on a similar theme (as in the case of my #ToJewList hashtag). But I also like to use them to enhance the conversation. Frequently, I use hashtags like #WetHotJewishSummer or #MoreMoneyMoreProblems to make my updates more interesting - and it's something my followers really seem to respond to.
Lesson #4 - Experiment with different filters
I'm a stock trader - not a photographer. And while it helps that most of the pictures I post are of dream vacation destinations that don't need much help visually, Instagram's filters can turn an average image into something really extraordinary.
If you want to be sure you're using filters effectively, run your account through Simply Measured's free Instagram reporting tool for data on which filters are driving the most engagement on your profile (spoiler alert - mine's Valencia).
Lesson #5 - Be consistent
It sounds like a lot, but I've made it a habit to post to Instagram several times a day. I do this for a few reasons...
One, I know that not all of my followers are online at the same time. If I only posted once a day - say, at 10:00am EST, I'd miss a lot of people, including those who are online at night and my students around the world who may be asleep at that time.
But the other reason I post so regularly is so that my followers know that, when they visit my profile, they'll find something new. Boredom is a complete killer in the world of social media. Just think about how disappointed you've been in the past to visit a social profile or blog, only to see that nothing's been updated since your last visit.
Don't put your followers through the same experience. Keep things fresh, exciting and new, and they'll come back again and again.
Lesson #6 - Ask for engagement
The really cool thing about social networking websites is that they give people a chance to interact with you directly. Just think about that for a second. Never before have you been able to send a message directly to a celebrity, sports star or other high-profile figure as easily as you can today.
And while that's a great perk for your followers, it's even more powerful for you as a business owner. When people reach out to engage with you, it shows that they're interested in what you have to say. But when you reach back? You've built a relationship for life.
The best way to drive all of this engagement is to ask for it in the first place. Here's one of my recent updates, where I ask viewers to respond with their answers to a quick poll I put together: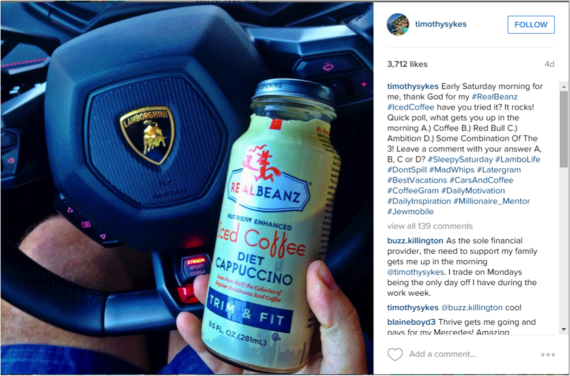 That simple question alone has resulted in more than 3,700 likes and nearly 140 comments on the picture in just a few days. You just can't buy that kind of engagement.
Lesson #7 - Interact with your followers
Notice something else about the image above? I don't just encourage my followers to comment on my pictures - I actually follow up with them and reply to their messages.
To me, it's about respect. If somebody's taking the time to reach out to me, I want to respect the effort they've put into it. Nothing bugs me more than celebrities that never respond to the thousands of fans leaving messages on their updates. What a wasted opportunity to build relationships for life!
But the thing is, I don't care if you're somebody with 100 followers or 100,000. Interacting with your followers makes them more likely to come back in the future. And once you've locked in these regular visitors, you'll find success on social media comes much easier and much faster - no matter what you're looking to get out of sites like Instagram.
Like I said above, I'm just a stock trader and teacher. I'm not a social media expert, but I've been able to use Instagram to grow a thriving audience in just a short period of time. If you have any other suggestions or tips you think should be added to this list, leave me a comment below with your recommendations: