It's Friday afternoon, and I'm in my room finishing a report before my 4 p.m. art history class. However, after finishing the report, my celebratory jam session is disrupted by what sounds like a riot. I try to ignore it, but the rancorous sound of an angry mob grows. Frustrated I leave my dorm on Century Campus and head towards the noise to investigate. What I find startles me.
There on the side street juxtaposed to Chivers, Mays and Dansby Halls, a crowd of more than two hundred wide-eyed, screaming students gathered with cell phones in hand stand ready to digitally record some unforgettable moment.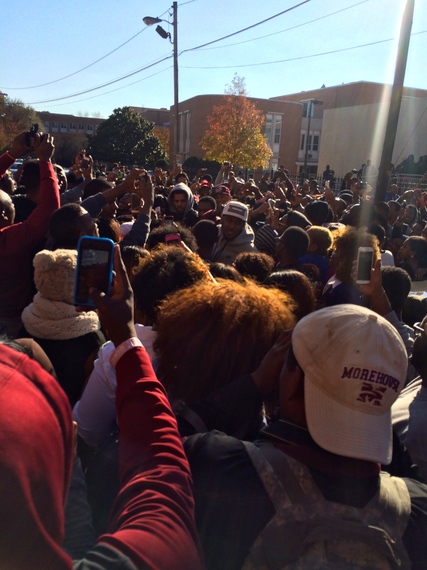 Curious, I ask a classmate why everyone gathered here, and I learned that the rapper J Cole was on campus. For what was intended to a be a secret, J. Cole was in Dansby Hall speaking to Dr. Yohance Murray's 2 p.m. psychology class.
The Hip-Hop artist's surprise visit was a part of promotion for his upcoming album 2014 Forest Hill Drive, which is set to release December 9. While visiting class, the personable artist also encouraged students to follow their dreams and preserve through life's trials.
"The students were attentive and identified with [J. Cole]," Sony College Marketing Rep. Victor Perry said, "They soaked up every word."
J. Cole's whereabouts were ultimately aired by social media, which is chronically used in the Atlanta University Center. In a matter of minutes, the Dansby hallway to the classroom where J. Cole was and the street aside Dansby were in frenzy.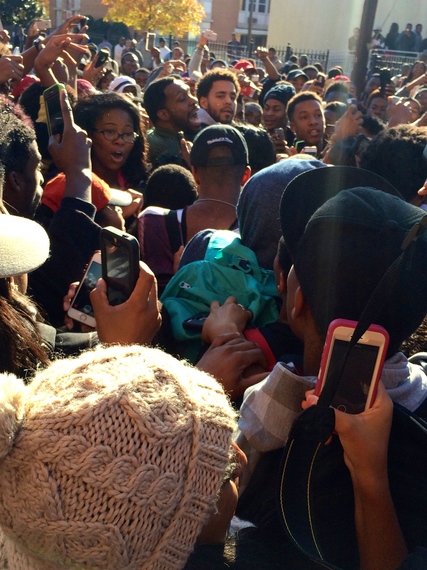 Also a Morehouse student, Perry planned J. Cole's surprise Morehouse visit for Sony Music Entertainment. The junior English major worked alongside Sony executives for five-weeks scheduling the Fayetteville-native's not-so-secret arrival.
"It was my first time bringing an artist to campus," Perry said.
Perry credits the success of the surprise visit also to assistance from his colleague Jordan Overton, also a Sony College Marketing Rep. and Morehouse senior accounting major, and Brazeal Residence Director Todd Leigh.
"Mr. Leigh was a liaison between me and the faculty members," Perry lauded, "He had my back through it all."