I came to this country from Nicaragua when I was 6 years old on a visa with my twin brother. My mom was in a relationship where she was constantly being victimized by her boyfriend with domestic violence, and when she tried to leave the house with us her boyfriend called the cops on her. My mom feared deportation and so she kept silent. That was when she was unfairly detained. Fortunately, she was released a few days later. But that detention affected my mom's record and years later, when she was stopped and detained for driving without a driver's license, they deported her with all charges against her dropped. I was in 10th grade when all of this happened and it was heartbreaking, sad and really confusing for me. I did not know why a country that valued family unity so much went out of their way to separate mine.
On May 4 the American Civil Liberties Union (ACLU) of Florida unveiled an interactive mural painted by local Dominican artist Ruben Ubiera in Wynwood, Florida, a thriving arts city just north of downtown Miami. The mural features the faces of seven local immigrant families and an audio tour of their stories, including the one above shared with me by Jose Machado, an 18-year-old recent graduate of Miami Senior High School with an everlasting will to learn.
"I want to live a life where I am always learning and evolving by any means. Through literature, storytelling, writing, music, etc."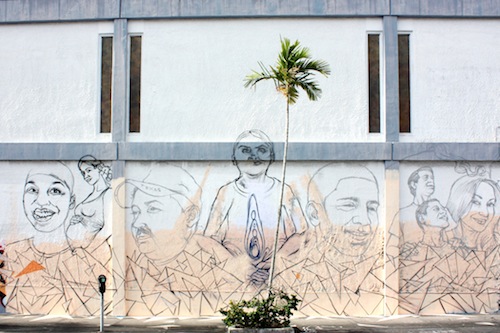 The genesis of the IamHere mural and collection of immigrant stories stems from conversations with members of the local community and the broader public. Florida's ACLU identified a strong divide between natural-born citizens and foreign-born residents without citizenship. Language fraught with "theys" and "thems" suggested strong stereotyping of immigrants in the United States, stereotypes rooted in a lack of understanding and an inability to see and empathize with the people most impacted by immigration policy.
This encouraged members of Florida's ACLU to develop a creative project that would both showcase and document the human element that is so crucial to the issue of immigration, as it has and will continue to affect the families of many hardworking, honest people currently living in the U.S. without citizenship. ACLU and other groups involved in the Say Yes Campaign began collecting stories from Florida's immigrant community of 800,000 and sharing them online. Some of these stories have also been shared with members of Congress in Florida, calling upon the power of storytelling to inform and persuade lawmakers of the importance and inevitable need for immigration reform with a clear path to citizenship. So far nearly 100 stories have been collected, and this number will continue to grow as the project lives on.
In an interview, ACLU Florida staff attorney Shalini Goel Agarwal explained that the ACLU is utilizing the IamHere mural and its companioned stories to illuminate injustices in U.S. immigration policy, while focusing on specific items. Some of these priorities state that:
Each immigration case deserves individual consideration, rather than hasty decision-making processes that often result in unjust deportation and the dismantling of families.
Immigrants must not be excluded from citizenship for minor offenses and dated convictions.
The immigration policy must not mandate an identification system that breaches privacy rights and is highly prone to error.
Members of the LGBT community are currently excluded from basic immigration rights that protect families in the United States. Same-sex partnerships must be upheld with the same rights as heterosexual partnerships.
A full list of Florida ACLU's priorities can be found
here
.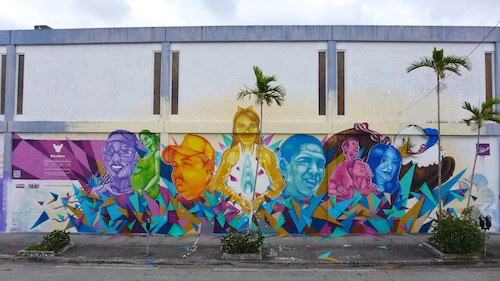 The title of the mural is perhaps as declarative and powerful as its subject matter and the imbedded nature of public art itself. The mural's size and vibrant colors demand attention and declare its presence with intention and without hesitation. These visual elements reinforce its subject matter and objective, "to put a human face on immigration," Agarwal said.
At the center of the mural is the image of an encircled hand. Visitors to the mural site can place their hands inside of this painted hand as a gesture of solidarity with immigration reform in the United States. ACLU encourages those who encounter the mural to share pictures of this action on social media outlets like Twitter and Instagram with the hashtag #IamHere.
Although the project is currently focused on Florida's immigrant population, this integration of visual art with an interactive storytelling platform is a sure way to elevate this issue in other states across the country, such as New York, where immigrants or foreign-born people account for one in five residents; or California, where one in four residents are immigrants.
From as far back as the history of the United States can stretch, this country has been a land of many immigrants. This has, in many ways, defined our history and continues to sculpt the cultural makeup of a place we call home. Looking back at this history, it is important to realize that every wave of immigration to this country has been met with varying levels of rejection and condemnation. In the 1880s and 1890s Jewish, Russian, Italian and Greek immigrants flooded into the United States, like the Irish and the Germans before them, and were accused of stealing the few jobs available (Howard Zinn, A People's History of the United States).
Perhaps what's important to acknowledge about the most recent immigration wave of predominantly Latino people is the precursory role the U.S. has played in Latin American economies and how our country's militant presence in places like El Salvador, Nicaragua, Guatemala and Dominican Republic has inadvertently resulted in the fleeing and mass immigration of Latino people to the United States. (Democracy Now's Juan Gonzalez gives a full history of U.S. intervention in Latin America in his book, Harvest of Empire: The Untold Story of Latinos in America.)
The IamHere mural serves as an education tool, but also as a reminder that the human element is not to be ignored or removed from the national conversation on immigration.
Machado was able to apply for residency through foster care, but lives alone and away from his mother and twin brother, who is in the process of legalization. "My mother, however, will have to wait seven or eight years to be reunited with us, due to the 10-year ban after deportation," Machado explained.
When asked how it felt to have his portrait included on the IamHere mural, Machado said, "Storytelling is the only [way] people can sympathize with us. I am honored to have my face on the mural and grateful that people are willing to engage themselves and opening their hearts to undocumented families."
Machado has been involved in the immigration reform movement for roughly three years. He aspires to become a U.S. senator someday.
"Representing the misrepresented and becoming a voice for the underprivileged through legislative advocacy drives me to that aspiration."
Thank you to Jose Machado for sharing his story and to the ACLU of Florida for their admirable work.
Photos by Tracy Ubiera, from Cream of the Crop.