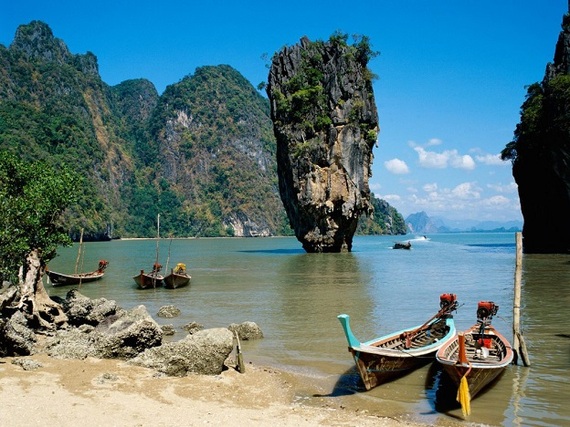 The Philippines is one of the greatest places for a vacation. The country is endowed with an incredible chain of tropical islands and many stretches of beaches that is hard to find anywhere else in the world. The Philippines also has some of the most beautiful and welcoming people in the world. All these make the country a great vacation spot for different caliber of people.
Generally, going for a vacation in another country requires tremendous amount of resources. There is need to make provision for flight booking, lodging and hotels, food and drinks, and many others issues that comes with traveling.
So, what if you don't have much money but still want to travel?
Below are eight ways to save money while traveling to the Philippines.
1. Travel during Low Seasons
Quite a number of tourists avoid the Philippines between June and September. This consequently results in drop in the prices of hotels and flight tickets. A recent finding by Lonely Planet revealed that booking a room between June and September in Philippines saves 20 to 40% on hotel cost.
You can take advantage of this situation to fulfill your dream of traveling to the Philippines without burning a hole in your pocket. However, be prepared to face some harsh weather condition.
2. Avoid Holy or festive Weeks
If you want to keep your trip to the Philippines cheap, avoid the Holy Weeks. The Filipinos are religious people. Thus, they attach great importance to the celebration of holy festivals. Being a predominately Catholic Country, festive period creates a huge demand on hotels, transport service, flights and tourist centers.
As a result, local service charges tend to rise around such period. Easter holiday, Christmas and New Year periods are periods you should stay away from the Philippines if you are on a strict budget.
3. Book flights early and have flexible dates
You get better deals on flights when you book early. There are almost a thousand habitable islands in Philippines. So, your chances of flying between islands is pretty high. This is why having flexible dates and booking very early is important for cost saving on your trip.
Also, try to use some of the Philippines based booking websites for your flights and hotel. These local booking sites tend to offer cheaper and wider options than continental or international booking sites. An example of this is Mango Tours, a booking company with focus on Filipino community.

4. Make friends with the Filipinos
The Filipinos are generally friendly and hospitable people. They tend to welcome tourists with open hands. Being the 5th largest English speaking country, 90% of the populace understand English.
Therefore, communicating with the locals shouldn't be a problem. You will be surprised that most locals will be willing to show you around and help you get accustomed to the regular price of things.
Prior to your travel, you could make friends with them via Facebook on "Travel Philippine" group.
Establishing contact with locals is one of the strategies that could help you stay on budget while on a trip to Philippines. Aside helping reduce the cost of your vacation, having a Filipino friend could help enhance your vacation experience in a positive way. These locals could take you on tour of some of the best Nature spots in the Philippines.
It might also interests you to note that some of the best wood cutting boards with groove available in the market (or maybe in your home) are made with Philippine mahogany.
5. Eat at The Street And Market Food Stalls
Food is integral to culture in the Philippines. A report in USATODAY made the submission that an average person in the Philippines eats five meals a day.
According to Dalas, a Houston based consultant for those looking to find a travel companion, "Philippines exotic seafood is rated as one of the best in the travel business. It is easier to get an eclectic mix of food and beverages for a ridiculously low price in the Philippines. Imagine getting spit roast chickens, curries, whole fish, and marinated pork on a stick and other fried treats at really affordable price."
For those that are on budget, plan to make the market food stalls your source of daily meal. At the market food stalls, you could get a plate of seafood cooked in various ways that will be enough for two people for around $10. These are the kinds of food that might be better than what you see on a typical red Lobster's menu.
6. Choose Hotels away from the Central Area:
The cheapest accommodations in the Philippines are not on the internet. This is where making friends with the locals and using local booking sites comes in. The cheapest accommodations are often separate rooms in various family homes. Thus, you might need to walk away from the central areas and personally check out the places. And also, you can always bargain and beat down the prices.
7. Compare Prices and Negotiate
In Philippines, the cost of almost everything is negotiable. While going on tours, desist from sheepishly giving in to prices offered. You could actually save a lot by reasonably beating down prices.
Asking for discount is not only normal thing among the Filipinos, it is an expected tradition. Also, before you agree to a price for a taxi ride or boat trip, find out the actual price from the locals.
8. Be Smart About Exchanging Money
If you are flying into the Philippines, do not use the money exchangers at the airport. Generally, exchange rate is lower outside the airport. And should you desire to use your credit card, avoid using ATMs that charges commissions. Tourist can use Metro bank or Citi bank. They do not charge commissions on foreign credit cards.