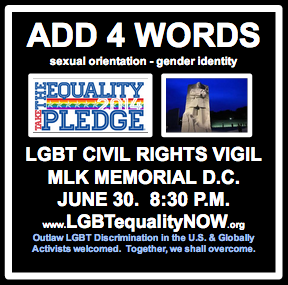 A new LGBT equality campaign backed by over 245 organizations,The Equality Pledge Network, will officially launch with an LGBT Civil Rights Vigil at the Martin Luther King Jr. Memorial in D.C. beginning at 8:30 p.m., Monday, June 30th. The event theme is "ADD 4 WORDS" reflecting a call for four words to be added to the 1964 Civil Rights Act. Those words are "sexual orientation" and "gender identity" (SO-GI).
Part vigil, part celebration, speakers will highlight the Network's wide-range of supporters for a one-bill, full equality solution, from the United Church of Christ, to Equality Illinois, to the San Francisco LGBT Center. A Proclamation from Mayor Pougnet of Palm Springs will be presented recognizing the California supporters and designating the first official "LGBT Equality Now Day." Activists will carry posters of LGBT children lost to discrimination, a key point in the campaign. And tribute will be paid to LGBT civil rights heroes, Eleanor Roosevelt and Bayard Rustin, who led the way with their unique gifts on the Universal Declaration on Human Rights and the 1964 Civil Rights Act, respectively.
Proponents assert that including LGBT Americans in the Civil Rights Act via one comprehensive bill is the most direct way to counter the vast harms caused by societal discrimination. "The inclusion of LGBT American in the Civil Rights Act of 1964 is right and necessary," said Veronica Eady, a board member of LGBTequalityNOW.org, the organization formed to support the Network. "As an African American woman, I understand why only fully inclusive nondiscrimination laws meet the standard for basic human dignity in our nation."
The power of seeking full equality is also highly motivating and could actually build the mass movement the LGBT movement requires to become a top Congressional priority. The Network points to the success of The Pledge for Full LGBT Equality at the heart of this campaign that brought the over 240 diverse organizations together around a shared intention, spanning sixteen statewide equality organizations from Equality Hawaii to Equality South Carolina, transgender groups such as the Tennessee Trans Political Alliance, PFLAG chapters from Pasadena to Ann Arbor, the ACLU of Mississippi, The Unitarian Universalists Association, Metropolitan Community Churches, LGBT Democrats of Virginia, Palm Springs and Florida, and over 11 City Council Proclamations from West Hollywood to New Orleans and Tallahassee.
Launching two new public policy arguments in a bi-partisan approach, the campaign's information-packed website features the cutting-edge facts about "minority stress" by Dr. Ilan Meyers of the William's Institute, detailing the harm LGBT people endure from discrimination to make the argument that discrimination must be outlawed on public health grounds as called for by the American Psychological Association and many others. And international law is also emphasized, referencing former Secretary of State Hillary Clinton's historic speech, and the United Nation's Free & Equal campaign, to make clear that Congress has a duty to include LGBT Americans in the country's nondiscrimination laws immediately.
The Network's organizing principles also break the corporate mold by empowering each group and activist to take ownership and create their own local strategies and tactics, supported by a core team of experts facilitating coalition building and messaging. Already over 40 seasoned, volunteer activists in 22 states are in place, including Attorney Peter Sergienko working with his gay son Kenneth in Oregon; Richard Noble, from the Walk Across America; Attorney Stephen Zollman of the National Equality March; Jeff White-Perkins from Mississippi; and Mika Covington and Ken Ritter, who have joined forces in Iowa/Nebraska.
The 2014 Campaign goals include increasing the coalition support from 245 to 500 organizations, establishing state leads in all 50 states, and conducting a 2014 Equality Poll to ascertain exactly who in Congress supports full LGBT equality and who does not. From there, the road-map to equality will be clear.
Marking the calendar to count the days to equality, the MLK Memorial event also celebrates 50 years since the passage of the 1964 Civil Rights Act, raising the obvious question: how long must LGBT Americans wait until four words are added? These four words -- sexual orientation and gender identity -- would outlaw discrimination in housing, employment, schools, public business, and all government programs, affecting homeless youth, HIV care, police brutality, adoption and bullying, combining most of the individual advocacy issues into a united front.
But even more fundamentally, the campaign to secure equal protection will serve to expose and heal the underlying homophobia and transphobia that horribly makes suicide the option for LGBT children, keeps 53 percent of LGBT Americans in the closet, living in daily fear, and has mothers rejecting their own babies. This is something no individual law can repair, but a movement with dignity can.
At the vigil, faith leaders and activists from across the country will offer inspiration and sing songs of empowerment as a community embrace envelops the iconic statue, setting a tone of loving-kindness for the work ahead. Please join us, all are welcomed.
Join The Equality Pledge Network campaign: www.LGBTequalityNOW.org.
Twitter: @EqualityPledge
Join "Add 4 Words" on FB: http://bit.ly/Add4WordsDCjune30
STATEMENTS of NETWORK STATE LEADS and BOARD MEMBERS:
MISSISSIPPI
Jeff White-Perkins, President Mississippi Gulf Coast Rainbow Center:
We in Mississippi support this pledge because throughout the history of our state, we have learned the lesson of how inequality can cause the destruction of the human spirit and how that can last for hundreds of years within the hearts and minds of our citizens. We hope to end that here and now.
NEW YORK
Cathy Marino-Thomas, Board, LGBTequalityNOW.org, former Board Chair, Marriage Equality USA:
Marriage equality, although important for our families, is not full federal equality. The time to be fully equal is now!
NEBRASKA:
Ken Ritter, Nebraskans for Equality:
Nebraskans for Equality is proud and excited to be part of a new dialogue for LGBT equality. It is time LGBT people learn about other areas of their rights as Americans that deserve full equal attention under the law.
LOUISIANA
Marcinho Savant, Entertainment Chair, Equality Pledge Network:
The Pledge is a no-brainer. There is no gray area, in equality. Either we are EQUAL, or we're not. The constitution has already answered in the letter and the spirit of the document. I choose equality. Equality now.
CALIFORNIA
Attorney Stephen Zollman, formerly of the National Equality March:
As Northern California's State Lead for the Equality Pledge Network, and Founder of Guerneville's Next Steps Towards Full Legal Equality, I would like to say that every one needs to do this for your youth! None of our youth should ever feel lesser than. Full Federal Equality Now!
ARIZONA
Erica Keppler, Chair, Arizona Stonewall Democrats:
For too long we have settled for pursuing piecemeal solutions to systemic cultural bigotry. It is time to deal with the entire problem head on. It is time for full federal equality.
With the state of inequality the reality for millions of us, residing in every state (including here in Texas), full equality at the federal level is crucial to advocacy efforts.
FLORIDA
Keri Kidder, Florida State Pledge Lead:
Jacksonville, Florida is still behind in Equality and we will continue to fight until everyone is equal.
IOWA
Mika Covington, Iowa State Pledge Lead:
As an new Iowan, I have come to experience equal rights here in Iowa. They are awesome. However, they are constantly under attack and we have to constantly fight to keep them. This is why it is more important than ever to get full federal human rights for everyone no matter their sexual orientation or gender identity. The fight forward is not over until all humans have full and equal human right.
NEW YORK
Pablo Colon, LGBT Activist, Board Member, LGBTequalityNOW.org:
We LGBT people, your sons, daughters, brothers and sisters demand to be equal under the law as we are under God! Join the Equality Pledge Network and be on the right side of history.
PENNSYLVANIA:
Jean Kryven, Pennsylvania State Lead:
Friends and family suffering discrimination and violence inspired me to volunteer with Equality Pledge Network. As a middle-aged straight ally, I was alive when Americans were killed while working for Civil Rights. From child labor laws at the turn of the century to the Equal Pay Act, mobilization and legislation are what expand good health, joy, and prosperity for all Americans.
CORRECTION: An earlier version of this post misidentified Peter Sergienko's son as Eugene. His name is Kenneth. The post has been updated accordingly.