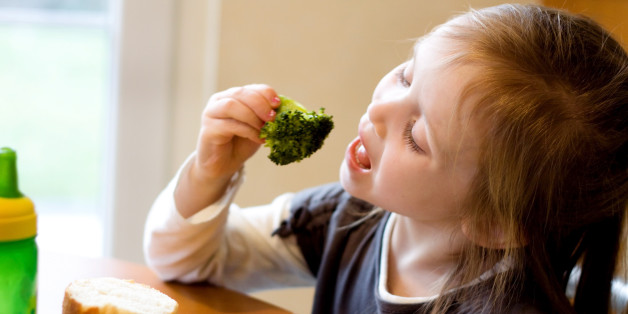 A new study finds that incentives to purchase fruits and vegetables help low-income families eat healthier regardless of whether families live in food deserts.

Gabe Schwartz & Todd Grindal
Americans have never been great about eating their fruits and vegetables. From former president George H.W. Bush to The Simpsons' Todd Flanders, our collective rejection of fruits and vegetables, though often comical, has serious public health consequences. Today, fewer than one in 10 Americans eat their recommended amount of fruits and vegetables, foods that -- with their nutritious combination of high water, fiber and vitamin content -- help fill us up and keep our weight down. This helps to explain why nearly seven in 10 American adults are overweight, and more than one in three is obese. In addition to reducing obesity, a diet high in fruits and vegetables can help to lower a person's risk for cardiovascular disease, certain cancers and diabetes, all of which make the CDC's top 10 causes of death list.
Over the past decade, there have been a number of high-profile efforts to help improve our collective eating habits. Perhaps most visibly, First Lady Michelle Obama has dedicated substantial effort to helping young people get active and making nutritious food more available in public schools. In 2011, the USDA replaced its long standing food pyramid with MyPlate, an effort to make nutritional recommendations easier to understand and more aligned with modern nutritional science. Even Cookie Monster has agreed to forgo his namesake treat in favor of eating healthy fruits and vegetables.
Less visible, but no less important, are a set of innovative federal initiatives designed to help low-income Americans access and consume healthier food. Through funding provided by the Food, Conservation, and Energy Act of 2008 (also known as the "Farm Bill") and the Healthy, Hunger-Free Kids Act of 2010, the USDA has dedicated millions of research dollars over the past few years to demonstration projects, large-scale food policy experiments meant to test new ways of encouraging Americans to eat healthier. Most have focused on the Supplemental Nutrition Assistance Program (or "SNAP," also known as "food stamps"), which today helps nearly one in six Americans purchase food each month. As the largest program in the U.S. government's food safety net, SNAP represents a powerful mechanism through which Americans' diets might be improved.
Cheaper Fruits and Vegetables Increase Consumption

These experiments have taught us a great deal about what works in promoting healthy eating. For instance, nutrition education and social marketing to encourage people to eat fruits and vegetables can make a difference in helping SNAP participants eat healthier. The Building and Strengthening Iowa Community Support for Nutrition and Physical Activity (BASICS Plus) program targeting elementary school students raised the average child's daily fruit and vegetable consumption by a third of a cup. In Michigan, the Eat Smart, Live Strong (ESLS) program -- targeting older adults, from 60 to 80 years old -- increased daily fruit and vegetable consumption on average by over half a cup. Most recently, in Massachusetts, the Healthy Incentives Pilot (HIP) showed that making fruits and vegetables less expensive (by offering a $0.30 reimbursement for every dollar spent on targeted fruits and vegetables) increased SNAP participants' fruit and vegetable consumption by nearly a quarter cup.
Although these increases may seem small, HIP's average effect of 0.24 cups translated to a nearly 25 percent increase over the control group. These changes could make a real difference in people's health. Because dietary guidelines for American adults only ask for two and a half to three cups (depending on your gender) of fruits and vegetables a day, HIP narrowed the gap between what people were actually eating and what they should be eating by between 11 percent and 15 percent.
Outcomes like these have gotten policy makers excited about providing economic incentives to encourage SNAP participants to eat more fruits and vegetables. Last month, the USDA unveiled a new grant program to help SNAP participants afford fruits and vegetables, part of a $100 million allotment for this purpose in the latest Farm Bill. In the non-profit sector, Wholesome Wave's Double Value Coupon Program and Fruit and Vegetable Prescription Program have expanded to serve over 40,000 families across 21 states, helping SNAP participants' benefits go further at farmers' markets and putting more fruits and vegetables on families' tables. In Michigan, the Fair Food Network provides a similar program at over 100 sites state-wide.
Monetary Incentives Also Work in Food Deserts

One of the concerns with these price incentive programs, however, is that they don't go far enough, given that many low-income families live in food deserts -- geographic locations within cities or communities where it is difficult to find places to purchase healthy foods. Evidence has mounted that living in a food desert seriously impedes many low-income Americans' ability to access to healthy foods. It is therefore possible that some low-income Americans may not be able to purchase and consume healthy foods no matter how inexpensive they are. Does it matter if someone can afford spinach and broccoli if the nearest vegetable for sale is halfway across town?
This is the question we have been researching over the past year, focusing on the Healthy Incentives Pilot mentioned above. HIP was conducted in Hampden County, MA, the county with the lowest median income in Massachusetts and the highest rates of obesity and related chronic diseases in the state. Not surprisingly, we found that people who lived farther away from a supermarket where they could redeem the HIP incentive spent less on fruits and vegetables on average than did people who lived close by. For example, SNAP households whose closest supermarket participated in HIP spent, on average, $2.13 more of their benefit dollars on targeted fruits and vegetables at HIP-participating supermarkets than did households whose closest supermarket did not participate in HIP.
Yet, despite the real impediments of living farther away from a supermarket, making fruits and vegetables less expensive increased fruit and vegetable consumption for SNAP households regardless of whether or not they lived in a food desert. Across the board, the HIP incentive increased fruit and vegetable spending by about a dollar, which represented an increase in fruit and vegetable consumption of about a quarter cup. Even if accessing fruits and vegetables required traveling across town, SNAP participants made an effort to take advantage of the price incentive, and increased the amount of fruits and vegetables they purchased and consumed.
Fruit and Vegetable Incentives Could Lead to Lower Health Costs
Even given these findings, some might balk at the idea of putting more money into America's food safety net in the form of these incentives. The cost of the SNAP program has been the subject of some consternation in the policy world, with budget hawks sounding the alarm about the sizable increase in people participating in SNAP since the beginning of the Great Recession. The specter of growing SNAP costs was part of the reason that a stimulus-funded boost to SNAP funding was allowed to lapse last year, resulting in a loss of $5 billion to the program and whittling the average benefit allotment down to $1.40 per meal, a seven percent cut on average from already shoestring budgets.
First, these concerns about growing SNAP rolls are largely misplaced. The Congressional Budget Office estimated that CNAP spending as a share of GDP not only leveled out in 2012 and 2013 but in fact was projected to fall starting in 2014, as the economy improved and the need for benefits began to decline. This was true before budget cuts were enacted. As a result, data from the USDA indicates that SNAP participation has fallen in 47 states from its peak in December 2012, representing 1.6 million fewer Americans receiving the benefit. Contrary to popular belief, SNAP may also be an economic boon, not a drain: The USDA's Economic Research Service estimates that every dollar spent on SNAP during an economic downturn generates more than $1.75 in economic activity, a phenomenon known as a "multiplier" effect.
What's more, fruit and vegetable incentives might be an effective cost controller. There is compelling evidence that monetary incentives to purchase fruits and vegetables work, and this new research suggests that they work in many different types of neighborhoods. To the extent that fruit and vegetable consumption helps Americans manage their weight and reduces the prevalence of related diseases, fruit and vegetable incentives could also lower health costs, with the direct medical costs of overweight and obesity in the U.S. conservatively estimated at $114 billion. Fruit and vegetable incentives might even save the government money -- or at least be fairly cost effective -- if a reduction in diet-related chronic diseases leads to savings from Medicaid and Medicare. This is one reason why Johns Hopkins University's Center for a Livable Future stated in 2012 that "improving [the] diets of low-income Americans through SNAP pricing incentives [is] a public health priority."
Every American deserves to be able to eat a healthy diet that will keep them from hunger and harm. These incentives will not, on their own, solve the obesity epidemic and they won't replace necessary medical care. But as this recent research suggests, SNAP, in combination with incentives to encourage the purchase of healthy food, could be a key tool for moving us toward becoming a healthier nation.
---
Gabe Schwartz is an associate analyst at Abt Associates, researching low-income people's access to community and government resources as well as the efficacy of those resources. He focuses on food assistance programs and early childhood health, having previously volunteered as a health advocate at Hasbro Children's Hospital's clinic for children and families. He earned B.A. in Sociology and Human Biology from Brown University.