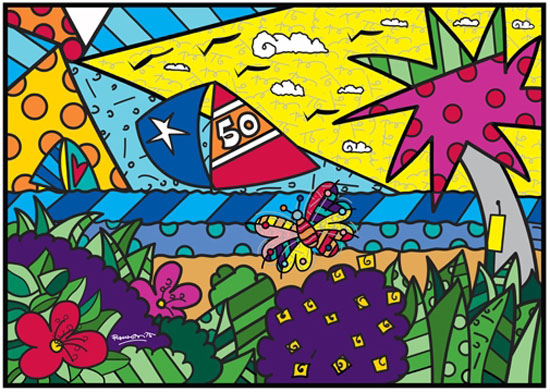 As is the case every year, it seemed as if the whole village came out Thursday night for the unveiling of this year's Coconut Grove Arts Festival poster art. It's a highly regarded secret each time and as the poster is ready to be unveiled, the room is all hushed and the TV lights come on. It's broadcast live on the NBC6 TV 6 p.m. news.
The Sonesta Bayfront Hotel on Coconut Grove's Sailboat Bay was the scene and when the time came, it was proudly announced that Miami's own Romero Britto was the featured artist this year for the festival's 50th year. In 2007, Britto was the featured artist for the poster and that turned out to be one of the best selling posters, so it was a clever idea to bring him back this year for the festival's 50th anniversary.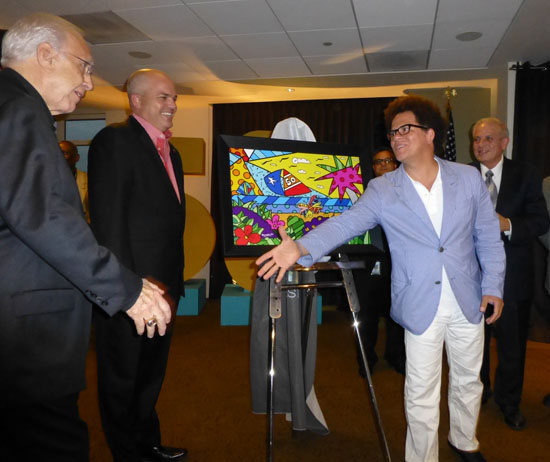 Above, at left, head of the Arts Festival, Monty Trainer accepts a handshake from Romero Britto at Curtis Crider, GM of the Sonesta looks on. Mayor Tomas Regalado is behind Britto.
The event was catered with an open bar and lots of food. The ocean breezes swept through the ballroom, from the pool and cabanas. It was an amazing evening. It was so cool and breezy that when doors at one end of the 8th floor ballroom were opened the wind swept through to the other side, bringing Florida winter into the Sonesta.
The Coconut Grove Arts Festival is February 16 through 18 this year in the Center of Coconut Grove. The festival winds down from Main Highway along with waterfront with lots of art, food and music.
More info at the festival website here:
www.cgaf.com.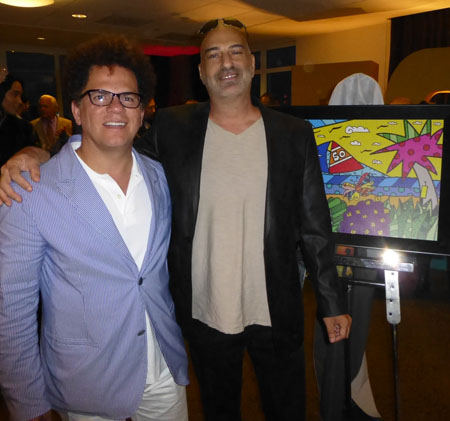 Romero Britto with Tom Falco (cartoonist) comparing art styles.