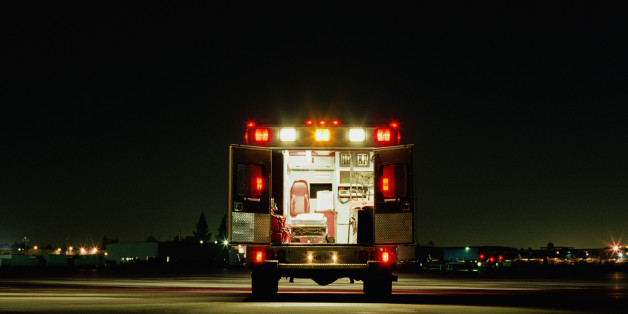 "The last enemy that shall be destroyed is death"*
The sound of the ambulance screaming through the late evening hours only heightened the fear of what was coming next. I felt like I was on an amusement park ride and had to wait until it ran its course before I could get off. Pulling away from the condo that overlooked the ocean, the sirens blazing, I flashed back to the events of the past week and wondered what was next. It was the beginning of a death roll that was doubling each day, it was the AIDS virus claiming another life, cut short. There was no time for adjustment in those days, one just learned from outside sources that "he died." Like soldiers in a war who faced death in such alarming numbers, we too were forced to face it. There was no running away from it as it permeated every sector of life. The virus was not particular.
Richard, a close friend in NY called to tell me that he was bringing his life partner, Eddie, to San Diego in a few days and asked if I could drive down from LA to meet them and take them into Tijuana, which was the only place in the North American continent that would try experimental drugs. The FDA would take too long, and the afflicted did not have that luxury. The clinic's efforts were in vain. It would only be a matter of a week at best for Eddie.
With that news, I told Richard and Eddie that I would be back in a few hours, as I needed to find a solution for their next step. I drove into San Diego toward the beach, and found a condo that would rent weekly. I took the bed out of the bedroom and moved it into the living room, which had wall-to-wall glass overlooking the ocean. When Eddie would wake each day, the first thing he would see would be the expansive view of the Pacific. I wanted his last vision to be peaceful and beautiful.
Within a few days, Richard left for New York and I was alone to care for him. I had no training but somehow felt I could handle it. Eddie and I spoke about everything, and he thanked me for not leaving him. You see, I had never met him prior to this and it was hard for him to understand that a complete stranger would do what I was doing. I could not imagine being anywhere else but there.
Each day Eddie grew sicker and delusional but somehow always remembered to thank me for not leaving. One night, very late, he started coughing. He had done this before, but now it would not stop. I called an ambulance. They arrived quickly, he was on the gurney and into the ambulance within minutes and we were off to the emergency room. A team of doctors hovered over him in the ER as I filled out the paperwork. It was now close to 2AM and they stated that he would be admitted.
They found a room and I held his hand as I could see how frightening this was to him. I assured him that I would not leave. When we reached the floor, the attendants left us in the dimly lit hallway. Everyone was asleep and the attending nurse had gone to get his room ready.
The overhead light was very dim but it shown on Eddie face enough for me to see his eyes looking into mine. He had tears running down his cheek. I found a tissue and dotted his face softly and he smiled. Within a few seconds, I noticed that his painful expression seemed to dissipate. There was a softness about his face and a glow to his skin that was not there earlier. I said, "Eddie, you look so much better than before. I think we did the right thing coming here." He kept looking into my eyes, not uttering a word. I had held onto his hand this entire time and felt him squeezing once it a while, but then not. I spoke again but there was no response. I could see his chest moving, but very slowly. What I did not know was that he was letting go. He was dying right then, right in front of me and not looking away. I called his name several times, called for the nurse, but no one came.
There I was holding him, all alone to witness his departure. I felt a warmth and peace I had never known. Within a few minutes, the nurse arrived and said the room was ready. I smiled at her, and thanked her and told her that he had an appointment and left. She understood as I slipped the wedding band off his finger. I thanked the doctors and nurses in the ER and walked outside. I knew that I had found my place in the chaos. I would nurture the dying. I could that. It was the least I could do.
*Corinthians 15:26 King James Version (KJV)