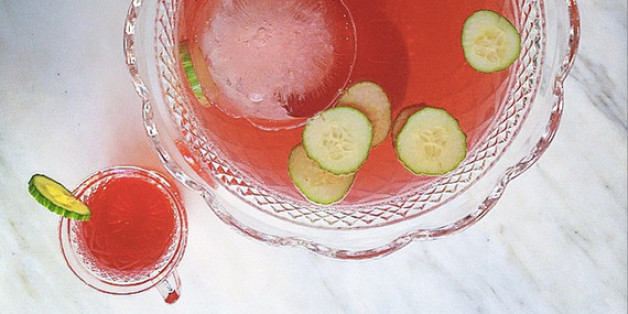 If you're looking to offer an cocktail alternative to the standard cooler of beer at your Labor Day barbecue, the prospect can quickly become daunting. Mixing drinks for a group while upholding the standards of finely crafted cocktails is when the desire for a bottle sour mix or a plastic handle of margaritas will be at its strongest. But I implore you, resist! The solution to this problem is one word: Punch. Let your guests serve themselves.
Punch has one of the broadest definitions in the cocktail lexicon, depending on who you ask. Some may quibble over whether something is a punch, a pitcher or a batched cocktail, but for me, punch is any mixed drink served in a large vessel that is enjoyed collectively at a (hopefully) jovial gathering.
A punch can be made from just about any refreshing, citrusy style cocktail. Just convert the ounces on the recipe to cups - which will multiply the serving by eight - and presto you have a punch. (It doesn't have to be a refreshing style cocktail, but personally a punch of Manhattans doesn't sound like a good idea).
Some drinks though were born to be punch. Below I have listed three of my favorites. But first, here are some tips to make your punch life easier.
Make a Day Ahead -
Punch can be made the night before and chilled in the fridge (I wouldn't make it any earlier the day before). You can combine anything ingredients that aren't carbonated, the booze will help preserve any fresh citrus juice - and I know you're using fresh citrus juice. The day of the party all you have to is set up the punch station and let your guests take it from there.
Freeze a Giant Ice Cube -
While dumping a bag of ice into the bowl will get your punch cold, it will also be watered down beyond recognition within an hour or so. My advice is to use a bread pan or something similar of similar size make a giant ice cube. The larger cube will melt slowly, keep your punch cold, plus it looks extremely cool.
Don't Make it Too Strong -
We all want to have a good time, but bumping up the proof on your punch is not necessarily the smartest way to do it. When serving yourself it's hard to keep track of how much you've imbibed. Punch was designed to be enjoyed over an afternoon or evening so it should be kept on the weaker side. Adding a little water or cutting back on the booze never hurts. This way everyone can have more. Another good trick is to use smaller cups. This will prompt people to return to the bowl for a refill which will help stimulate conversation and keep the party circulating.
And now, the recipes:
Philadelphia Fish-House Punch
This is as classic as punch gets. It dates back to the 1700s and was enjoyed by the Founding Fathers. There are several recipes for this out there; this one is my personal favorite. It requires a bit of extra labor but the effort is well worth it. Regarding the peach brandy, it's not a sweet liqueur, but a full proof aged spirit. Real peach brandy was much more pervasive when this punch was created and it wasn't until recently that some became commercially available again. If can find some, great - Dutch's Spirits makes a good one. If you can't, don't let it deter you. The peach liqueur serves just fine.
Recipe:
1 quart Jamaican rum
2 cups cognac
1/3 cup (or more to taste) Peach liqueur - Mazzenez and Giffard make great ones - or another quality brand.
1/4 cup peach brandy (If you can find it!)
2 cups lemon shrub**
1 quart ice water
Method:
Combine all ingredients in a bowl, stir to mix, taste and adjust the peach liqueur if necessary. When ready to serve add a large ice cube. Serve with punch cups.
Serves 20
** Lemon Shrub:
Shrub is a combination of citrus peel, sugar and citrus juice. It is an ingredient in many classic punches. It does take some time, since you have to steep the citrus peels in the sugar, but it is largely unattended and final product is incredible. Plus it has multiple uses beyond punch, lemonade for one.
Method:
Peel 12 lemons with as little pith as possible.   
In a bowl, combine the peels with about 1 cup of sugar. Stir until the peels are coated. Let sit for 3-4 hours or even overnight until it becomes a thick lemon-y soup. (This is known as oleo-saccharum which is roughly translated into oily-sugar)
Juice the lemons - it'll make about 1 1/2 cups and stir into the mixture until fully integrated. Strain out the peels and refrigerate.
Spiked Arnold Palmer
This one is a real crowd pleaser and doesn't need much of an introduction. The tea infusion is surprisingly quick and effective. Be careful not let it sit too long or it'll extract too many bitter tannins.
Recipe
2 cups tea-infused bourbon **
1 cup fresh lemon juice
1 1/4 cup simple syrup
3 cups ice water 
Garnish: lemon wheels
(If you're going to make the lemon shrub from the recipe above, it is excellent in this drink too. Add 1 cup of shrub and only 1/2 cup of lemon juice and 3/4 cups simple syrup.)
Method:
Combine all ingredients in a pitcher, stir. Refrigerate. When ready to serve garnish with lemon wheels and serve with iced glasses.
Serves 12
**Tea-Infused Bourbon
Combine 2 cups of bourbon and 5 spoonfuls of loose black tea or 5 tea bags.
Let sit for 20 minutes, taste and let sit for longer if you think it needs to be stronger. Trust your instincts, but it shouldn't taste bitter.
Strain out the tea. Done!
Sparkling Watermelon Punch
This is a variation on an Aperol spritz with the addition of watermelon, because why not? It doesn't hurt to add a few dashes of gin, use your discretion.
2 cups watermelon juice*
1 cup Aperol - a lightly bitter Italian liqueur
1 bottle of chilled sparkling wine or prosecco
Garnish: Watermelon chunks (frozen if you like) and cucumber slices
Serves 12
Method
Combine the watermelon juice and Aperol and refrigerate until ready to serve. In a punch bowl add the mixture over a large ice cube and pour the bottle of Prosecco over the top. Garnish with the watermelon chunks and cucumber slices.
* Watermelon Juice - The easiest method is to make watermelon juice run watermelon through a juicer, imagine that. If you don't have one you can blend it in a blender or food processor or just crush it up with a muddler and then out the solids.
Cheers!
A version of this article originally appeared on cheesesticks.com.