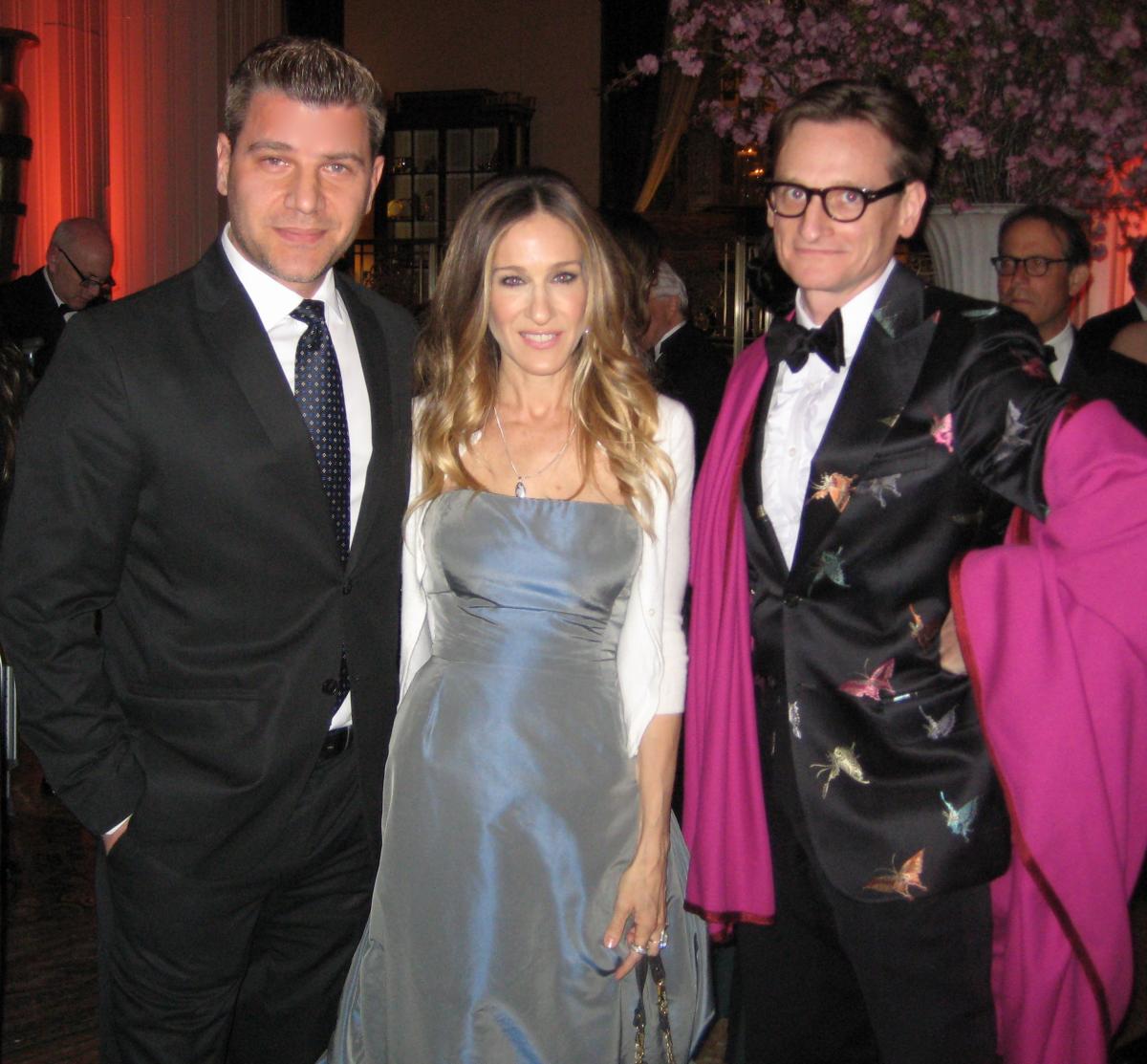 Last Monday night.
I would like to go on the record saying that Monday night in N.Y.C. is officially underrated. While some people are just reading the newspapers they threw to the side on Sunday, I hit four different parties, merely stumbling upon one of them -- not bad for what is typically a somber evening.
First up, the 33rd Annual Big Brothers Big Sisters Sidewalks of New York Awards Dinner at the Waldorf Astoria on Park Ave. The main man I hung out with was none other than director/producer extraordinaire George Lucas, or as I like to call him, Mr. Smiley. The legendary man both on earth and intergalactic space shared with me his next move, retirement. When I asked what his plans were for his free time he jokingly responded with "making movies." When I dug deeper he specified that his future films will most likely be independent, low-budget films -- I'm intrigued to see how those cardboard death stars will come out. He also said that Mel Brooks did a much better rendition with his Jewish-themed version of Star Wars... not really, and was that actually Danny Devito in the Yoda costume? Well I certainly didn't have the Spaceballs to ask him. One-on-one with Lucas is like talking with a die-hard Jet-Star fan, socially awkward. Although he wasn't the chattiest of Jedi-Cathys in the room, the event itself was a marvelous success.
Just down the hall in the Astoria, was the Carnegie Hall Medal of Excellence Gala honoring famed NY photographer, Bill Cunningham ( A sweet little old dude that takes great pictures). The event raised approximately $1.5 million for music education as well as community programs of Carnegie Hall's Weill Music Institute. Gayle King was present, co-anchor of CBS This Morning and editor of Oprah's magazine, O. We caught up and reminisced about some of the last celebrity bashes we both attended(we must be on the same invite list). On stage, Cunningham received a standing O from the packed room of N.Y. elites. The long time resident of an apartment above Carnegie Hall, described how he still rushes down to Fifth Avenue every morning to shoot stylish women on their way to work. "Between 8:30 and 9:30 is fabulous," he said. Am I the only one who thinks that sounded creepy?
Sarah Jessica Parker caused a quite stir upon her entrance, as people flock to her like insects to a glamorous bug-zap lamp. I stepped aside from the stampede of a few hundred people and chatted with Vogue international editor-at-large Hamish Bowles, pleasant and fashionable in his red Harry Potter man-shawl and black framed glasses. We posed for a fun group shot, after we untangled Sarah's Vintage Oscar De La Renta prom dress. I said lets put the pretty lady in the middle, Sarah said, ''Aw, isn't that sweet?'' She was safe in assuming I meant her. Soon after we struck a pose, I headed for the door, It was time to go, after all, dinner was being served and that's where these parties really come to an end anyway.
I was in route to the Tribeca premiere after-party for the movie Giant Mechanical Man, with no idea was in store for me next, when my plans were interrupted by lights, lots of lights. I spotted a red carpet from around the corner and I couldn't resist checking it out. It looked like a new restaurant opening, but accompanied by a higher dose of security and a line of photographers (when photographers are present, be on your toes). Luckily a familiar PR girl spotted me from the sidelines and hooked me up with a fancy gold wristband, which meant good news. Little did I know, I was escorted right into the VIP section of the grand opening of Scott Disick's latest investment, RYU. I quickly took a seat right next to Scott, all the K's were there, just feet away from Kim Kardashian and rumored boyfriend, Kanye West. I had only started chatting with Scott when a massive bouncer trudged toward me and said, "You ain't on the list, man." His tone was the nice type of grief with a hint of Samuel L. Jackson and the underlying message of, "OK, get up and move or I'll break your arm." Before I knew it I was just outside the ropes of the VIP section, but managed to speak with Lamar Odom for a while by the bar. In my opinion, he was the nicest guy in the room:
Me: "How's life man?"
Lamar: '' I woke up today, so it's good, every day you wake up is a good day"
Me: "How's business?"
Lamar: "It has its ups and downs"
There is a bit of significance behind this very zen microscopic talk. He was recently released from the Mavericks, so he's clearly staying optimistic; good guy all around. I didn't get to hang with West and Kim K, but according to a few blogs, the two were inseparable all night. A potential for love in a new place, a really new place; the concrete floor still looked wet, as if it was laid down that night one step ahead of the Kardashian crew.
So this detour was a nice change up, but didn't even prepare me for the claustrophobic nightmare at the Catch Rooftop. This venue has hosted many events and every time - too many people, too little space. Upon entering I spotted a hardly recognizable Topher Grace, there with a furry animal/beard sprawled across his face (Hey man, this isn't the 70's anymore). Fred Armisen from Saturday Night Live, Jenna Fisher and other notables were also present, and they appeared to be chatting about some pretty important stuff, but it's hard to tell when you're just another sardine in the room. I was home by 11.