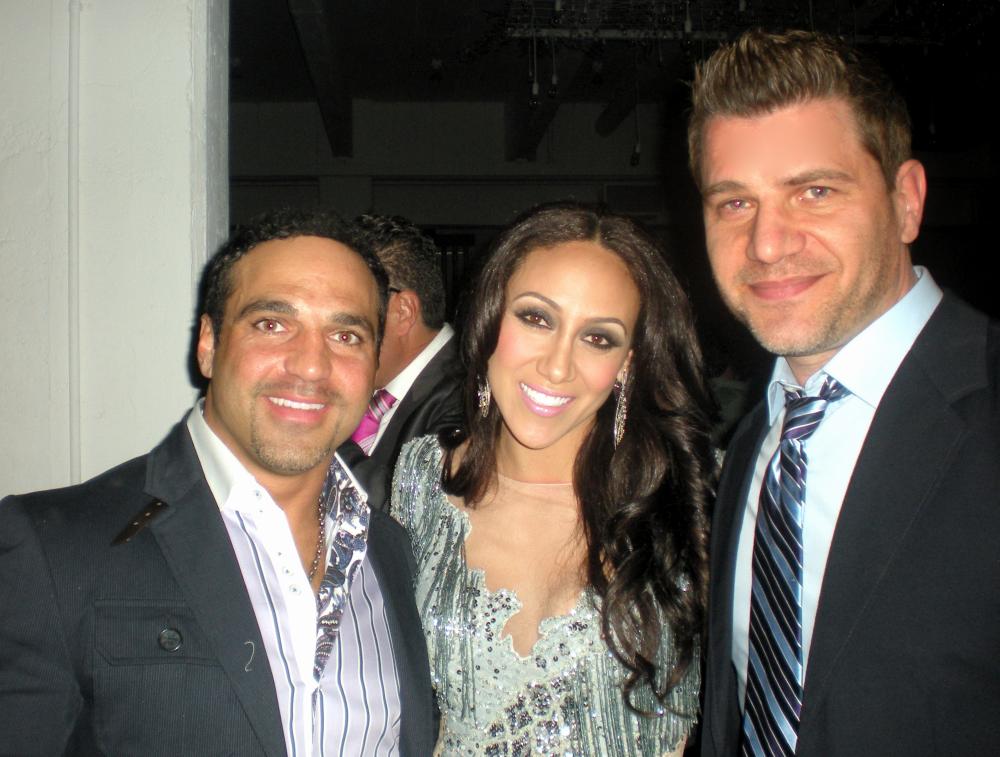 Bravo rolled out a big blue carpet on April 4, for their Upfront Party at Center 548 in New York City. I arrived at 6:30 p.m. with my usual wing man, Couples Therapy housemate Chris Nirschel, and we were ready to get our reality on!

Center 548 is a warehouse styled venue, high ceilings and nothing but open space, a perfect place for party activities. For Chris, this was a smorgasbord of single ladies to test out some of his best lines. For me, this was typical night to just catch up with some friends. The fourth floor party-depot included a big blue carpet, lots of flashes with some of the significant others crammed in a small area off to the side behind a black velvet curtain. I instantly spotted the N.J. Housewife husbands huddled up with the other guests and went over to say my hellos.
Although Chris Laurita, Richard Wakile, Al Manzo and Joe Gorga had the over all mindset to stay out of the carpet pictures, they were all very friendly. With new seasons and shows on the horizon, cast-members were jib-jabbing on the carpet about their respective shows, but careful not to reveal any real details on upcoming episodes. Celebrity power publicist Nicole Bandklayder was also there working her PR game face with a few of her clients. After everyone got a chance to flash their pearly whites, the party moved down the the first floor where the cocktails and food were flowing.

As usual, the bar was as open, and thankfully top shelf, three words -- Johnny- Walker-Blue (as seen in Joe Gorgas glass). The food menu included the staple items such as shrimp and chicken, but they also caught me off-guard with things like artichoke filled Brussel sprouts and pulled pork burgers. Al Manzo had to be thinking, "I can do better."

I forgot how massive the Bravo family was as I went into sensory overload from realization that all of the Real Housewife ladies, Chef Curtis Stone, The Shahs of Sunset, Tabatha Coffey, and Kathy Griffin were all in the same room. All of the Bravolebrities looked stunning and made themselves accessible to the guests, chatting, posing and partying. Nene Leeks and Bethenny Frankel were probably the least accessible as they seemed to keep a safe distance from the fun.

Thoughts and observations from the night:
Kathy Griffin is just as playful and flirty in person, she also likes to pose for pictures (especially in front of a mural of her likeness).
Jenni Pulos (Julia Louis Drefus' doppelganger) and I now have our own secret handshake.
Golnesa Gharachedaghi (Shahs of Sunset) has a tattoo that reads as her name in Gaelic text. The ink literally takes up the entire vertical length of her back.
Andy Cohen may want to consider changing his name to Andy Dick.
Tabatha Coffey is only mean on TV.
Richard Wakile would rather be home doing body shots of Red Velvet Cosmos off of Kathy's stomach.
Al Manzo would rather be at the Brownstone.
Caroline Manzo is so much smaller in person, makes meatballs so much better than Teresa, and can bust a move when provoked (by Jenni Pulos).
Jacqueline Laurita would rather be Tweeting.
Melissa Gorga would rather be thanking Jesus, is still hot and still singing.
Joe Gorga would rather be humping Melissa in the bathroom, is much cooler than I thought, lots of "I'm Italian, you're Italian" fist pounds, shoulder bumps, and man bonding (I'll be waiting for my Twitter invite for poker and cigar night).
Chris Laurita would rather be anywhere else.
Around 8:00 pm they began taping Watch What Happens Live on the second floor, guess they should change that to Watch What Happens Slightly After the Fact. During the show, the Housewives were separated by coastlines, Melissa Gorga sang, Andy captivated the audience with his wit, and about an hour later, they wrapped up the show and everyone headed back to the third floor, AKA party central.
Overdosed on fun, and still wearing our complimentary neon blue Mazel sunglasses, Nirschel and I decided to head out at around 11:00 p.m., since there was no absolutely no point in going to the after party atop the Standard Hotel, considering how long and hard everyone had already been boozing.

#MysteryStarRambling
While chatting with a "special guest", the absence of Teresa and Joe Giudice came into discussion. This person snarked that the couple was away on a much deserved vacation in Mexico. The "guest" went on about the Giudice's financial struggles, addressing a new Louis Vuitton bag and a carport which closely resembles Melissa and Joe Gorga's. Drama -- Drama, a part of me wants to further investigate, but another just wants to boycott the RHONJ altogether.