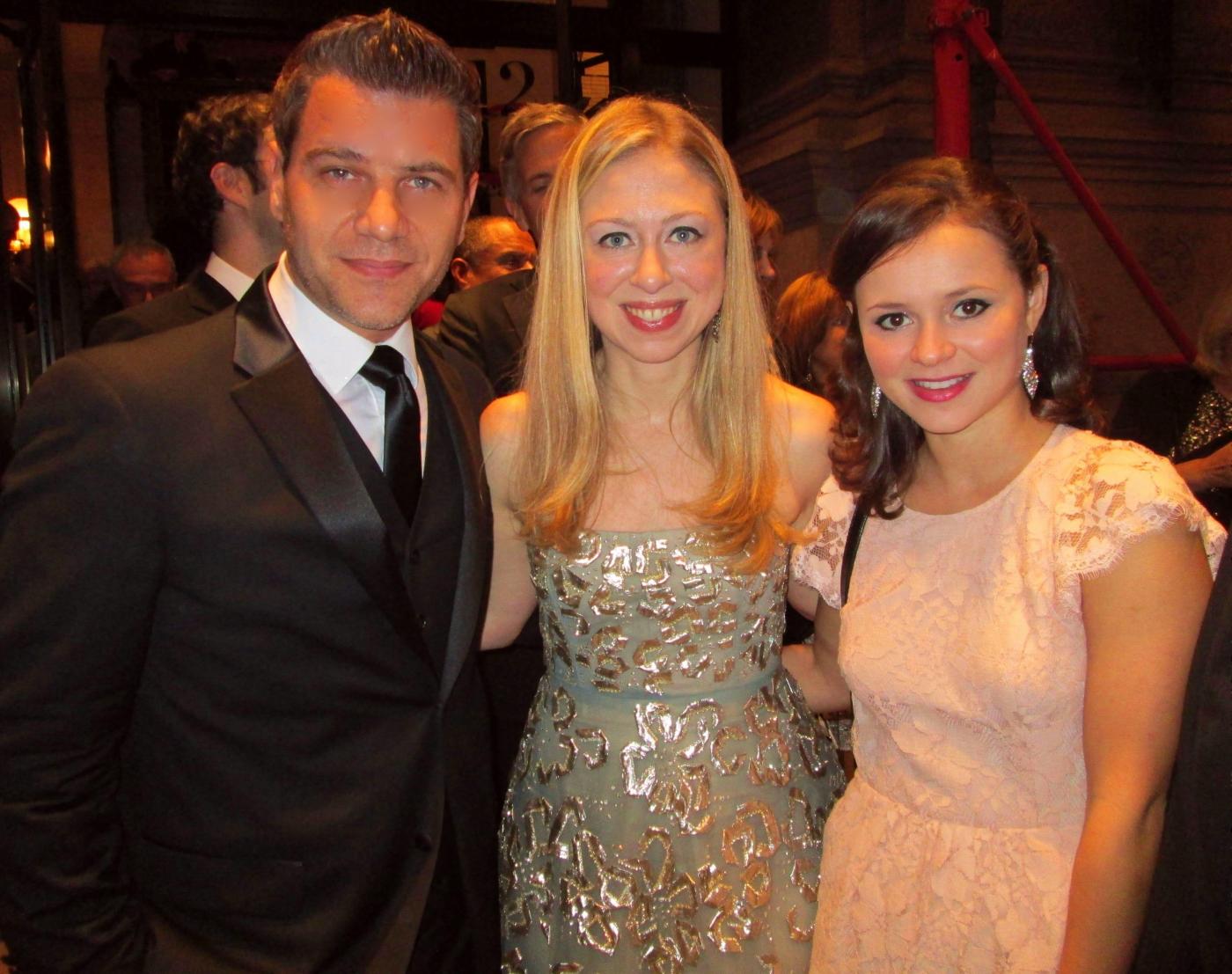 Wednesday night October 3, I attended Carnegie Hall's 2012-2013 Season Opening Night Gala in NYC with Olympic Silver Medalist Sasha Cohen. Hanging out with an Olympic silver medalist by my side made me feel like a social gold medalist.
I have to admit that 30 minutes into the Carnegie Gala cocktail hour I briefly popped out to see music and film's royal highness, Queen Latifah. She was conveniently just a block away at the Paris Theater for the screening of the updated and stellar all-black cast version of Steel Magnolias. After a triple handshake and a kiss hello from Dana (Ms. Latifah to the rest of you), I rushed back to Carnegie Hall. There was no need to watch the screening since I already knew the story (bring your Kleenex), and unfortunately, they didn't bring Julia Roberts back to have her die at the end. Boo.
Sasha and I resumed our cocktail hour fun and were briefly introduced to world renowned opera singer Rene Fleming (Sasha thinks she may have skated to one of her songs once). We also met the big cheese of Macy's, Terry Lundgren (no relation to Dolph), this incredibly distinguished looking guy definitely looks like the president of something (I'm guessing the tuxedo wasn't from one his stores); we got a quick handshake from Mayor Bloomberg who was rocking a red bowtie, a smile from Sarah Jessica Parker, and a kiss hello from Barbara Walters. Babs and Bloomberg shared a balcony section with former 1st Daughter Chelsea Clinton and her husband Marc, along with a bunch of other really rich people who could afford to shell out $1,000 for cocktails and an hour's worth of music by the Chicago Symphony Orchestra (I was told they are pretty good). Thank God my ticket was comped, and that the concert only lasted an hour (I really had to pee. Free cocktails must go through you a lot quicker than thousand dollar cocktails).
I sort of recognized the conductor, Riccardo Muti, by the back of his head (guess that could be taken the wrong way). They played Carl Orff's Carmina Burana (I looked at the program). The music was, to say the least, beautiful. And oddly, no one talked, clapped, bathroom breaked or checked their phone during the performance (as Sasha pointed out to me, it's not a Yankees game.) They did, however, make up for the clapping with a standing ovation after the performance that never seemed to end. They also kept throwing bunches of roses at the guy as if he cured cancer or something. I could think of a hundred other things to reward a guy with instead of roses, but you probably shouldn't be throwing money or hot woman up on stage.
After the concert we had a chance to chat with Chelsea Clinton, who was super sweet, dressed in a beautiful gown, and very excited to meet Sasha. Chelsea referred to Sasha as one of OUR skaters ( I guess when you have presidential blood, you can refer to anything "USA" as "ours"). She told Sasha she was a skating fan and enjoyed watching her during the Olympics. The two talked about skating for a while and Chelsea recommended that Sasha take her Public Health class at Columbia, where Sasha is currently attending, and Chelsea is teaching.
While chatting with Chelsea, I brought up the subject of Martha's Vineyard by saying, "The last time I saw you was on Martha's Vineyard like 15 years ago." I asked if she made it to the Vineyard much now and Chelsea said, ''We just attended a wedding there this summer. I love it there; it's a magical place." I said that everyone seems to have their own secret spot on the island. ''Yes, even if everyone's secret place is the same spot,'' said Chelsea. I wonder where she gets her cleverness?
This is about the time I said goodbye Sasha and decided to reunite with Queen Latifah for some food, and more cocktails( is there a theme here?) at the Steel Magnolias after-party that was just starting in the Plaza Hotel. Dana looked beautiful, standing 6' 3''ish in heals, commanding the room, and playfully cheesing it up with guests in pics. I can certainly see why they call her 'Queen.'