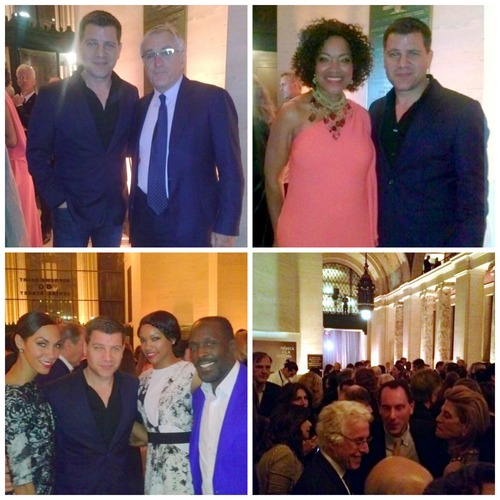 Last Wednesday night, I once again had the privilege of attending the highly coveted and nearly impossible to get into, 2014 Deluxe Vanity Fair Tribeca party hosted by Graydon Carter, Robert De Niro and Ronald Perelman at the State Courthouse on Center Street in New York City.
Vanity Fair certainly knows how to celebrate in the most cultured and sophisticated way possible. Lots of real celebrity types, top shelf bar, smoked salmon cones and many other unusual hors d'oeuvres, all prepared by Chef Thomas Keller for a smorgasbord of high powered notables.
As I smiled my way up the massive courthouse steps, I brushed shoulders with a lady with bangs wearing large sunglasses glasses ( at night) who was heading out early. I blurted out "Hello, Anna," she gave a big smile and a simple "Hello," back as we continued moving in opposite directions -- you know her as Vogue Editor, Anna Wintour.
This years big change: Instead of being outside on the portico, just hours before the party was set to start, was moved inside the courthouse because of the high winds and cold weather, and as a result it just didn't have the same vibe and was a bit crowded.
Who was there:
My new BFF, Mr. Robert De Niro, who was kind enough to share a VIP couch with me and Chef Chris Nirschel at his recent VDKA6100 Vodka launch party, seemed to be having a ball. Mr D. was exceptionally friendly, talkative and super accessible this year. I don't know why I brought up and chatted with him about the movie The Family, seriously dude, what where you thinking? of all of the amazing Deniro movies -- I want a re-do! Mr. D's usual crew of Paisans, Christopher Walken, Chaz Palmetieri and Harvey Kietel didn't make the party.
Grace Hightower looked amazing in a beautiful Carmen Marc Valvo tangerine dress, not coral (as I was told by the designer). I learned that Grace is a great hostess graciously introducing me to some of her friends. I also learned that Grace makes the best cup of joe ever! More specifically, Grace owns a charitable coffee company called Grace Hightower & Coffees Of Rwanda.
Michael K. Williams, Chalky White from Boardwalk Empire, was a pleasant surprise! Last time we were at the same event, someone in our VIP set the club on fire (literally).
Mike Myers enjoyed making guests laugh with his fun poses and silly antics
Famed N.Y.C. lensman, Patrick McMullan, was spreading his charm and charisma around the room while impressing us all with his usual stealthy picture-taking skills
Former Police N.Y.C. Commissioner, Ray Kelly, there with his wife, Veronica, was looking as dapper as always, rockin' yet another one of his $200 Charvet ties from his extensive collection. Despite being retired from the NYPD, Mr. Kelly told me he is busier than ever.
N.Y.C. Mayor Bill Deblasio -- a giant among men -- popped in to shake a few hands and flash his pearly whites with some guests. I don't recall seeing the former police commissioner chatting or shaking hands with the new mayor.
VF's party coordinator/gatekeeper Matt Ullian definitely keeps an ultra double secret, extra tight guest list, so I was surprised to see Lake Bell was able to sneak an unexpected plus one into the party (hiding in her baby bump).
Other notables worth mentioning:
Jane Rosenthal, Harvey Weinstein, Courteney Cox,Tory Burch, Ron Howard, Christy Turlington, Ed Burns, Scott Campbell, America Ferrera, Kate Walsh, John McEnroe and Christine Baranski,
The party wrapped around 10 p.m.