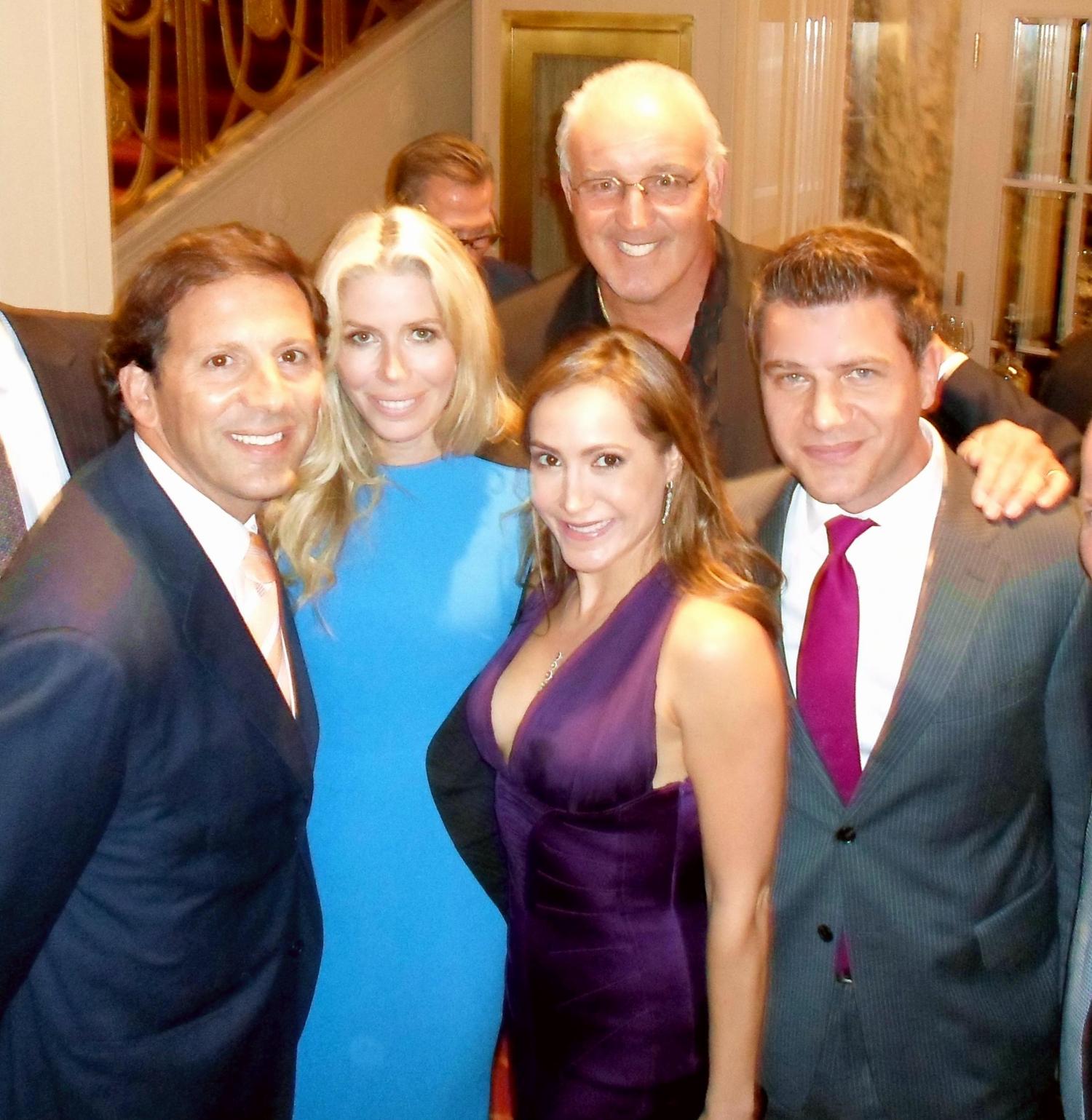 The BIG DEAL in NYC this past Monday night Sept. 24, was the Buoniconti 27th Annual Great Sports Legends Dinner hosted by NFL Hall of Famer Nick Buoniconti and his son Marc. The star-studded gala to help raise money for spinal cord injuries was held at the Waldorf Astoria. I'm happy to say the night that included a Real Housewife Of NYC was glitch free! Well sort of...
My old BFF, President Obama, the man who gave me my start in this business was in town -- and when Obama's in town, streets close down. When streets close down in midtown, traffic comes to a deadening halt. As I sat in stopped traffic, I started to think, "I need a new BFF!"
After about an hour, I finally met Reid and his wife Real Housewife of NYC Aviva Drescher in front of the Waldorf (a.k.a. Ground Zero for all of the world dignitaries visiting the U.N. that day). The Secret Service men and ladies were everywhere. Bumper-to-bumper dump trucks lined Park Avenue along the front of the hotel to shield President Obama, who was inside on the lobby level doing his presidential stuff. Call me a snob, but I thought recycling trucks would've been better suited for the Prez.
The 1400 or so Buoniconti Gala guests (as well as all hotel guests) looked a little unhappy as they had to be rerouted to the back entrance around the block on Lexington avenue. Hundreds of people had to wait in line to go through a metal detector, kind of like airport security minus the cavity search... unfortunately. Oops, did I say that out loud? This caused the event to start a little late, but thankfully we were fast-tracked upstairs by some friendly NYPD and a very helpful PR girl.
Once upstairs, It was nice to see so many sports legends in one place Shaquille O'Neal, Joe Torre, Alonzo Mourning among many others. Along with the Dreschers, I sat my not-so-athletic self (if sitting were a sporting event, I'd be the champ) with Olympic silver medalist skater Sasha Cohen, and relationship expert Amy Laurent. There she is again, and I thought stalking was ill-advised by relationship experts. Just kidding Amy!
Held in the illustrious Grand Ballroom at the Waldorf Astoria, the much-anticipated evening included cocktails, Tiffany & Co.'s Mystery Blue Box Wall and a Buy It Now Store where guests could buy one-of-a-kind sports memorabilia, jewelry and other exclusive items. There was a live auction of travel and entertainment packages, sports and music memorabilia, and experiences including the opportunity to golf with the greatest golfer of all time, Jack Nicklaus. Seats started at $850 and were well worth it for such a great cause. They also came in handy when watching Earth, Wind, and Fire. They were the special performers that evening and really got the crowd going by rocking out a few of their timeless hits including "September."
Amy (we must have the same PR girl. Yeah, that's it) and I both agree we love Aviva and Reid! We really enjoyed hanging with them. We laughed and had some cocktails, or maybe we had cocktails then laughed (Isn't that the point of cocktails?) while chatting and posing for pictures and comparing fist sizes with legendary boxer Gerry Cooney, the gentle giant Shaquille O'Neal, and other notable guests.
I must say, Reid is a little camera shy, so he does his best to stay out of pictures. He leaves the photo ops to his not-so-camera-shy wife Aviva, who definitely isn't much of a troublemaker, but maybe, hopefully, next time (she wouldn't mind me showing up with Ramona, would she?)! Aviva really was a sweetheart and Reid was a down-to-earth, charming guy -- not exactly what you'd expect from a ridiculously successful banker.
The very fun-loving Olympian, Sasha Cohen, definitely took the gold in the plunging neckline competition against her fierce competitor Amy. On top of that excitement, we all got a surprise high five from Wendy Williams as she walked past our table (even a low five from Wendy is still a high five -- 'cause she's one leggy gal). And best suite of the evening goes to Clyde Frazier wearing a vintage calf hair number! I'll never look at Veal Osso Bucco the same way.
The event raised nearly $18 million for The Buoniconti Fund to Cure Paralysis and was filled with fun, laughter, some great music, and everyone was moved by Marc Bouniconti's heartfelt speech.
Aviva and Reid headed out right after dinner and the speech to get home to their beautiful kids before they went to sleep. I have a feeling we will definitely hang with them again!
PHOTO GALLERY
The 27th Annual Buoniconti Sports Legends Dinner