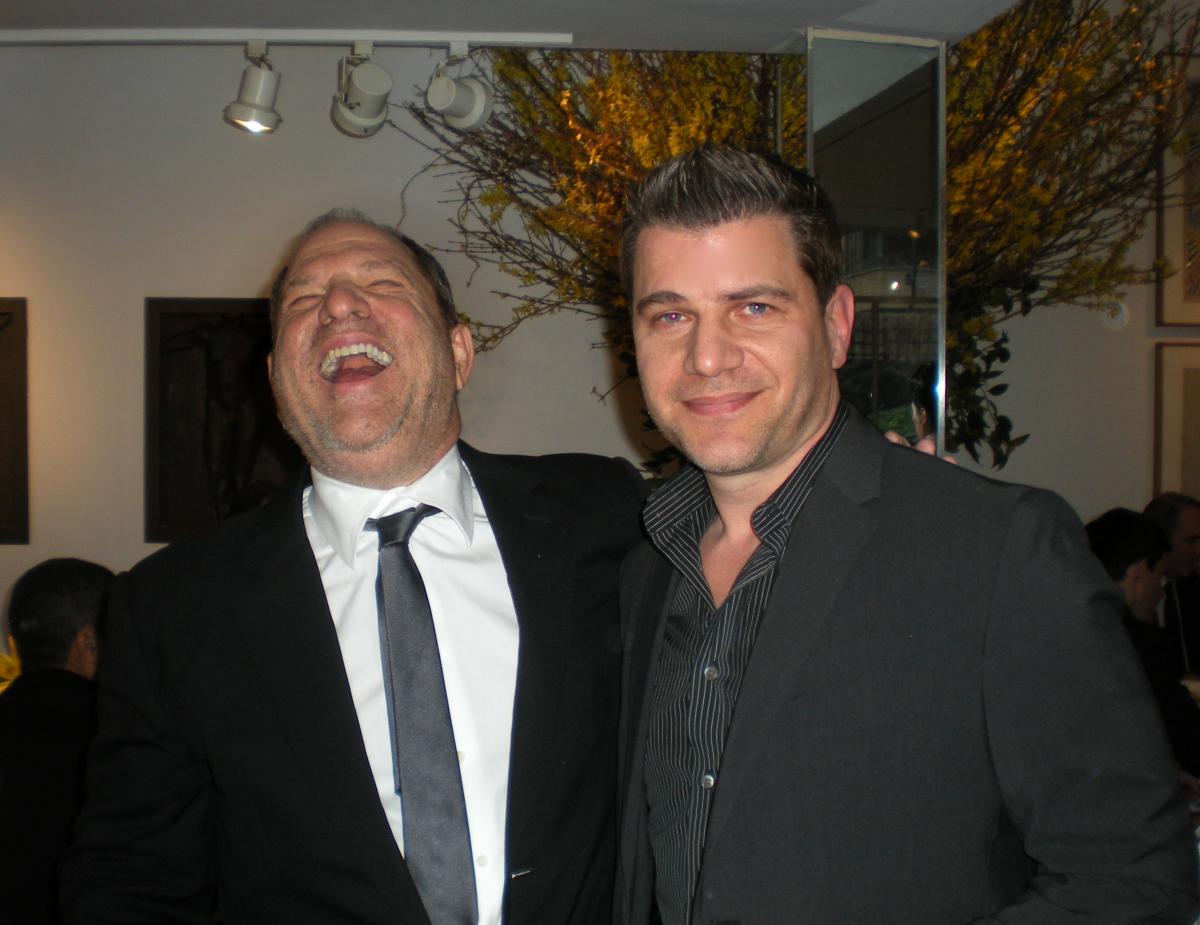 It goes without saying that everyone loves a good party, from President Obama, who has hosted dozens of celebrity-filled parties, all the way down to the guy who picks up my smelly garbage every week. It should come as no surprise then that many of the New York elite gathered on Feb. 1 at Michael's restaurant on 55th Street in NYC, for a pre-Super Bowl XLVI pep rally for the hometown New York Giants.
The men responsible for throwing this bash for the hometown team, Giants Owner Steve Tisch and legendary movie producer Harvey Weinstein, the man who is also responsible for producing many of your favorite movies and mine, to include The Artist and The Iron Lady, a man I initially didn't recognized until someone pointed him out to me.
The well-decorated room was alight with the star power of NYC from all aspects of life. I arrived at the party at the same time as former Giant and Kathy Lee's spouse, Frank Gifford, who isn't aging quite as well as his lovely and constantly smiling wife. Kathy Lee happily dined at a table with her husband, her former co-worker Regis Philbin, his wife Joy, and her current Today co-host, the beautiful Hoda Kotb.
Former N.Y. Gov. George Pataki was there and posed for a picture holding up Giants gear with a little bit of resistance because of his diehard fandom to the other New York football team, the Jets. Renowned television personality Montel Williams hung out drinking water and I couldn't help but notice a particular fragrance wafting off of him while we chatted, a scent I can only call Eau de Mary Jane. While sipping on my early afternoon cocktail, I witnessed Katie Couric audibly slap Brian Williams on his posterior as they took a picture together all without missing a beat; I was not fortunate enough to get the same treatment.
Harvey Weinstein and I chatted and laughed like two pals just hanging out at their favorite bar before taking some great pictures. His younger, Bob Weinstein, helped organize the party as well as sports media legend Dick Ebersol, Brian Williams, John McEnroe, and former Today Show anchor Matt Lauer. Lauer explained to me that he had been a Giants fan longer then he could remember and also noted having a full head of hair the last time the Giants won the Super Bowl.
Lauer eloquently delivered the feel good news of the whole fiesta by introducing Paulette Figoski, the widowed wife of Peter Figoski, the NYPD officer who was killed in the line of duty in Brooklyn in December 2011, leaving behind his wife and 4 daughters. Lauer announced that should they not have any plans, Figoski and her family were invited to go all expenses paid to the grandiose spectacle of the Super Bowl with Harvey Weinstein and friends on Sunday. Ms. Figoski graciously accepted the offer on the behalf of her and her two youngest daughters, Corrine and Caroline. Ms. Figoski's two eldest daughters are away at college and won't be able to make the big game, but were instead invited to the Oscars by Weinstein.
The party provided its guests with goodies from the NFC champion New York Giants including team hats and shirts to help everyone better show their support for their hometown team in the big game. Michael's prepared cookies with the NY Giants logo on them for all of the hungry guests, which lead to some hilarity when I handed a cookie to the outspoken Regis Philbin who thought it would be a good idea to put it in his pocket. Unfortunately, this idea failed and resulted in a handful of icing and a broken cookie as he reached for his coat check ticket. This also led to on his famous freakouts: "Everything has gone wrong! Joy, do you have my coat ticket? Forget it, I'll get it myself!"
Regis eventually stormed into the coat room to find his own coat and was followed out of the party by other guests like the Pied Piper of New York. Before that incident and all throughout the party, the former Who Wants To Be a Millionaire host was very gracious and playfully took a nostalgic picture with Kathy Lee and me. CBS This Morning's Gayle King asked around for help because she was having problems posting photos to her Twitter at the party, I was happy to give her a hand.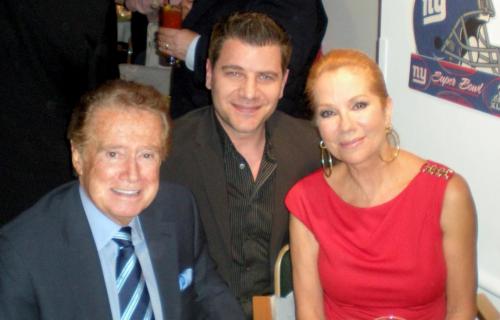 My friendly neighbor, retired Giant Shaun O'Hara, was also at the party cheering on his former team in their quest for the highly coveted Lombardi trophy on Sunday. He chatted with the Figoski girls about preparations for the big game, suggesting that they bring a lot of blue face paint and use it. The big center graciously allowed me to wear his Super Bowl ring and took a picture, which left me feeling like a world champion for the day.
All in all, it was a beautiful day to be a New Yorker, and in special company. Peggy Segal PR did a wonderful job setting up the guest list and arranging the tables given the celebrity packed roster. Sometimes you've got to remember, the only thing between us and them, is a good publicist.