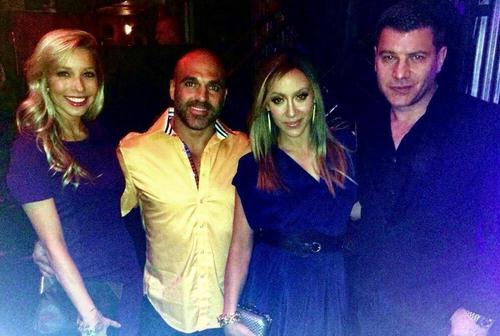 Last Wednesday night's OK! Magazine annual "So Sexy" party was at the trendy laser-light-loving den of decadence Marquee Nightclub in NYC.
I was the So, and my plus 1, the newly crowned Miss NY Kira Kazantsev, was the Sexy. As American royalty Kira officially can't drink alcohol, so instead of carrying around a metaphoric wooden crutch like the rest of us (i.e. glasses of booze) she lugs around a heavy wooden box to hold her crown every where she goes. What a royal buzz-kill!
As we made our way inside around 8:15, we bumped into RHONJ's Joe and Melissa Gorga as they were heading out for dinner at Tao. Melissa said the show is going well--which, in the Real Housewives world must mean someone got drunk, and or someone got beat up, and possibly the same person. I must say, Melissa looks hotter and hotter every time I see her, if she gets any hotter either she's going to explode, or I am.
Kira and I plopped down on a couch in the VIP area like an old married couple to begin our people watching. It didn't take long before we noticed some guy full on ass-grabbing ex RHONY star Alex McCord's bottom. Unfortunately, it was a false alarm, as it was just her husband Simon mauling her like a hyena does a zebra. I guess love was in the air (or in her underpants, since that's where Simon appeared to be searching for it)--Alex told me it was their 14-year anniversary. Aww, happy anniversary!
Speaking of asses, Backdoor Teen Mom Farrah Abraham was also there, and she looked HOT! People have criticized her for having plastic surgery, and I don't know if I'm into recycling, but that's plastic that should be used more than once. For the record, Farrah was only seen using the front door for entry that evening.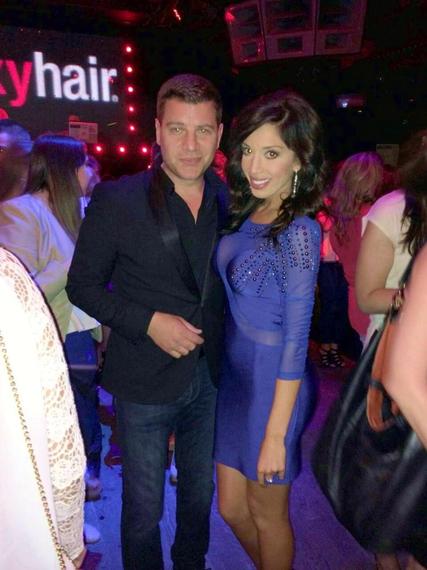 RHONYC's Ramona Singer was on the guest list but didn't make the party (she can be a party pooper sometimes). RHONYC's Sonja Morgan was there making her way around the room like a social butterfly posing for pics, but not with me. In fact, I'm pretty sure she was avoiding me. Mood rings fear her.
MobWives Renee Graziano, and Big Ang, were the two sweetest women in the room. They're like that everywhere they go, and they certainly didn't disappoint party-goers Wednesday night either. They're such a pleasure to be around, and I'm not just saying that because they are wives of the MOB, and I'm afraid, and a big pussy, and not like the one from The Sopranos.
The rest of the party was the same ole same ole with many of the guests from previous years mixed with a few new faces including, Lily Lane, Elizabeth Vashisht, Rob Shuter, Aviva Drescher, Countess Luann de Lesseps and Adrianne Bailon.
Unlimited pours of SVEDKA Vodka, a porn star, Housewives, Mob Wives, and a pageant queen all in the same room, what more could you want from a Wednesday night?