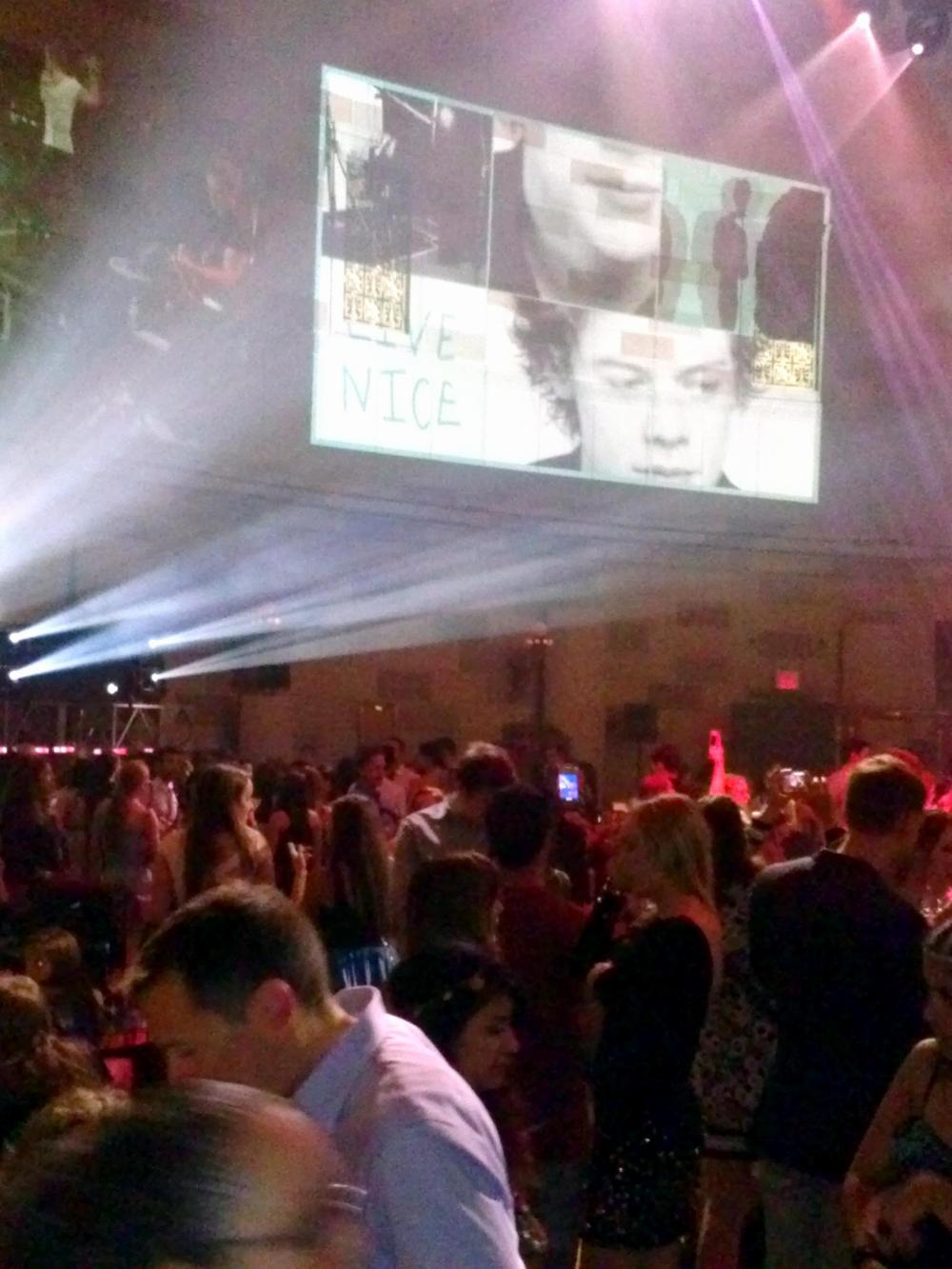 Louis, Niall, Zayn, Liam and Harry of One Direction drew a huge crowd for their world premiere of One Direction: This Is Us at the Ziegfeld Theater in New York last Monday August 26th.
Traffic on 54th Street between 6th and 7th Avenues was going in "one direction": nowhere! This area of midtown was at standstill as thousands of hysterical girls and a few boy fans converged on the theater in order to catch a glimpse, and maybe even a pic of their idols was reminiscent of Beatlemania, or maybe more like Leif Garrett-mania.
Thankfully my usual red carpet bromee, Celebrity Chef Chris Nirschel and I decided last minute to blow off the Boring US Open opening night ceremony and hit the 1D carpet instead. Once we made it past countless checkpoints and barricades, we posed for a few pictures on the official @1DThisIsUs Twitter feed. Little did we know our Twitter accounts were just about to crash with followers and their comments. Hey, I'm grateful for any new followers, even if they're the result of being mistaken for Zayn's father. God, I'm old!
On the carpet we spotted the boys hamming it up for countless selfies with their fans, and were flanked by more security guards than 5 Tom Cruises, and drew a crowd equal to just as many. Upon entering the theater, we witnessed the boys goofing around while hitting up the concession stand for some popcorn and soda before taking their seats. Boys will be boys, or in this case, millionaires will be boys who can goof off and not get in trouble because they have more protection than a Hugh Hefner prenup.
About the movie: Well, I wish I could tell you about it other than it was Morgan Spurlock's first concert documentary. Fortunately, we didn't stay, but I did get a nice t-shirt, 3D glasses, and chatted it up with Stephen Baldwin who was there body guarding his 17-year- old daughter Hailey.
On the way out I was lucky enough to score one of the official movie posters (one of several) hung along the red carpet to bring home to my 14yr old daughter (what a good dad). I thought for sure we would be mauled to death for this poster as we hurried past the hundreds of screaming fans and darted into a waiting cab. Luckily, they were still too crazed over seeing the band to notice the old men dashing by.
The after-party was held at Gotham Hall and was filled with hundreds of tweens, their moms, and a dad or 2 (lets not forget Stephen). Nirschel and I were given our 21 and over wrist stamp shaped like a wine bottle and immediately hit the bar ordering our usual Jack-n-diet Cokes, planning to head out early since we were the only creepy old dudes there over 30 (and without kids, and holding a One Direction poster).
Once we hit the main dance-floor we spotted a beautiful blonde we saw earlier on the carpet named Madeline Brewer. Brewer plays a corn-row haired drug addicted inmate with a neck tattoo on a Netflix series called Orange Is The New Black, ever hear of it?? It's one I have never heard of and apparently very popular, then again, I'm old and unpopular. Brewer told me she got some inspiration for the roll by consulting with some people she knew in her home town in N.J. that have struggled with drug use, but had never actually done drugs or spent any time in a real jail.
After about an hr of the usual after-party stuff---You know-- hot buffet, top shelf booze, screaming girls and celebs hiding in corners (a weeknight at home for Charlie Sheen), we decided to head in one direction: Towards the door!
PHOTO GALLERY
The One Direction This Is Us NYC Premiere