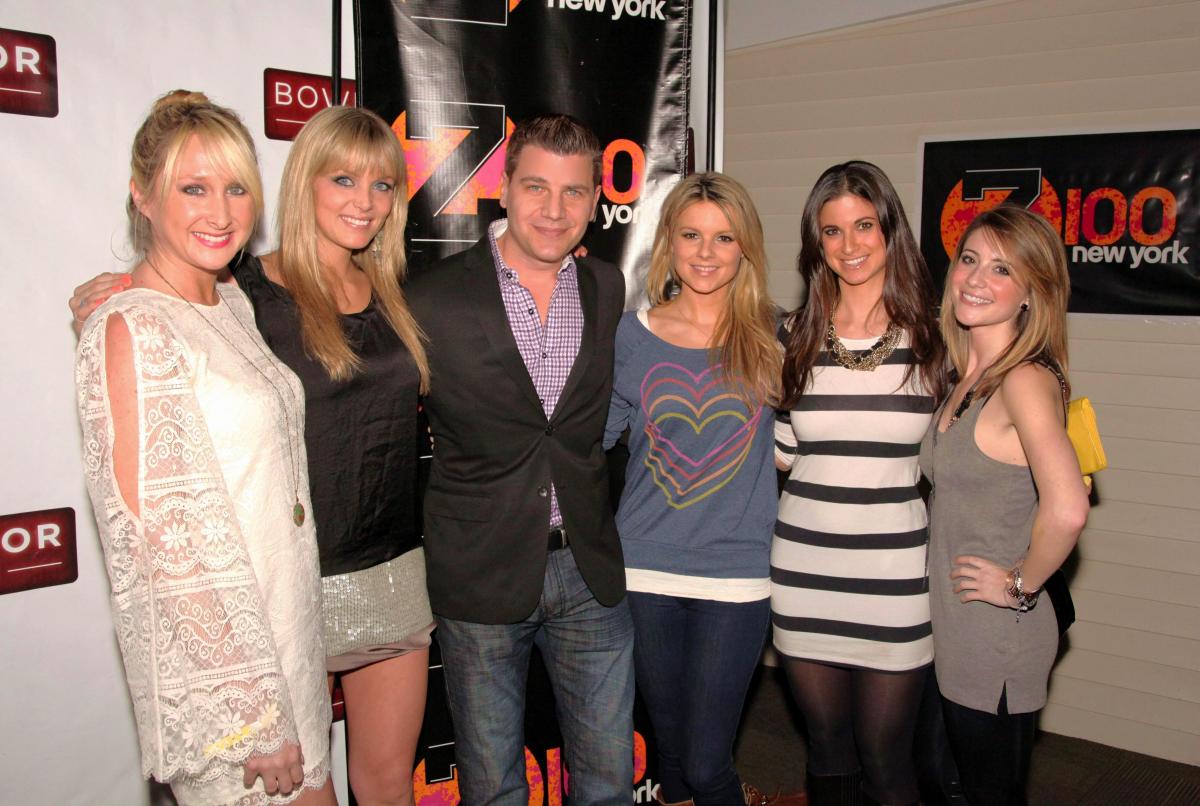 Photo credit Michael Hardgrove
March 12 -- The Bachelor Finale Screening Party in New York City.
Who: Current Season 16 Bachelor contestants Jaclyn Swartz, Rachel Truehart, and Jenna Burke, former contestants from Season 15 Jackie Gordon and Ashley Spivey, Bachelorette's Ali Fedotowsky, Ashley Hebert and J.P. Rosenbaum, along with myself and Z100's on-air radio personalities Carolina Bermudez and Greg T.
What: Contestants from Season 16 of The Bachelor hosted a screening party of the show's highly anticipated season finale.
Where: The event took place at the Greenwich Village Country Club, NYC's hot nightlife venue above Bowlmor Lanes, featuring a nine-hole miniature golf course, air hockey, shuffleboard and billiards.
First of all, it was a cash bar! No real publicity event worth going to ever has a cash bar!
And then this...
Guests had to climb up five flights of stairs to gain access to the club! Literally five flights. At 45 I needed to pace myself as I was passing signs in the stairwell landings that read "Don't you wish you quit smoking?," and "Its much easier going down -- you're almost there," etc. Clever (not really), but any attempt at humor was lost as you finally reached the destination.
This climb resulted in some very sweaty ladies posing for pics as they entered and were immediately greeted by photogs on the red carpet. Sweaty, not "glowing." Another myth dispelled (you know, the old adage that 'horses sweat, women glow'?). Former Bachelorette Ali Fedotowski told me she got her invite 15 minutes before arriving. That explains the jeans and heart covered sweatshirt. Though, maybe that was the most appropriate outfit for the cardio workout!
To be fair, the venue is definitely a fun and unique place to hang out in NYC, but I'm guessing guests would like to know about the double secret antique crank operated elevator on the way up, instead of how I did, on the way down.
Once I cooled down a bit, I made my way past a bunch of diehard Bachelor fans where I loaded up my plate at the buffet table filled with veggies, hummus, sliders and chicken fingers for the mostly female crowd, some who won their tickets from the event sponsor, Z100. Fans enjoyed watching the Bachelor girls while they played miniature golf and spent most of the night posing for pics and simply enjoying their 15 minutes of fame. Well, their additional 15 minutes of fame.
I didn't stick around for the actual screening portion of the evening, since a little birdie there already told me that Courtney "won." Instead, I headed off to meet with Rachel Truehart's on-again/off-again post-Bachelor flame, celebrity chef Chris Nirschel, for some complimentary booze at the American Ballet Theatre's Culinary Pas de Deux gala at Pier 61, Chelsea Piers. Finally! Back to the way the booze at a real party should be! Complimentary!
Meanwhile, back at the adult rooftop funplex, fans around the country watched as Ben proposed to Courtney, not once but twice! The burning questions are, was it everything you wanted it to be? Are they still together? Where is it really going? At least Courtney thinks they are, sorta, kinda, re-engaged? It's no surprise these things fall apart in the end. Lots of fantasy dates, (one with reverse doggy style skiing in the Alps), and then back home, where real life kicks in.
To sum it up, Ben desperately needs a haircut, he likes sweaters, vests and just wants to be loved, while Lindzi (Call me if things don't work out) Cox has little or no self-esteem and Courtney's upper lip is pure gold.
Or maybe it's the alcohol talking!