The Silver Linings Playbook and Lincoln are the ponies most Oscarologists are betting on to win the Academy Awards' race for Best Picture, according to a poll conducted by Gold Derby.
Slightly out front is Silver Linings Playbook, director David O. Russell's comedy about a former teacher (Bradley Cooper) who falls in love with a mysterious woman (Jennifer Lawrence) after he checks out of a mental hospital. Seven pundits out of 21 pick it to prevail: Dave Karger (Entertainment Weekly), Steve Pond (The Wrap), Christopher Rosen (Huffington Post), Paul Sheehan (Gold Derby), Alex Suskind (Moviefone), Chuck Walton (Fandango) and Jeff Wells (Hollywood-Elsewhere).
Close behind is Lincoln, Steven Spielberg's biopic starring Daniel Day-Lewis as the martyred Civil War president, which has six prognosticators behind it: Matt Atchity (Rotten Tomatoes), Scott Feinberg (Hollywood Reporter), Richard Horgan (MediaBistro/ FishbowlLA), Kevin Polowy (NextMovie), Sasha Stone (AwardsDaily) and me.
Four Oscarologists opt for Les Miserables, a screen adaptation of the long-running Broadway musical by director Tom Hooper (The King's Speech): Edward Douglas (Comingsoon), Tariq Khan (Fox News), Sean O'Connell (Hollywood News) and Keith Simanton (IMDB).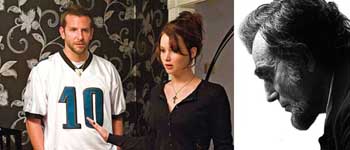 Thelma Adams (Yahoo) and Susan Wloszczyna (USA Today) opt for Argo. Guy Lodge (In Contention/ HitFix) and Peter Travers (Rolling Stone) choose The Master.
See here how each expert ranks the contenders in the top races.
When the rankings are combined, they translate into these racetrack odds, which give The Silver Linings Playbook a slight edge (10 to 3) over Lincoln (7 to 2) in the Best Picture derby.
Below: the numbers of pundits backing each contender to win the four acting races.
BEST ACTOR
Daniel Day-Lewis, Lincoln - 11
Joaquin Phoenix, The Master - 9
John Hawkes, The Sessions - 1
BEST ACTRESS
Jennifer Lawrence, The Silver Linings Playbook - 18
Keira Knightley, Anna Karenina - 1
Marion Cotillard, Rust and Bone - 1
Naomi Watts, The Impossible - 1
BEST SUPPORTING ACTOR
Philip Seymour Hoffman, The Master - 13
Robert De Niro, The Silver Linings Playbook - 3
Alan Arkin, Argo - 2
Leonardo DiCaprio, Django Unchained - 2
Hal Holbrook, Promised Land - 1
BEST SUPPORTING ACTRESS
Anne Hathaway, Les Miserables - 9
Amy Adams, The Master - 6
Helen Hunt, The Sessions - 4
Sally Field, Lincoln - 1
Photos: The Silver Lining Playbook (Weinstein Co.), Lincoln (Disney/Dreamworks)