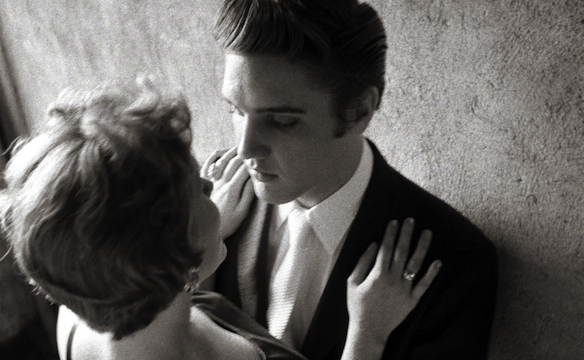 "Elvis Whispers Softly," 1956, from "Who Shot Rock & Roll?" Photograph © Alfred Wertheimer, The Wertheimer Collection
The recent regional extravaganza known as Pacific Standard Time (PST), a six-month, far-ranging agglomeration of Southern California exhibitions, installations and performances, began with a series of shows that made a very convincing argument for the importance of art created in Los Angeles from 1945 to 1980.
The role Los Angeles has played in shaping American culture (and, conversely, the role culture has played in shaping L.A.) was hardly limited to the visual arts, as has been made clear by two exhibitions here: "Trouble in Paradise: Music and Los Angeles 1945-1975," which just closed at the Grammy Museum at L.A. LIVE, downtown; and "Who Shot Rock & Roll" at the Annenberg Center for Photography in Century City, which opens June 23 and runs through Oct. 7.
"Trouble in Paradise," guest curated by USC professor (and Tommywood alum) Josh Kun was, like its subject of music in California, much more substantial than first appeared. Occupying a small corner of the fourth-floor installation at the Grammy Museum and consisting of a few vitrines of artifacts and a wall or two of information cards along with a timeline, it was a testament to the power of multimedia presentation that the show was able to cover so much territory in depth in such little space.
After World War II, Los Angeles' population surged as a result of the postwar boom, as well as with increased Mexican-American immigration, African-American migration from the South and the many returning vets who decided to settle in California. However, as the city grew, two separate events enforced de facto racial segregation: a new freeway system, which isolated communities rather than uniting them, and the 1950 appointment of William H. Parker III as chief of the Los Angeles Police Department (LAPD), a man intent on keeping Los Angeles, to paraphrase the words of a song by Parliament, "a chocolate city with vanilla suburbs."
Although "California music" generally conjures Beach Boys surf songs, Laurel Canyon-inspired hippie paeans and The Doors playing the Sunset Strip, each with lyrics bemoaning their respective white-people-problems, curator Kun reminded us of the richness and complexity of the region's storied musical history of integration and cross-pollination, be it from the be-bop of Central Avenue, to Ritchie Valens (born Valenzuela) -- the self-proclaimed "Little Richard of the Valley" -- from The Nat 'King' Cole Show on NBC to Marilyn Monroe insisting that the Mocambo nightclub book Ella Fitzgerald, to the legendary T.A.M.I. Show at the Santa Monica Civic Auditorium, directed by Steve Binder and featuring James Brown and the Rolling Stones.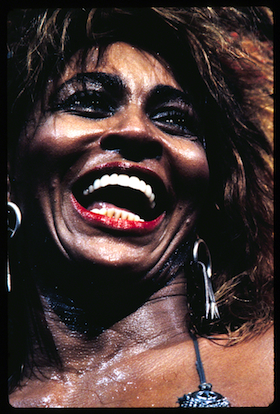 "Tina Turner, Universal Amphitheater, Los Angeles, 1985," from "Who Shot Rock & Roll?" Photo by Henry Diltz/Morrison Hotel Gallery © Henry Diltz
"Trouble in Paradise" did an excellent job of excavating such nearly forgotten musical heralds as Hadda Brooks, a singer and pianist who was the first African-American woman to host a TV music and interview program (move over, Oprah!), and Johnny Otis, the musician, bandleader, impresario and TV host, a Greek immigrant who adopted black Los Angeles. "As a kid," Otis once said, he decided that "if our society said we had to be black or white, [then] I would be black."
It is striking how much landmark music that we don't necessarily associate with Los Angeles was recorded here, from Sam Cooke's "A Change Is Gonna to Come" to James Brown's "Say It Loud -- I'm Black and I'm Proud."
Finally, the exhibition also made a convincing display of how much the repressive reign of Chief Parker's LAPD led to epic conflagrations in the African-American community during 1965's Watts Riots (thousands arrested, millions of dollars in damage, 34 dead), in the Mexican-American community during the 1970 Chicano Moratorium rally in Laguna Park to protest the Vietnam War, and among the teenage fans of rock 'n' roll during the 1966 riots on the Sunset Strip protesting curfew laws -- all of which also produced memorable music -- whether it was Wattstax, the all-day festival of African-American pride held at the Los Angeles Coliseum and immortalized on film, or the music of El Chicano or the Buffalo Springfield's "For What It's Worth."
Like the famous Magritte-inspired cover of Jackson's Browne's 1974 album Late for the Sky, California may look sunny from afar, but "Trouble in Paradise" documented an underlying darkness. Or, to quote, as Kun does, Browne's lyrics from "Before the Deluge," Los Angeles is filled with "the resignation that living brings."
"Who Shot Rock & Roll," at the Annenberg Space for Photography, is a group show originally curated for the Brooklyn Museum by author Gail Buckland. It features 166 images, many of them iconic photographs of music legends from the Beatles to Tupac, from Tina Turner to Amy Winehouse, by a wide range of photographers, among them Annie Leibovitz, Henry Diltz, Diane Arbus, Lynn Goldsmith, Bob Gruen, Amy Arbus, Linda McCartney, Albert Watson and many others. It also displays a selection of visually striking music videos, including ones of Elvis Presley, U2, Grace Jones and Sonic Youth, as well as a documentary, commissioned by the Annenberg, that highlights the photographers and their images, incorporating behind-the-scenes footage as well.
There is a vitality to these documents of the music world that seems very Los Angeles. And beyond that, the "Rock & Roll" images captivate on many levels: There's the thrill of seeing an artist in an unguarded moment; of capturing the excitement and energy of performance -- a stop-motion documentary of musical self-actualization; but there are also some elaborately staged portraits that, at their best, reveal a larger truth about artist or society at that moment in time. Each genre is very well represented.
In conjunction with the exhibition, the Annenberg is partnering with KCRW (89.9 FM and KCRW.com) for a series of live concerts in July (admission is free, but reservations, at kcrw.com, are suggested). These will feature an acoustic and DJ set by Moby, a T. Rex tribute by Portugal. The Man, and Raphael Saadiq and others performing songs from "Chimes of Freedom," the Amnesty International benefit collection of Bob Dylan covers.
"Trouble in Paradise" and "Who Shot Rock & Roll" serve to remind of us of how much music can shape the very landscape of our lives and our times, through journeys that both define and transcend the place where we live.
"Who Shot Rock & Roll," June 23-Oct. 7, Annenberg Space for Photography, 2000 Avenue of the Stars, Los Angeles.
This article originally appeared in print in The Jewish Journal of Los Angeles.