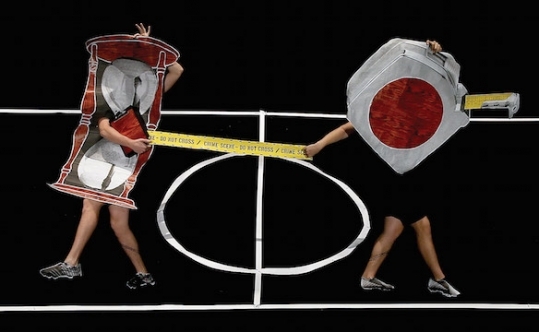 Deville Cohen, "Crime Scene." Video still from "ZERO," 2013. Supported by the Artis Grant Program. Courtesy of Artis / the artist
Although Rosette Delug has only been collecting art for a decade, her Trousdale Estates mansion at the apex of Beverly Hills has become a showcase for cutting-edge international contemporary art. In fact, the works are so omnipresent on the home's walls and in every inch of open floor space as to recall Gertrude Stein's Paris salon (though in a very Los Angeles style -- the bottom of Delug's swimming pool is a Lawrence Wiener painting).
At an event some months ago, the catering was superb, the drinks plentiful, and art-world denizens were there catching up on what they'd seen recently and what they hoped to see next -- in other words, there's not likely to have been better place for a Los Angeles party for Artis, a nonprofit based in New York that supports and promotes Israeli art and artists.
A few weeks later, the Roy and Edna Disney/CalArts Theater (REDCAT), the small and adventurous performance space on the lower floors of downtown's Walt Disney Concert Hall, was the site of an installation and performance by Yael Davids. In a bare, white-walled gallery, two climbing ropes and a giant wooden frame suspended on wooden hangers all hung from the ceiling. Pieces of bulletproof glass -- some triangular, others rectangular -- were stacked on the floor or leaning against a column. About 50 people had gathered to watch as Davids inched on her back along the perimeter of the space, reciting texts, as "holders" (staff for the project) lifted and moved glass plates around the room. Meanwhile, over at the Otis Space at the 18th Street Art Center in Santa Monica, artist Carolina Caycedo and Dana Yahalomi, founder and leader of Public Movement, discussed their work with artist and chair of Otis' MFA Public Practice program Suzanne Lacy. Yahalomi, who spent a month-long residency at 18th Street, has created work for the Museum of Modern Art (MoMA) and the New Museum in New York.
Taken together with recent shows in various L.A. museums and galleries by Israeli artists Orit Raff, Nir Evron and Miri Chais, it's clear that Israeli art has found a second home in Los Angeles.
This has not happened by accident. It is the result, first, of a decade of effort by The Jewish Federation of Greater Los Angeles at twinning L.A.'s and Tel Aviv's cultural scenes, followed, in recent years, by the matchmaking success of Artis, a nonpolitical, independent nonprofit that is currently celebrating its 10th anniversary.
The mission of Artis, its website states, is to broaden "international awareness and understanding of contemporary visual art from Israel," which it does through a variety of platforms for both artists and art professionals. It got its start, for the most part, in New York, but in the past year has become increasingly visible in Los Angeles. One way that Artis strengthens ties between Israel's and L.A.'s art worlds is by sponsoring trips for U.S. museum curators to Israel, where they meet with artists and arts professionals. Artis also has helped facilitate a variety of events in L.A.'s various arts institutions, both large and small. It offers grants to support artists, and it raises funds to support its programs.
What's striking is that an Artis event looks nothing like most Jewish or even Israeli communal events in L.A. For one, the audience comes to talk about art, not Jewish or Israeli politics, or even spirituality. And people dress differently, too -- in fact, it's hard to distinguish the hip Israeli artists from the Americans -- and that's part of the point.
Artis is about art and artists -- and not about being Jewish. On the other hand, the artists' very presence and the seriousness of their work, and how seriously it is taken, speaks volumes about the status of contemporary work being made by Israeli artists. Just as is the case in the tech world, Israel's art scene right now is on the cutting edge.
And so is Los Angeles' art scene, long recognized internationally as one of the most influential in the world. Artis' goal is to connect Los Angeles' venues, money and impact with the startup energy of Tel Aviv, in particular, where a young, hip community of global-minded artists, gallerists and connoisseurs can interact politics-free (even if some of the Israeli work is sometimes explicitly, sometimes covertly, political).
If you were to ask those recently exhibited Israeli artists -- Raff, Evron or Chais -- whether they consider themselves Israeli artists, each one likely would respond that, yes, they are Israeli, and yes, they are artists, but that their work cannot be categorized or reduced to being called Israeli art. And the art world would agree. Borders no longer divide the contemporary art world into schools, as once was the case. These days, movements and influences have become porous, with most artists working, traveling and showing their work internationally.
Intellectually rigorous, often with a conceptual underpinning, Israeli art tends to push the boundaries of the definitions of painting, photography, sculpture, installation and public art; as a result, though Israeli artists regularly show work in Los Angeles, more often than not it's not in traditional Jewish venues, but rather in L.A.'s art establishments.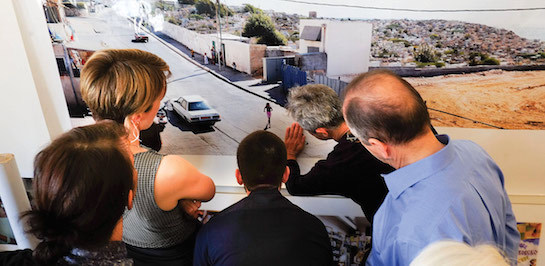 Photographer Barry Frydlender in his studio with a group of curators during the October 2014 Artis research trip to Israel. Photo courtesy of Dan Haimovich
A few months ago, an event at the Night Gallery in downtown L.A. was organized by the High & Low Bureau, the nom d'art of curatorial duo Yael Messer and Gilad Reich, both of whom are based in both Amsterdam and Tel Aviv. The duo presented a series of short art films by Israelis focused on issues of identity and territory, using a variety of approaches. Among them was Amir Yatziv's "This Is Jerusalem, Mr. Pasolini," a 17-minute work that juxtaposes Pier Paolo Pasolini's narration from "Seeking Locations in Palestine for The Gospel According to St. Matthew" (Israel, 1963) -- about a location scout Pasolini did for a biblical film he'd hoped to shoot in the historical locations but ended up shooting in Italy -- juxtaposed with images of the actual sites around Jerusalem. Guy Ben Ner's "Soundtrack" also screened: It's a quite comic 11-minute film shot in the filmmaker's apartment in which he tries to protect his family from a series of calamities -- all lip-synched to scenes from the Steven Spielberg-Tom Cruise film "War of the Worlds."
Artis does not seek out Israel-related or even Jewish content. And that may be what makes the works' origins so interesting.
A recent show at LA>

It is, in fact, refreshing to attend events that are fundamentally Israeli, but where no one talks politics. At an Artis event, it's all related to Israel, and usually the artists are Israeli Jews, but no one talks about Judaism, or issues of intermarriage or assimilation. No one mentions Benjamin Netanyahu or the settlements.

Nevertheless, the work sometimes deals with those topics: For example, "Gaza Canal" a film by Tamir Zadok shown at the High & Low Bureau event, mocks Israeli intentions and attitudes toward Gaza. Yahalomi, in her talk, discussed a Public Movement project titled "Birthright Palestine?" meant, according to Public Movement's description, to point out "the choreographies of Birthright ideological youth journeys to Israel; examine the uses and misuses of political branding as they relate to the status of some New York Muslim communities; deconstruct the role played by Birthright in the production of the American Jewish community/lobby; and consider the appropriation of such strategies toward the potential creation of Birthright Palestine."

In each of these instances, Artis fostered new ways to see Israel. Its program also offered Israeli artists a chance to participate in the global art community while at the same time forging deep ties between Los Angeles and Tel Aviv.

Artis got its start in 2004; its founder is Tel Aviv-born Rivka Saker, who established Sotheby Auction House's Tel Aviv office in 1982. She is currently chair of Sotheby's Israel and a senior director of Sotheby's Europe. The seed for Artis was planted when Saker worked with several galleries to stage an Israeli Art Week highlighting contemporary Israeli work during the week of New York's annual Armory Show, at which gallerists from all over the world display their wares. The first Israeli Art Week was so successful that Saker organized another the following year, and she soon began to think about creating a nonprofit to support Israeli artists and help Israeli art become better known.

Meanwhile, in L.A., The Jewish Federation of Greater Los Angeles was forging its own relationship with the Tel Aviv arts scene through its Tel Aviv-L.A. Partnership, an initiative that included a "twinning" program that, among other things, forged bonds between L.A. and Tel Aviv schools. The program also sponsored a master class in film and TV that led to Hollywood agents becoming familiar with and making the deals for American remake rights to such shows as "In Treatment." The partnership also promoted cultural exchanges, including sponsoring trips to Israel for curators and art collectors. A crucial player in the last portion was Nancy Berman, a collector and formerly the founding director of the Skirball Cultural Center's museum; she was the one who suggested the art component for Federation's L.A.-Tel Aviv partnership. She was asked to spearhead the trips.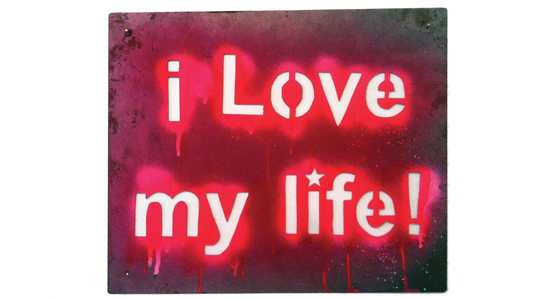 Artis limited edition: Rona Yefman, "i Love my life!" 2009. Stainless steel stencil, spray paint, photo sticker and canvas bag. 14 by 17 inches. Edition of 30 plus five artist's proofs. Courtesy of Artis / the artist

Berman, a longtime Los Angeles resident, grew up in Allentown, Pa., where her parents were serious art collectors. Her father served for a time as chairman of the Philadelphia Museum of Art, and her parents were active in Jewish causes -- Berman's mother was on the national board of Hadassah and often organized sales of Israeli art in Allentown to support Hadassah. The Bermans primarily collected American art. "I grew up with a Robert Henri [painting] over the fireplace, called the 'Irish Girl,' which is now on loan to the Huntington" museum in San Marino, Berman said in an interview. Her parents also traveled often to Israel and were involved in the commission of the Calder stabile "Homage to Jerusalem," installed on Mount Herzl, near Yad Vashem. They also often brought work by Israeli artists home with them.

Growing up with "lots of art around" led Berman to study art history and later to work at the Jewish Museum in New York. In 1972, she joined the Skirball, then affiliated with Hebrew Union College-Jewish Institute of Religion, and she served as its curator for the next 30 years, through the opening of the Skirball Cultural Center in the Sepulveda Pass in 1996. She left the Skirball 12 years ago. Since then, Berman's parents died, leaving their substantial art collection to the Philip and Muriel Berman Foundation, of which Nancy Berman is now the director. The majority of the 2,000 works of art in the collection were donated to Ursinus College outside of Philadelphia, where they are housed in the Berman Museum.

In working on the L.A.-Tel Aviv partnership, Berman said, she sought out "curators from all the [L.A.] museums and [would] send them to Israel to get to know the curators and artists there."

Federation, through this program, also sponsored residencies for artists. Israeli photographer Frydlender was invited to live and work in Los Angeles for several months. The result, Berman said, was "the most beautiful body of work on Los Angeles. ... It's like a narrative painting."

Also as part of the program, Sharon Lockhart, a Los Angeles artist (who is not Jewish), traveled to Israel and was inspired by the archive of the late Israeli textile artist and choreographer Noa Eshkol. The result was that Lockhart created a work she saw as a "two-person collaboration" with Eshkol, a multimedia installation including dance and video that was exhibited at the Los Angeles County Museum of Art (LACMA) in 2012.

Meanwhile, during this time Artis' New York operation continued to grow. In 2007, Yael Reinharz, who had been working at Creative Time, one of New York's pre-eminent public art organizations, became Artis' executive director. Under Reinharz and Saker's leadership, Artis arranged trips for art professionals to visit Israel, similar to those emanating from L.A., and which delivered immediate positive results.

"What we decided to do was to create a group trip of top writers and curators to come to Israel," Reinharz said. Among the first was Klaus Biesenbach of New York's Museum of Modern Art and its adjunct space, PS1. "Very shortly thereafter, [Biesenbach decided] to curate a solo show of Israeli video artist Yael Bartana at PS1, and of sculptor and video installation artist Sigalit Landau at MoMA. He was recommending numerous acquisitions of works by Bartana and Landau ... and was asking Artis to facilitate finding donors to donate the work to the collection," Reinharz said. "So, after that trip, we really felt like we had something special, with immediate results. This was really major. That was how it started."

At one point, when trips sponsored by both Artis and the Tel Aviv partnership were in Israel at the same time, the two joined up for a day trip to Haifa and a dinner, Berman recalled.

Eventually, however, Federation cut the art component of the Tel Aviv-L.A. partnership, despite efforts by Berman, who believed that a meaningful exchange was being discarded. Today, all that remains of the partnership is the twinning schools program, still including the student exchanges. However, the end of Federation's Tel Aviv-L.A. partnership art program created an opening for Artis in L.A.

"When that came to an end," Reinharz said recently, "it seemed like a really opportune time to pick up the slack and expand westward. We had at that point a number of alumni from our trips who were now working in L.A., and we felt we had a built-in audience in terms of the progress that the Tel Aviv Partnership had made," Reinharz said.

"L.A. is really the second-biggest art city in the States, and it has a very particular ecology and approach in terms of how they work with artists and the kinds of institutions that are there, the involvement and influence of art schools there," said Reinharz, who remains based in New York. "L.A. was always a different place, but kind of exciting and enticing for those reasons."

Artis' L.A. connection was formalized when Berman joined the Artis board, along with Sonia Cummings of the Nathan Cummings Foundation. Cummings, who also lives in L.A., had also been an active supporter of the Tel Aviv-L.A. partnership and is a great supporter of Jewish culture and of Israel. Cummings believes supporting Artis is critical, she said, because "art is often considered as secondary in importance [among Jewish funders], but in reality most of the important voices are artists [who] really represent [the diversity of] Israeli society."

So, today, Artis focuses its public programs in New York, Tel Aviv and Los Angeles, including organizing two trips a year to Israel for a select, yet diverse, group of curators, art historians and collectors -- marathon visits to galleries, artists' studios and museums, and meetings with professionals at each. The trips also include private tours for individual collectors, help with grant writing, and scholarship programs for Israeli artists to support their work. Artis also has created a website offering information about Israeli artists and exhibitions in Israel and around the world.

Among the notable L.A.-based curators who have traveled on Artis trips to Israel are Charlotte Cotton, LACMA/National Media Museum, Bradford, U.K.; Anat Ebgi, The Company, L.A.; Carol S. Eliel, LACMA; Anne Ellegood, Hirshhorn Museum and Sculpture Garden, Washington, D.C./Hammer Museum, L.A.; Lauri Firstenberg, LAXArt, L.A.; Cesar Garcia, The Mistake Room, L.A.; Shamim Momin, Whitney Museum of Art/Los Angeles Nomadic Division; Christine Y. Kim, LACMA; Aram Moshayedi, REDCAT/Hammer Museum; Ann Philbin, Hammer Museum; Alma Ruiz, Museum of Contemporary Art (MOCA); and Paul Schimmel, MOCA/Hauser, Wirth and Schimmel.
Firstenberg, director and curator of LAXART, an independent contemporary arts space in Culver City, which she founded in 2005, called the role of Artis "remarkable" and "quite rare," because Artis gives curators the opportunity to "engage and collaborate" with artists and with their counterparts in Tel Aviv and internationally. "It's a gift, really." She added that for many independent Los Angeles curators, such "international travel is not feasible." Artis also has facilitated, including fundraising for, collaborations with Israeli artists that would otherwise not have been possible. LAXART, for example, presented projects with two Israeli artists in 2014: Raff and Evron.
All of this kind of programing costs money, of course, which Reinharz hopes can come from the Los Angeles Jewish donor community. On the one hand, this poses a challenge because, as Federation's involvement proved, many Jewish donors respond most strongly to political crises, threats of anti-Semitism abroad and at home (particularly on U.S. college campuses), intermarriage and Jewish continuity, democracy, civil rights and the environment in Israel -- all important causes -- all of which receive, more often than not, greater priority than supporting Israel's artists.

On the other hand, L.A. has many Jewish collectors and patrons of contemporary art who are unconnected to traditional Jewish institutions and yet who might be drawn in by the connection (and what may also turn out to be a savvy early investment in rising talent).

In the end, the medium will have to be the message -- that Israel's art provides a different lens by which to champion Israel's importance on the international stage.

"Many artists in Israel are engaging with many difficult and challenging ... issues as artists." Reinharz said. "We are respectful of and excited by artists' freedom to challenge our ways of thinking."
And their freedom to challenge our ways of thinking about Israel.
-------------------------------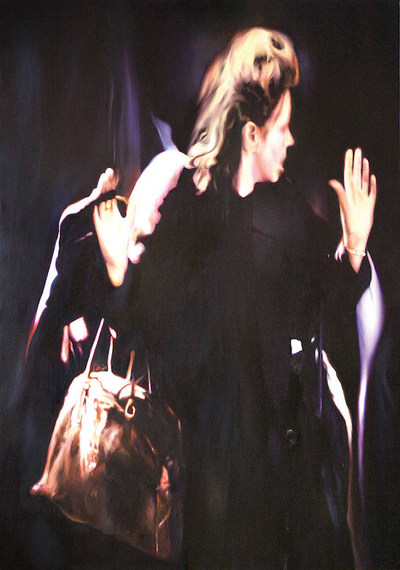 Artis limited edition: Nir Hod, "Mother," 2014. Pigment print with pastel and pigment powder on paper. 49 by 37 inches. Three editions of seven (Gray, Purple, Blue). Two artist's proofs of each edition. Courtesy of Artis / the artist

Copyright © 2014 Tom Teicholz