From factories to runways, showrooms to sample sales, fashion is woven into New York City's cultural DNA. The heart of the industry is in the Garment District, the cluster of blocks spanning 34th to 40th Streets between Broadway and Ninth Avenue. Currently the City of New York is considering a proposal to change the zoning in the Garment District that protects manufacturing uses, and to move some existing businesses into a single building--decisions that would transform the industry and the neighborhood.
The Design Trust for Public Space, a nonprofit devoted to improving New York City's public realm, has partnered with the Council of Fashion Designers of America to create Made in Midtown, a study of how the industry works and why it's an integral part of the City's economy, identity, and sense of place. The project website, www.madeinmidtown.org launches in May. Each week until then, journalist Tom Vanderbilt will post a short profile that provides a behind the scenes look at the fashion world, and reveals how an industry inseparable from New York continues to thrive.
Against one wall in Ramdat Harihar's bustling factory on 39th Street, just around the corner from the glittering drawerful of gemstones, is housed a neatly shelved collection of sewing machines. Many of the machines, built well into the previous century, are technically antiques. But they are not obsolete. They are tools for innovation. Harihar collects these machines, often buying them cheaply from defunct businesses, not simply because they are so effective in working with specialized stitches -- many outside the easy ability of modern machines -- but because, with a little tinkering, they can be used to create entirely new stitching effects for the garments his factory produces. "What we'll do is switch machines around," says Harihar, who studied electrical engineering in his native Guyana. "We'll take one part from one machine and solder it into a different machine, to create that different design." On another occasion he used a machine of a different sort -- a microwave oven -- to create a new pleat for Donna Karan.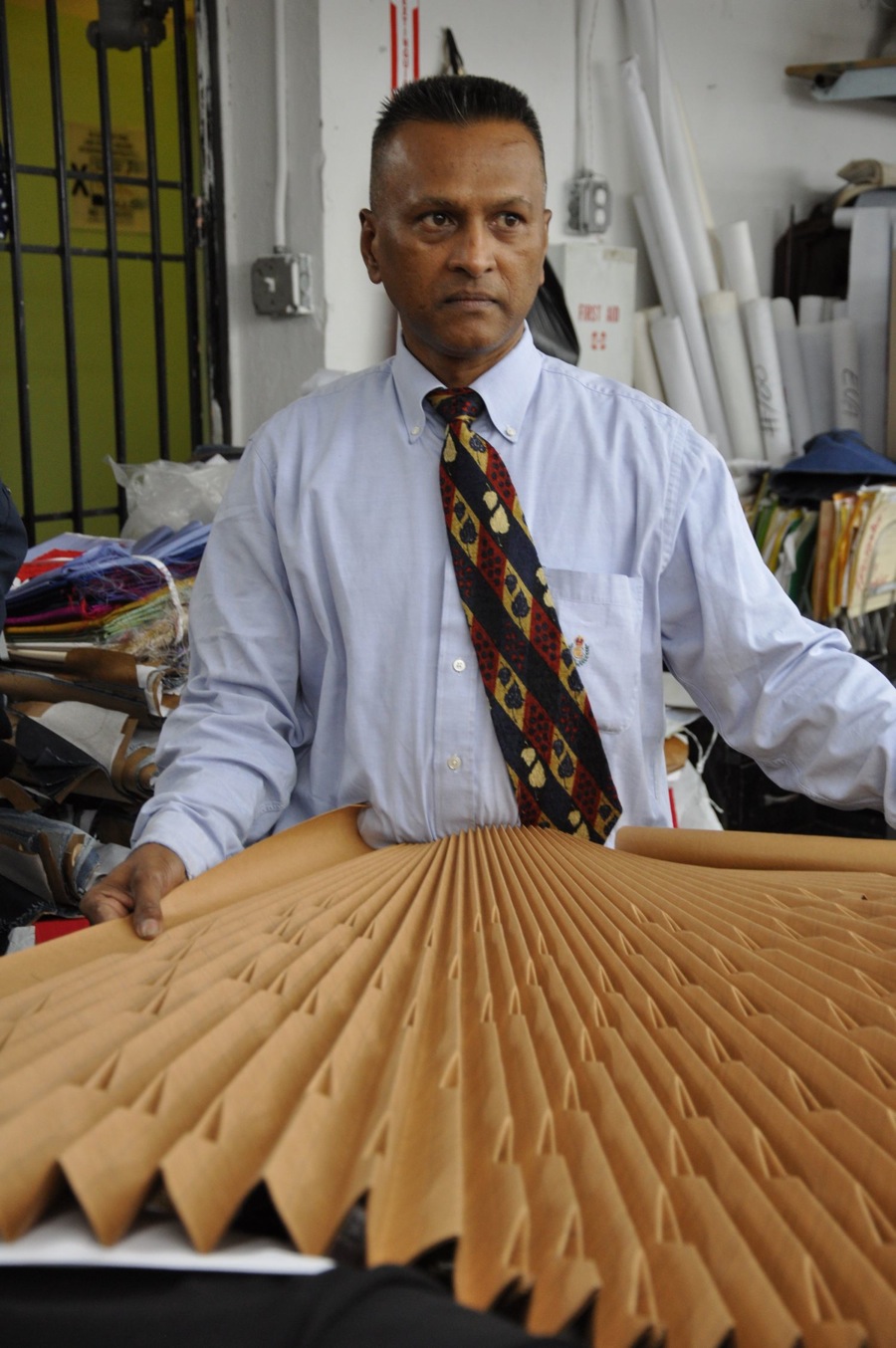 Harihar's ability to provide this added value to his designer clients, who range from Anna Sui to Zac Posen, is central to his survival amidst the declining ranks of apparel manufacturing in New York. So too is flexibility, and an eye for opportunity. To counter the seasonal downturns in the cycle of fashion production, Harihar turns his workers to everything from table napkins to tartan-checked "doggy couture." In a warehouse in New Jersey he keeps surplus machines, in hopes that a fashion company might redirect even a small portion of its production to New York.
As with many manufacturers in the garment district, his is a classic immigrant's story of hard work, family ties, and taking chances: Freshly arrived in New York in the early 1970s, he began in the district by pushing hand trucks in the streets. He worked his way up, eventually running Ajax Pleating and Stitching, among other now-defunct manufacturers. In 1996, with his wife Chandra (the 'C' in R&C Apparel), he launched his own business. A downturn in orders forced him from his previous location of many years into his new space -- ironically, previous occupied by a sewing machine vendor -- but he says remaining in the garment district was key. "I thought about going to New Jersey," he says. "But what I notice in the fashion industry is that if you are not close to the designers, your business becomes more distant. You lose contact."
Ultimately, Harihar believes his success depends on this contact, particularly with the younger designers who he hopes he will become the celebrated names of tomorrow. He helps turns their sketches into feasible blueprints and finished garments on-budget--often on a few day's notice; helps them find fabric; extends them lines of credit; lets fashion students use machines to try out a design, and gives them samples. "I call him my godfather," says designer Francoise Olivas. "I try to take a risk with the younger designers," says Harihar. "We have to have the future Marc Jacobs, the future Ralph Lauren."