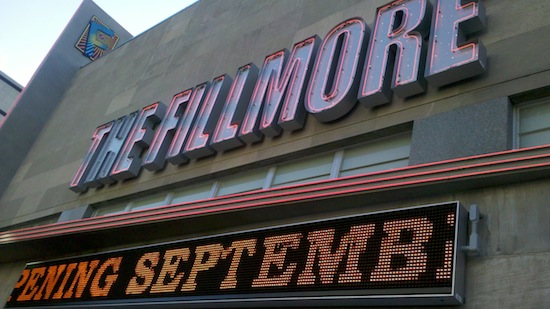 The brand new Fillmore opens today with an exceptional line-up and the blessing of Silver Spring's hometown boy-who-made-it-big-ranting-about-everything Lewis Black. At Tuesday night's VIP soft opening, Black made note that "When I was born and raised around here, this whole area was a Sh!t Hole!" Which wasn't far from the truth. Back in the day, Silver Spring was known for being less than a desirable neighborhood. "Forty years ago there was nothing out there. To return here now and see what they've done, p!sses me off!" Really, Lou? "I don't think that children should have any of the advantages that I was deprived of." Laughter erupted. Then in Oprah fashion, Lewis brought the principal of his former high school (Springbrook) to the stage and presented him with a $10,000 check.
Tonight (Thursday), Mary J. Blige takes the stage in the first of what are hoped to be nightly events. The Fillmore Silver Spring, a two-thousand-person venue, has outdone itself with booking its first round of headliners. Joe Jonas (10/5), John Legend (9/17), Blondie (9/20), and more acts are being added by the day. Fillmore Silver Spring, the sixth nationwide, began nearly 40 years ago when the great bambino of concert promoters Bill Graham opened up his first psychedelic venue in San Francisco. It quickly became a must-hit spot for some of the biggest names in music history, from the Grateful Dead to Santana.
Music legend has it that, as a thank you for spending their money, guests of Graham's Fillmore were treated to free apples as they filed out of shows in the 1960s. This community bond continues today. Over 160 jobs were created by the Fillmore and long-time Silver Spring developer Bruce Lee was behind the project. The walls are plastered with framed posters of shows that have rocked the stage at other Fillmores around the country. The Fillmore boasts huge bars, trademark chandeliers and a tiered balcony. The backstage halls will surely be filled with the sound of vocal exercises and whatever else rockstars do, and guests can hang in the downstairs Vertigo Lounge. Word of caution: the crafted cocktails didn't really hit you that fast. The walls really do look like they are in motion. Trippy.
The Fillmore joins the ranks of other legendary Washington Venues like the 9:30 Club, Wolftrap and the Birchmere. Tonight, despite lawsuits, community speculation and a decade of support building, the Fillmore throws open its doors with little to no Hateration, or Holleration as Mary J Blige takes the stage. She'll bring eight studio albums of hits and a vibe that's sure to leave the inaugural crowd with memories for a lifetime.