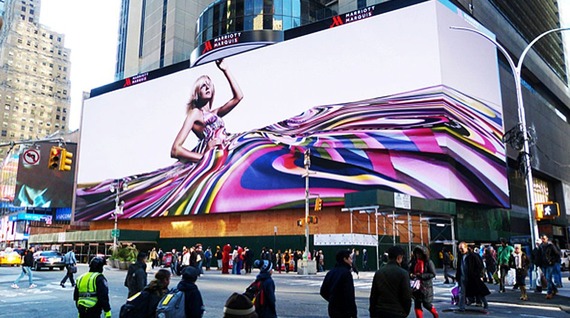 Stores all over the country are gearing up for the annual holiday madness, but in Manhattan, so are the outdoor spaces.
Every year, the start of the holiday season in New York is symbolized by the festive displays in public areas around the city. Traditionally, we look out for the raising of the Christmas tree in Rockefeller Center and the decoration of department store windows along Fifth Avenue.
However, this year a new digital figure is being added to the mix. In Times Square, the largest electronic billboard on Broadway, which takes up the entire block from 45th to 46th streets, debuted on November 25th with Google as the premier advertiser. The timing of the company's takeover of the billboard does not strike as coincidence, as it lasts through the holiday season, including New Years Eve when the whole world will have eyes on the billboard's surrounding area.
The new billboard is even more significant than just acting as a large advertisement space. The size of the billboard matches its price and influence potential. It is an incredible piece of real estate, hitting the market at a rate of more than $2.5 million per four-week advertisement slot, which purely acts as a space to momentarily look at.
Small businesses still get to shine as well. With the increasing popularity and quantity of outdoor holiday markets, more local business owners are able to publicize their products. For example, this year's Union Square Holiday Market has 150 retailers and typically attracts over one million patrons.
While walking around New York during this time of year, it is almost impossible to avoid the holiday spirit.