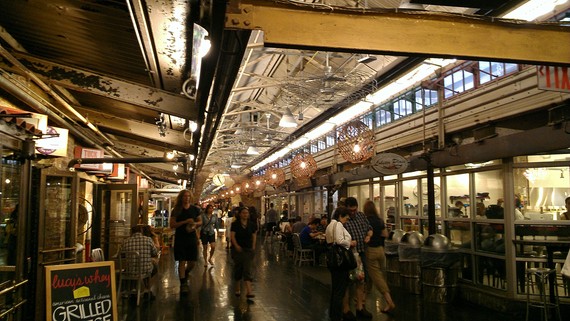 When it comes to malls and food courts, New York does what it knows best -- takes the quality and quantity of them to an unprecedented level.
The marketplace in New York City has become a phenomenon, growing from just Chelsea Market into the latest go-to real estate development. These markets include ones similar to Chelsea Market, housing both food and retail, such as Brookfield Place in Battery Park City, or food halls specializing in creations by the city's most innovative chefs, such as Gotham West Market and Smorgasburg.
Given the increase in number of markets around the city, there is no surprise when plans for the next one arise. They typically become tourist destinations or part of a planned-out day for residents from all boroughs, as their vendors serve up some of the newest trends in the food scene.
However, there is still potential for a similar market to open that is geared towards neighborhood specific residents in areas that can use a burst of culture, restaurants and shops.
For example, with the increase in residential development in Lower Manhattan, the Financial District is becoming a home to thousands of new residents, but there is a lack of neighborhood restaurants and shops that serve as a simple go-to for the new neighbors. According to the Downtown Alliance, "the pipeline of residential development includes 1,700 units in ten buildings under construction which are expected to drive additional population growth south of Chambers Street." By providing potential residents with a simple indoor restaurant and retail market catered to their needs, the neighborhood becomes a lot more attractive as a livable investment.
Perhaps there are other neighborhoods that can use the same development in or outside of Manhattan. Where do you think the demand is high? Leave your comments below, I'd love to hear them.