In the thirty-two years that I have lived in Chicago, I have never missed an international art fair in this great city. With that in mind, I am proud to write that never before has the annual exposition benefited from such a long, and unprecedented, list of major exhibitions and events that were planed to open and run concurrently with its dates. Chicago's leading museums, cultural institutions, galleries, artists, and arts organizations are making a bold declaration to the international art world that Chicago is the place to be this September for the third edition of EXPO CHICAGO, the International Exposition of Contemporary and Modern Art, (September 18-21, 2014 at Navy Pier).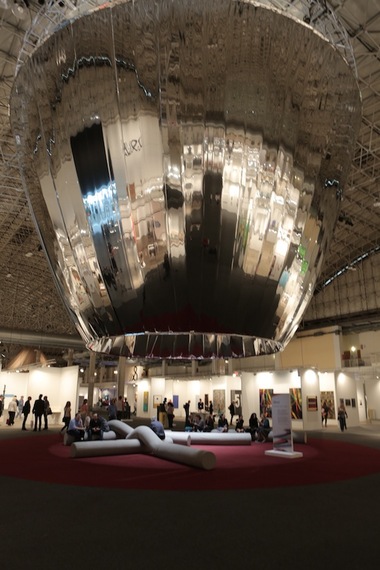 EXPO CHICAGO - StudioGang -Snarkitecture. Photo by Audia
Collaboration is hallmark of our city, and the full list of alignments is a testament to that - beginning with the David Bowie Is exhibition at the Museum of Contemporary Art Chicago, the only U.S. venue for the highly anticipated show. Also on view at the museum is London-based artist Yinka Shonibare MBE, who will premiere three sculptures from his new Wind Series as part of their annual plaza series, and the not-to-be missed Simon Starling: Metamorphology exhibition, done in conjunction with Simon Starling: Pictures for an Exhibition at The Arts Club of Chicago. A panel discussion featuring Laurie Simmons, in conversation with Sara VanDerBeek, Liz Deschenes, and Kate Linker is set to align with the opening reception of Sarah Charlesworth: Stills at the Art Institute of Chicago where their critically acclaimed Magritte: The Mystery of the Ordinary 1926-1938 will also be on view. The Sullivan Galleries at The School of the Art Institute of Chicago will present A Proximity of Consciousness: Art and Social Action, curated by Mary Jane Jacob and Kate Zeller, with works included by Jim Duignan, Paul Durica, Pablo Helguera, J. Morgan Puett, Iñigo Manglano-Ovalle, Dan Peterman, Michael Rakowitz, Laurie Jo Reynolds, Temporary Services, and Rirkrit Tiravanija. The Mary and Leigh Block Museum of Art will open with Wangechi Mutu: A Fantastic Journey; an ongoing group exhibition at the Chicago Cultural Center, CHGO DSGN: Recent Object and Graphic Design, beautifully celebrates Chicago's acclaimed design community. The Renaissance Society at the University of Chicago will open with a stellar exhibition of work by renowned contemporary artist Josef Strau, and The Poetry Foundation will present Freedom of Shadow: A Tribute to Terry Adkins with Douglas Kearney. Columbia College Chicago has aligned their annual Wabash Arts Corridor (WAC Crawl) and the Museum of Contemporary Photography will showcase Phantoms in the Dirt, curated by Karsten Lund. Luftwerk unveils their FLOW/ACTIVATE public installation, done in conjunction with the Chicago Loop Alliance; The Hyde Park Art Center, now celebrating 75 years, has a group exhibition entitled The Chicago Effect: Redefining the Middle on view, and the Chicago Artists Coalition will present the second annual EDITION Chicago.
Special performances of Dutchman, a Performa Commission by Rashid Johnson, will be presented by Performa, MCA Chicago, and Monique Meloche Gallery - and for music lovers, Riccardo Muti will lead the Chicago Symphony Orchestra in a free and public concert at Millennium Park.
Both EXPO CHICAGO, and EXPO ART WEEK events, will more broadly provide local and visiting arts enthusiasts an opportunity to explore the year-round cultural activities presented by our galleries and institutions. Working in conjunction with our city's art galleries, and partnering with Chicago Gallery News, the exposition has established the first annual Art After Hours (Friday, September 19), encouraging all galleries, performance venues, and alternative spaces throughout the city to offer extended hours that night. This year, over forty galleries are participating.
Although there is a long list of galleries in the city that will open exhibitions this week, several prominent galleries have chosen to specifically align with EXPO ART WEEK. Kavi Gupta CHICAGO | BERLIN will feature two important shows, with new works by Glenn Kaino and Mickalene Thomas; Stephen Daiter Gallery will open with a portfolio release reception for an exhibition entitled Birmingham: Four Girls, Two Boys; McCormick Gallery will be featuring Works from the Estate of John Little; Carrie Secrist Gallery will open with an exhibition of works by Whitney Bedford; Linda Warren Projects will feature Chicago artist Kim Piotrowski's works in Music, Morsels and Makers; Richard Norton Gallery will exhibit works by Hananiah Harari; and Andrew Rafacz will open concurrent solo exhibitions of Robert Burnier in Gallery One, and Samantha Bittman in Gallery Two.
Now in its fourth year, Gallery Weekend Chicago (September 19-21), has established itself as an annual tradition by the annual calendar by developing unique studio tours and events, while also highlighting the city's premier contemporary art galleries with viewings of recent exhibitions and artist's talks.
Our city's commitment to supporting arts and culture is unrivaled - Mayor Rahm Emanuel and the Chicago Department of Cultural Affairs and Special Events (DCASE) have just recently unveiled plans to honor exemplary Chicago artists and arts institutions at the inaugural Fifth Star Awards, a free public celebration of Chicago's art, architecture, dance, music, and theater at the Jay Pritzker Pavilion in Millennium Park on Wednesday, September 17, as a part of EXPO ART WEEK. The ceremony will feature a diverse lineup of performances and tributes for the honorees, including The Auditorium Theater of Roosevelt University, Lou Conte, Richard Hunt, Ramsey Lewis, and Lois Weisberg.
In addition to these, and many other special events and exhibitions, EXPO ART WEEK will feature not only this city's strong visual arts presence, but also the performing arts and award-winning dining experiences.
Now is the time to be here for September in Chicago. Our unparalleled visual arts alignments in venues throughout the city offer the chance to survey some of the best in international contemporary and modern artwork being made today, opening in stride with EXPO CHICAGO. All of them are not to be missed.