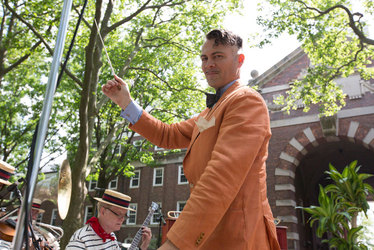 I'm a bit of a retro obsessive. I've grown sideburns and bought vintage cookbooks and polyester double-knit pullovers for a 1970-styled lounge party. For a "party like it's 1999"-themed shindig, I consulted the Billboard charts for a period-authentic playlist and started conversations about the "upcoming" 2000 presidential election. So it's not a huge leap to figure that the problem I have with most attempts at retro events is that they're not period authentic. I've been to a Mad Men-themed party where the host wore a fedora and double-breasted suit straight out of the '40s. Eighties nights at any given dance club will inevitably feature cheesy period Top 40 hits that no self-respecting DJ would have actually played back then. And so on.
Michael Arenella is a man after my own heart. And frankly, his passion for period-authentic retro puts me to shame. His era is the '20s and early '30s -- Prohibition, in other words -- and he leads a band, the Dreamland Orchestra, that plays hot jazz so letter-perfect (he transcribes the charts from the original records) and so musically accomplished that all they need is a time machine to get a gig at any dance hall or nightclub of the era. And he does it wearing period clothing, sporting a period haircut, singing through vintage microphones, and when he goes home from the gig he may be driving a Studebaker from the '20s, one of the several vintage cars in his collection.
The Dreamland Orchestra plays around constantly, at private events and public shows; until this year they were a fixture at the Manhattan Cocktail Classic. But Arenella's baby, and the most fun way to see him in action, is at the Jazz Age Lawn Party on Governor's Island this weekend and again in August. Organized by Aranella himself, it's a great opportunity to dress in your best Boardwalk Empire-styled duds and enjoy some peppy Prohibition era fun. In addition to Arenella's combo, also featured will be the vaudevillian stylings of Gelber & Manning, the tap-dancing Minsky Sisters and some astounding Jazz Age hoofing from Roddy "Charleston Charlie" Caravella & His Canarsie Wobblers.
Food and drink will not be as slavishly authentic as the entertainment, which is probably a good thing; sardine and olive sandwiches and cocktails made with illegal booze of questionable origins may not appeal to 21st century palates. But in addition to the veggie burgers and portabello sandwiches, if you really want to get your retro on, there's chop suey, a raw bar and burgers (often known in the '20s as "hamburgher sandwiches"), all overseen by Jimmy Carbone of Jimmy's No 43.
As for the drinks, well, St-Germain elderflower liqueur wasn't around in the '20s, at least not in the States. But as anyone who's been in a craft bar in the last 10 years knows, it makes a very fine cocktail. So even if actual flappers in the actual '20s didn't drink the Flappers Delight (made with St-Germain, Bombay Dry gin, lime juice, simple syrup and fresh mint leaves), once you've had a few you'll forget you're not frolicking with the likes of Dorothy Parker and Josephine Baker.
For a complete list of performers, eats and drinks at the Jazz Age Lawn Party as well as ticket info, check out their website. For a taste of last year's festivities, have a gander at this. And if your dance card is already booked for this weekend, don't fret -- the party's coming back for an encore on August 17-18. Spats and bobbed hairdos are encouraged but not mandatory. Don't miss out -- this blow is truly the cat's pajamas.