The whiskey lover in me adores this time of year, when distillers from all over the globe unleash their new limited edition offerings. The suspense! The mystery! How will the label look? What's the shape of the bottle? How many are they making? How much will it cost? Is this variation on a meh bourbon going to make it a winner? Did the blender of my favorite blended Scotch go overboard and make a great whiskey undrinkable?
But the whiskey hoarder in me hates this time of year, when I have to agonize over whether to actually drink the limited editions now or save them for some far-off day when, I don't know, maybe I've been diagnosed with a terminal illness and I have six months to quaff all my amassed booze. Or all the whiskey distilleries decide to make all their limited editions available in unlimited quantities. Forever. And charge $1 apiece for them. Something like that.
Having to write about what these whiskeys taste like is a good way of forcing myself to open the bottles, though it kills me to do so. But duty calls. So please appreciate the efforts made to give you this round-up of seven whiskeys whose lifespans are limited. And please let me know if you buy any of them -- when I run out of mine I may be coming over to your place with glass in hand.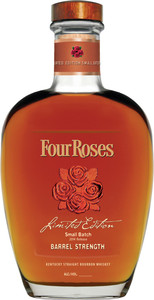 FOUR ROSES LIMITED EDITION SMALL BATCH 2014 BOURBON (60% alcohol by volume, aged 9-13 years, suggested retail price $100). This was one of the most hotly anticipated bourbons of the year, as the last few Limited Edition Small Batches have been met with rapturous, ecstatic reviews that had their writers all but foaming at the mouth (or typing fingers, rather) attempting to describe their brilliance. This year's Small Batch isn't quite as good as last year's historically delicious 125th anniversary edition, but that's like saying Magical Mystery Tour isn't quite as good as Sgt. Pepper. It's still really, really good.
For a 120-proof whiskey (that's what my sample comes in at, anyway), this goes down ridiculously easy. It's got lots of apple, peach and cherry on the palate -- your tongue will feel like it's strolling through an orchard. The only thing missing, weirdly enough, is the vanilla flavor typical of bourbon, but it's not missed that much. This baby has a lot of alcohol, natch, and you feel the burn as it hits the back of your throat. But you really don't need water to enjoy it. In fact, a few drops of water made the fruitier notes a little too cloying for my tastes. All you really need is a glass and a little time to savor it. The bad news: limited edition Four Roses bourbons tend to sell out faster than you can say "Pappy Van Winkle." The good news: they've upped production by about 40% over last year, so there's more to go around.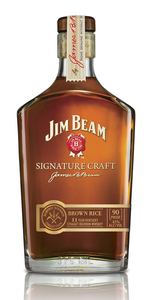 JIM BEAM SIGNATURE CRAFT HARVEST BOURBON COLLECTION: BROWN RICE (45% ABV, aged 11 years, $49.99/375ml bottle). Back in 2003, a couple of forward-thinking distillers at Jim Beam came to head honcho Fred Noe with an idea: to make bourbons using, in addition to corn, non-traditional grains like oats and triticale, with the intention of sampling them as they aged and selecting the best ones for a portfolio extension. But the other two distillers retired, and Noe rarely bothered to try them until this year. It was a crapshoot, but he wound up with six bourbons worth releasing, now called the "Harvest Bourbon Collection." The first two, Brown Rice and Soft Red Wheat, have just been released; the rest will come out in 2015.
I've tried all six, and Brown Rice is not only the best of the bunch, but one of the best whiskeys I've tasted this year. Which is pretty funny considering Fred didn't even realize you could make whiskey from the stuff. "I was thinking grains," he told me. "You don't think of rice as really a grain! But here's the chemical Ph.D man, saying it's got starch, and if it's got starch you can convert it to sugar and make alcohol." It starts off quite sweet, with notes of honey, caramel and yes, a little rice pudding. But the 11 years spent in wood tempers the sweetness and adds some beautiful dry spice on the back end. It's not like your standard corn-rye-barley bourbon, but if you love bourbon, you'll love this. "The problem is," Noe says, "if Brown Rice is a success, we're kinda screwed, because we never made any more to follow it up." Get it now or wait 11 years.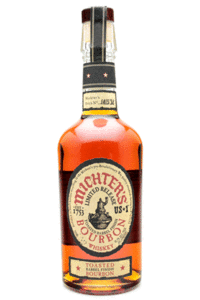 MICHTER'S US*1 TOASTED BARREL FINISH BOURBON (45.7% ABV, no age statement, $50). Michter's standard US*1 bourbon is pretty nifty both for mixing and sipping, but this variation is a cut above. Once the standard bourbon is aged in new charred white oak, it's finished in a barrel whose staves have spent 18 months air-drying before being toasted rather than charred. Why does that matter and why should you care? Because you wind up with a deeper, richer, more complex bourbon that's a little lighter on the peppery spice that comes from charred wood and heavier on the vanilla, caramel and cinnamon notes. That's why you should care. You should also care because only about 2,000 cases are going to be produced before Michter's shuts off the spigot, or loses the toasted barrels, or something. I'm hoping they'll reconsider, because along with their recently re-released Sour Mash, distiller Willie Pratt & Co. are hitting new heights with this brand.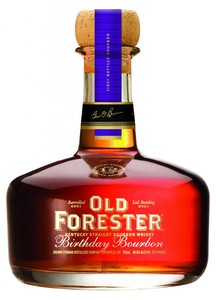 OLD FORESTER 2014 BIRTHDAY BOURBON (48.5% ABV, aged 12 years, $60). This is one of my favorite limited edition whiskeys, weirdly enough, because the quality can vary so wildly. Which makes sense because the entire run is the product of one day's distilling, plus of course a dozen years aging. 2011's edition was so woody it was barely drinkable; 2012's was rich, sweet and chewy, a decadent delight. And last year's was, if anything, even better. I had no idea what to expect from this year's batch, which is part of the fun of trying it out. To my palate it's a cross between the 2011 and '12. It's quite woody, with a lot of cinnamon spice, some interesting fruity/marmaladey notes, and a little less vanilla and caramel than I wish it had. A little water brings out the sweetness and tones down the spice a bit, but there's still a lot of oak there. If you're a fan of woody bourbons, this one's for you. And regardless, it's still worth a try, even if it doesn't hit the heights of the last two Birthday Bourbons. Oh, and lest I forget, the birthday in question is that of the late George Garvin Brown, the founder of Brown-Forman, which owns Old Forester.

WOODFORD RESERVE MASTER'S COLLECTION SONOMA-CUTRER PINOT NOIR FINISH (45.2% ABV, no age statement, $100). Woodford's Master's Collection is a showcase for Chris Morris to muck about with the traditional distilling and aging processes of his amazing bourbon, whether it's switching out corn for barley in last year's Classic Malt release or finishing the whiskey in different kinds of wood, as with the Maple Wood Finish (one of the best American whiskeys that's ever crossed my tonsils). Morris doesn't always hit the mark, but you've got to give him credit for trying.
Not all the results can technically be called bourbon, including this year's entry. Bourbon, you see, must be aged entirely in new charred American oak casks, whereas this one is finished in ex-pinot noir casks. But whatever you call it, this is a fascinating whiskey. It really picks up the pinot noir notes -- there's a lot of dark berries, cherry and rich chocolate to go with Woodford's classic caramel and oak flavors. There's also a slightly sour undertone which is rather off-putting at first. So off-putting, in fact, that after a few sips one night I was ready to dismiss the Pinot Noir Finish as a failed experiment. But the flavor stuck in my brain, and the next night I wanted to try it again. And the next night and the night after that, too. Over time it revealed itself to be quite delicious. It's a bit of an acquired taste, but it's a taste worth acquiring before it's gone.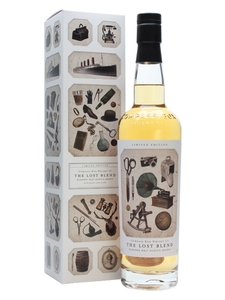 COMPASS BOX "THE LOST BLEND" BLENDED SCOTCH MALT WHISKY (46% ABV, aged 10-19 years, $120). Its name refers to both an O. Henry short story and a previous, long-gone Compass Box blend, Eleuthera. I never tried Eleuthera, but if this is a close cousin, it must have been pretty special indeed. Created from 80% unpeated Highland malts and 20% peated Islay malts aged up to 19 years, it's the best of both worlds in a single sip. It starts out quite light and sweet, with delicious pear and vanilla notes, before the smoke and peat gradually start to unfold as it slides over the tongue. You wouldn't think the two flavor profiles are compatible, but they segue so seamlessly from one to the other that I'm now craving peaty pears for dessert. Or perhaps just another sip of the Lost Blend....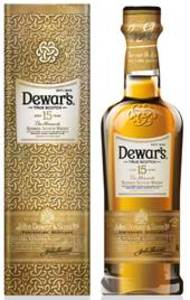 DEWAR'S THE MONARCH 15 YEAR OLD BLENDED SCOTCH WHISKY (40% ABV, aged 15 years, $45). I must confess I've never been a fan of Dewar's White Label, one of the best selling whiskies in the world and quite well regarded, too. But I opened my mind and my palate to this new limited edition, containing over 40 single malts (primarily Aberfeldy) aged mostly in ex-bourbon and ex-sherry casks and then married together in oak. 15 years is somewhat long in the tooth for a blend, and this one shows its age with a rich, deep flavor that's quite sweet, probably thanks to the sherry cask aged malts. It's actually a little too sweet to drink neat, but water it down or throw a rock in and it's quite pleasant, holding its own without losing too much flavor to dilution. It also makes a nifty Scotch and soda. Not the best choice for a fan of big, smoky whiskies, but great for novices who are just getting into Scotch and want to ease their way in -- and don't forget the hipness factor that comes with its being around for a short time only.