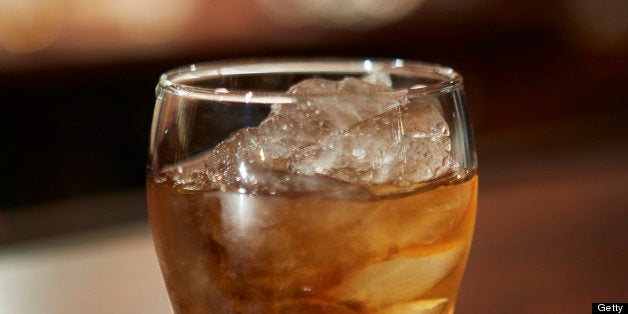 It's not like we need an excuse to drink bourbon and rye. I usually find that "It's Tuesday" or "It's partly cloudy out" or simply "I'm alive and I'm thirsty" are sufficient reasons. Because, you see, bourbon and rye -- also known as American whiskeys -- are among the most beautiful spirits to caress the human tongue in its long history of imbibing. There's so much variety within their spectrum, from sweet and gentle soul-soothing bourbons to explosively spicy barrel proof ryes, and all the myriad flavors in between. It's tempting, in fact, to declare that I'd be a happy boozer if I had nothing to drink but bourbon and rye for the rest of my days.
Which is a lie, of course -- I like my gin and my Scotch and my arrack and my cognac and so on too much to even consider throwing them away. But for Independence Day, at least, I'm proud to eschew all others for the whiskeys upon which this great country was founded. OK, so rum was as popular as rye in colonial days, and bourbon as we know it today wasn't perfected until the 19th century. But like I said, who really needs an excuse to drink American whiskey? The eight brands I've reviewed below -- four bourbons, four ryes -- will make you proud of our country, its various shortcomings notwithstanding. There's something for everyone here: old styles reincarnated, new brands by venerable distillers, cutting edge hybrids, and a couple of tasty oddballs. Taken as a whole, they form a veritable melting pot of deliciousness. An expression in a glass of the kind of creativity, inventive spirit, and plain old moxie that made America so damn awesome in the first place.
And if you're not buying my attempt at flag-waving, glass-tipping patriotism, well, who really needs an excuse to drink bourbon and rye, anyway?
ABRAHAM BOWMAN PORT FINISHED BOURBON (aged 8 years, 50% alcohol by volume, suggested retail price $70). I don't know much about the A. Smith Bowman distillery, which is based in Fredericksburg, VA (site of one of the more famous battles of the Civil War, you history buffs), but I do know I like this bourbon. A lot. The Bowman folks undertake a pretty complicated process to make this whiskey -- filling, emptying, refilling, shipping barrels back and forth, doing the hokey-pokey and shaking it all about, you name it. In a nutshell, it's aged for a time in barrels that had previously been filled with port. And the result is delicious. Sweet and rich, with notes of chocolate-covered cherries and luscious caramel, like dessert in a glass, but oh so elegant at the same time. Bowman's booze can't be found everywhere, and this is a limited edition, but it's worth searching out -- especially for an occasion as special as Independence Day.
HIGH WEST RENDEZVOUS RYE (aged 6-16 years, 46% ABV, $40). What do you think of when you think about Utah? The Osmonds? Polygamy? The basketball team with the least geographically appropriate name this side of the Los Angeles Lakers? Regardless, I'll bet you don't think of whiskey. But the High West Saloon & Distillery has been bottling a bunch of fantastic ryes, a few bourbons, some combinations thereof ("Bourye" and "Son Of Bourye" for instance), and even a couple of barrel-aged cocktails. It's damn near impossible for me to pick a single favorite, but Rendezvous Rye is definitely in the running. It's a blend of a 6-year-old rye with 95% rye in the mashbill (rye whiskeys by law need only to have 51% rye, with the rest coming from other grains) and a 16-year-old with an 80% rye content. The younger rye dominates the nose and on the front of the palate, with rounded jammy fruit and green apple notes. Then the 16-year-old says "Out of my way, sonny" and muscles its way to the fore with spicy cinnamon and pepper, cereal and dry wood flavors. Blending is an underappreciated art when it comes to American whiskey, and the High West folks do it better than damn near anyone.
JAMES E. PEPPER 1776 15 YR OLD BOURBON (aged at least 15 years, 46% ABV, $100). Want to celebrate America's fine distilling heritage? James E. Pepper was a presence on the American whiskey scene from the early 1800s until its demise in 1958, when the industry consolidated and a whole lot of smaller distillers fell by the wayside. The brand was recently revived by Georgetown Trading Company. They didn't just revive the name -- they really did their homework, collecting, analyzing and tasting vintage unopened bottles from the '10s through the '50s so they could accurately replicate "Old Pepper"'s characteristics. I'm not sure if the original Pepper had a 15-year-old expression, but with a bourbon this good, who cares? It's rich and luscious and chocolatey, segueing into dry wood and spicy notes on the back of the tongue, with a long, creamy finish. One of the best sipping bourbons you can buy, and while the price tag is rather hefty, it's worth every penny. (Pepper's standard 1776 Bourbon, which lacks an age statement and comes in at 50% ABV, is also quite fine and costs about half as much.)
JIM BEAM SIGNATURE CRAFT BOURBON (aged 12 years, 43% ABV, $40). A 7th generation Beam family distiller, Fred Noe knows his bourbon. His father, the late Booker Noe, created what are widely regarded as the first small-batch bourbons (a vague term which basically means a spirit not distilled in industrial-type quantities), Booker's and Knob Creek. A few years ago, he introduced the brilliant Knob Creek Single Barrel. So when Fred Noe unveils a new brand, I sit up and take notice. Signature Craft has been aged for 12 years, which is middle-aged when it comes to Scotch whisky but pretty old for a spirit aged in Kentucky, where the climate matures a whiskey much faster than in cold and clammy Scotland. In the hands of a lesser distiller, Signature Craft might taste like licking an oak stave. But Fred has selected just the right barrels from the massive Beam warehouses, and the result is a beautifully balanced bourbon. Of course, there's a lot of wood going on here, but there's also lots of vanilla, caramel and cinnamon, all in perfect harmony; it's dry, but not too dry. And at $40, it's a relative bargain for a bourbon this elegant, and aged for this long. In Fred We Trust. (I cannot tell a lie: Signature Craft will not be in stores in time for Independence Day. I just couldn't keep the news to myself until August. My apologies.)
MICHTER'S US-1 SINGLE BARREL RYE (aged at least 3 years, 42.4% ABV, $44). The Michter's you know today isn't the same Michter's that was making whiskey before the American Revolution. For starters, it's distilled in Kentucky, not Pennsylvania. But they could call their brands Grey Goose and I'd still love 'em (although I'd want them to change the name). Michter's makes some truly incredible whiskeys -- their new Sour Mash, unveiled this year, may be the best new spirit I've tasted in 2013. US-1 Rye is a Michter's mainstay, more affordable than their intense 10-year-old and 25-year-old bottlings and softer on the palate, too. Aged for a minimum of three years, it's designed for both mixing and sipping, and I like it both ways. For a rye, it's quite fruity and not quite as spicy as you might expect. But just because it's not a big, macho rye with a lot of hair on its chest doesn't mean it's not a fun date anyway. It makes a tremendous Manhattan and it's great for summertime sipping on the rocks as well. Pour a glass, add an ice cube or two, watch the 4th of July fireworks and take pride in your country.`
NOAH'S MILL BOURBON (age not stated, 57.15% ABV, $50). I didn't know anything about Noah's Mill when a friend gave it to me and said, "Try this, it's awesome." A little research revealed ... well, not that much, actually. But a glass of the stuff revealed that it's a superb bourbon. The whiskey is sourced from the same distilleries which produce Willett's and Johnny Drum bourbons, among others. It's bottled at barrel strength, which means that there's no water added before bottling, which means it's pretty damn strong. But it's surprisingly smooth for a whiskey that's close to 60% alcohol -- a few drops of water don't hurt, but they're not at all necessary. I'm not sure how much rye is in the mashbill, but I'd assume it's a fair amount, because you can taste that characteristic rye spice right away, along with notes of cocoa and dried dark fruits and a long and elegant woody finish. If you want to try a barrel-strength bourbon but have been scared off by the high alcohol content, this is the one to go for -- big and robust without that alcoholic burn.
OLD POTRERO 18TH CENTURY STYLE RYE (aged 2-4 years; 63% ABV, $90). If you're feeling the spirit of '76 and want to try the spirits of 1776 to go along with it, this recreation of an Articles Of Confederation-era rye is the one for you. But beware -- if you're a whiskey novice, Old Potrero's raw, powerful elixir might turn you Tory. Back in the days when George Washington himself distilled rye, it was a different process. The wood in which the whiskey was stored was toasted, not charred, producing a different flavor profile than what 21st century drinkers are used to. Rye whiskey was distilled from 100% rye grain, not the blend of rye, corn and barley that's so prevalent today. And it wasn't aged as long as most whiskeys nowadays, leaving the flavor rough-hewn and slightly untamed. Combine that with the huge alcohol content (60-percent plus depending on the batch) and you are looking at a rye that will overwhelm even the most patriotic of drinkers. But if you can get past the alcohol's red glare, you'll find a truly amazing whiskey. The rye flavor is absolutely enormous, dry and spicy and grainy... and spicy. You'll also find grassy, earthy notes and even a little sweet nougat in there as well. Hey, if it's good enough for the Father of our Country, it's good enough for me.
POW-WOW BOTANICAL RYE (age not stated, 45% ABV, $40). There aren't many times I've tried a spirit and thought, "This doesn't taste like anything I've had before," but the first time I tasted Pow-Wow was one of those times. Supposedly based on a colonial-era recipe from Pennsylvania, if you had to lump Pow-Wow into a category it would be flavored whiskey. But that's a little disingenuous, like saying gin is a flavored vodka. In fact, Pow-Wow's flavorings -- botanicals, actually -- are infused into the whiskey during distillation, the same as gin, rather than added to the finished product as with virtually all other flavored whiskeys. The taste, near as I can describe, is like gin with a whiskey base, minus the juniper. It's very herbaceous, with strong notes of saffron ad orange peel coming through, especially on the nose. My only complaint is that I wish the rye itself had a more powerful flavor; it comes off as a little thin. But this is a doozy of a whiskey that makes for a surprising and delicious Manhattan, and an excellent Old Fashioned as well (go light on the bitters, however). I can definitely see open-minded bartenders having a field day with it. Not for everyone, but it's definitely worth trying at least once.