It was always my greatest ambition to become a performer. Someone so technically and musically prepared that they can provide the unforgettable magic that inspires joy and hope. At its best, my violin playing inspired sympathy and the need to improve. Still, it was my passion. But at some point, we all need to take a long hard look in the mirror and allow reality to rain on our parade, and so it was with me. Instead of playing, I would instead try my hand at a career in music management and I made a good choice. Opportunities opened to me quickly -- taking me by my early 30s to my first orchestra, a chamber orchestra in London called the City of London Sinfonia, founded by conductor Richard Hickox.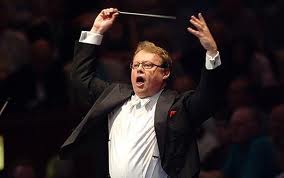 Richard Hickox
There I was given my first chance to sit in the Boss's hot seat. It was amazing. Working with young musicians my age, seeing and understanding the demands, and pressures of playing at the highest levels and then all those projects and concerts. Take, for example, foreign tours, which I must say are fun, but really exhausting. Can you imagine being responsible for a large group of weary and demanding musicians -- and their instruments -- in darkest central Europe?
Then there were all those financial worries, the grinding and never-ending need to raise money, the challenges of selling tickets, dealing with the unions. But always, the worst discouragement, frustration, or fury could be blown away by a great concert. It's the old cliché -- music is what makes it all worthwhile.
I stayed in the performing arts, principally with orchestras, in the U.K. and the U.S. for some 25 years. Then one day, I received a call about a job that was unusual and intriguing: running a conservatory of music. In fact, it was one of the finest in the world, New England Conservatory (NEC), based in the Yankee (not those Yankees!) heartland of Boston.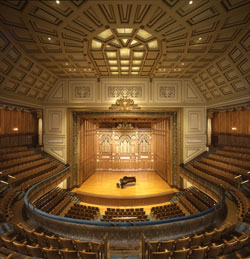 NEC's main performance space Jordan Hall
NEC is an independent educational institution attracting some of the finest young musicians from around the world who want intensive training with a view to becoming professionals. It also has a thriving preparatory school providing a wide variety of programs for some 1,400 young people under the age of 18. The faculty is stellar and is really the empowering engine that promotes the creative energy you feel everywhere in the buildings.
So, what was my thought process in assessing such a career opportunity? It felt intuitively right. This was staying in music but on another part of the continuum and one that could shape so much of music's future. I took the leap and was caught by an amazing organization that does much more than just "conserve" music as its name suggests.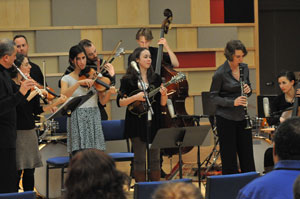 NEC Jewish Music Ensemble
Rather, NEC explores new boundaries -- if, indeed, there are any boundaries. At NEC, you can do anything. Our students' and faculty's creativity is unfettered. Jazz, contemporary Improvisation, composition, large ensembles, opera, entrepreneurship, piano, strings, and a whole host of amazing creative outlets in the liberal arts, from acting and Greek myth to creative writing and poetry.
And when they leave NEC, our students are continuing to do extraordinary things. There are a number, of course, who go on to solo careers, who win chairs or conducting positions in symphony orchestras, or sing in opera companies. Our Professional String Quartet Training Program and Piano Trio Program have nurtured the development of some of the finest young chamber ensembles in the profession.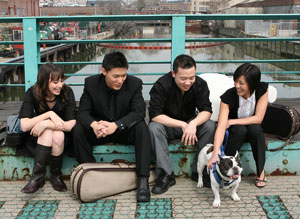 The Parker Quartet photo by Janette Beckman
Our Jazz and Contemporary Improvisation alumni are performing in clubs around the world. Our composers are producing new classical works and scoring television (Sean Callery of 24, for example) and film music.
There's a powerful segment of entrepreneurs who are creating their own unique opportunities like A Far Cry chamber orchestra, which cut its teeth in NEC's Chamber Orchestra. Others, like Alan Ett, have created music production and post-production companies. Still others, like Colin Thurmond, are creating multi-genre events like his Acoustica Electronica.
So, yes, I'm fortunate enough to be working in the middle of a maelstrom of creative energy that will certainly shape the musical future. It's why I say I have the best job in the world. Honest!