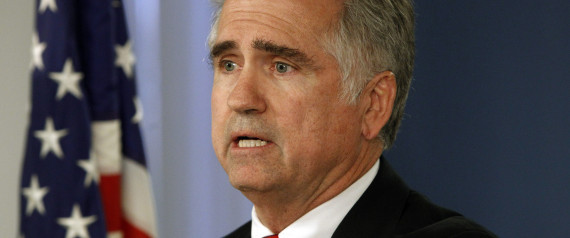 A June 15, 2011 file photo shows Superintendent of Public Instruction John Huppenthal in Phoenix. (AP Photo/Ross D. Franklin, file) | ASSOCIATED PRESS
____________________________________________
"Republicans hate Latinos." Civil rights icon Dolores Huerta famously uttered these words in 2006 at a Tucson High School lecture.

8 years later, we may have the final proof that, as we suspected all along, she was right.

Arizona Superintendent of Instruction John Huppenthal, a Republican, admitted to posting racist comments on liberal blogs under the monikers Falcon9 and Thucydides. There were enough of them that the Phoenix Times even wrote a top 10 list.
The Faclon9 in Huppenthal wrote things such as Mexican American Studies is the KKK. He even advocates eliminating Spanish Media. These statements are disturbing because they reveal the hidden motives at work while he helped pass and then enforce Arizona House Bill 2281 (HB2281), the legal trigger prohibiting Mexican American Studies (MAS).
So we know for certain at least one Republican hates Latinos. The question is do all Republicans hate us? Are Arizona Republicans poisoning the way the GOP across the nation deals with us, especially in Texas-which is poised to become the next Arizona or turn blue?
Let's go down the list.
Dolores Huerta and Cesar Chavez founded the United Farm Workers Party, one of the most important civil rights groups of our time. She might be a household name if Arizona had not banned Mexican American Studies and dismantled the MAS program that invited her to speak in Tucson in 2006.
Then-Superintendent of Instruction, Republican Tom Horne, took offense to Huerta's words.
The Tucson Weekly chronicled some of the ensuing events:
"Horne reacted by dispatching his deputy superintendent, Margaret Dugan, to explain to students why Huerta was wrong. Horne wanted students to know that Republicans do not hate Latinos. However, many students--frustrated that they were not allowed to ask Dugan questions--stood up in unison with tape across their mouths. More than 200 walked out during her speech."
Maybe because I'm a professor, maybe because I'm a parent, or maybe it's just common sense, but the worst way to convince teens that you don't hate them is to yell, I don't hate you from a microphone and then tell them to shut up.
Horne and then-Senator Huppenthal (evidently to prove Republicans don't hate Latinos) then embark on a 6-year mission to ban Mexican American Studies and destroy the MAS program at Tucson Unified School District (TUSD).
I've heard of tough love, but this is sick love.
Horne wanted the public to believe he targeted the MAS program because of Huerta's statement and ensuing student insolence.
The sense that makes is nonsense.
However, Arizona Republican nonsense is spreading. "AZ Crazy" must be stopped.
Just as other states like Georgia, Alabama, Indiana, Utah and South Carolina used Arizona's oppressive immigration law SB1070 (The "Show Me Your Papers" law) as a template, Republicans in Texas have tried to copy Arizona's attack on Mexican American Studies.
Activists thwarted Texas HB1128 and SB1938 in 2012.
MAS Texas even gained state-wide support in April of 2014.
However, the far right won't rest.
Conservative blog Breitbart ran a disinformation piece titled "'Mexican American Studies' and Radical Required Reading."
They're trying to introduce AZ disinformation tactics into Texas.
First of all, MAS Texas never wanted to make MAS mandatory. That ain't the Texas way.
Worse, they're testing the water to see if they can make Texans believe that MAS "promotes the overthrow of the government." Here it is in their own words:
"Arizona's law was crafted in response to Acosta's curriculum. Today, all Arizona school districts and charters, which are public schools, cannot include any courses or classes that promote the overthrow of the United States government."

Of course, MAS does not promote the overthrow of the government. A report that Arizona Republicans paid for proved that. That same report verified that MAS raised graduation rates to 98%.
AZ Crazy tactics scare people, so it takes years to sift through the stereotypes and racial profiling. It's taken 8 years in the case of John Huppenthal but as Falcon9 and Thucydides, he gives us the real motives behind AZ HB2281-the most racist, the most un-American law of our time.
Republican Dream Team or GOP Nightmare?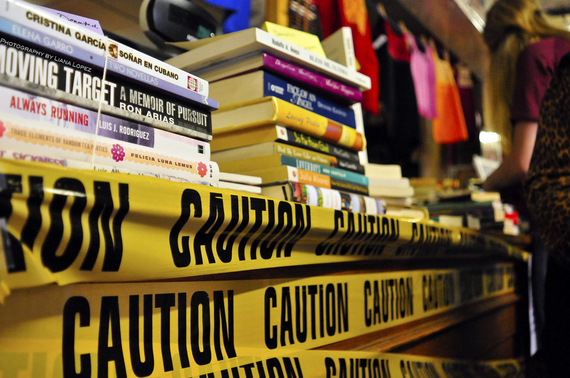 Photo credit: Liana Lopez
When Horne moved on to AZ Attorney General, he passed the anti-ethnic studies torch to Huppenthal, who took over as Superintendent of Instruction.
With Jan Brewer as governor of Arizona, history will show if the trio's legacy will be as the Republican Dream Team or the GOP Nightmare.
But here's a tip for the entire Republican Party: the downward spiral has begun.
Huppenthal's recent media circus over his racist comments overshadowed the news that Horne is under investigation to determine if he and his staff violated campaign finance laws.
And Huppenthal's blog posts help explain the mindset behind the outlandish language from the outlandish law that may haunt the Republican party for generations.
The AZ Crazy law AZ HB2281 prohibits courses that:

1. PROMOTE THE OVERTHROW OF THE UNITED STATES GOVERNMENT.
As chief of education, Huppenthal even ordered a $110,00 audit to prove that the Mexican American Studies program was guilty of sedition. The final report found . . .

"[] quite the opposite is true. Consider, if classes promoted resentment or ethnic solidarity, then evidence of an ineffective learning community would exist within each school aligned with the Mexican American Studies Department. That was not the case. Every school and every classroom visited by the auditors affirmed that these learning communities support a climate conducive to student achievement."
So Arizona Superintendent of Instruction Huppenthal is told that MAS is good, but the Falcon9 in him wished the report he paid for would have instead backed up what he thought when he posted that MAS is the KKK. That must be why he ignored the findings.
Instead, Huppenthal acted to enforce this odd law.
You might imagine this would have called for a ban on classes covering The Civil War seeing as the Confederate South not only promoted the overthrow of the government, but actively engaged in it.
Civil War courses were not touched.
The only course that Huppenthal accused of promoting the overthrow of the government was--you guessed it-- Mexican American Studies.
So in January of 2012, administrators were forced to walk into class rooms, during class time, and in front of our young, box up books by our most beloved authors.
Horne must have proudly toasted Huppenthal the night before.
This outraged us so much in Texas that we organized the Librotraficante Caravan to smuggle the banned books back into Arizona. We have since dedicated ourselves to thwarting similar legislation, especially in Texas.
And Huppenthal through Falcon9 has clearly revealed the racist motives we always suspected behind AZ HB2281.
These racist attacks on Latinos must stop.
Is this the same heart and mind behind the entire GOP?
Arizona is ground zero for the anti-immigration and anti-ethnic studies movements which the Arizona GOP spearheaded and other Republicans across the nation have attempted to copy as they also block immigration reform.
Huppenthal plans to run for office again. To do so, he'll have to win a Republican primary. Does he truly represent the GOP?
Huppenthal owned up to the racist comments at a press conference, after which he apologized, cried, then walked off.
Crying is not good enough.
Huppenthal wasted $110,000 of tax payer funds on an audit he chose to ignore because the findings did not suit his racist agenda.
Two Chicana high school students are suing the state of Arizona to overturn AZHB2281. The case goes to the 9th District in San Francisco this fall. When the case hits the U.S. Supreme Court it will be poetic justice to watch the lone Latina Justice Sonia Sotomayor sign the opinion overturning this un-American law. This is still America. Arizona House Bill 2281 will be overturned. Why waste so much time, energy and money upholding a law that stifles Freedom of Speech, promotes censorship and which will be struck down?
Will the GOP stand on the sidelines as Falcon9 and other Arizona Republicans waste millions more in taxpayer money and gut the educational system, all the while offending, alienating and oppressing the largest growing segment of voters in the nation?
We in Texas are watching. California is watching The entire nation is watching for the Republican's party true nature to be revealed.
The GOP must rebuke Huppenthal's statements.
Huppenthal must resign.
And Arizona must drop the case defending AZHB2281.
If not, then it is crystal clear that Dolores Huerta was right all along.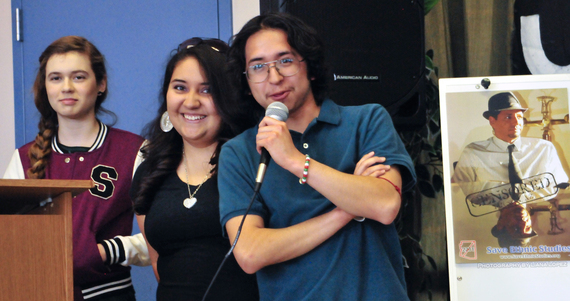 Tucson students who launched the lawsuit against the state of Arizona to overturn HB2281. Maya Arce, Korina Lopez, and Nicolas Dominguez next to a picture of former MAS instructor Curtis Acosta at the John Valenzuela Youth Center, location of the Tucson Librotraficante Under Ground Library. Photo credit: Liana Lopez.