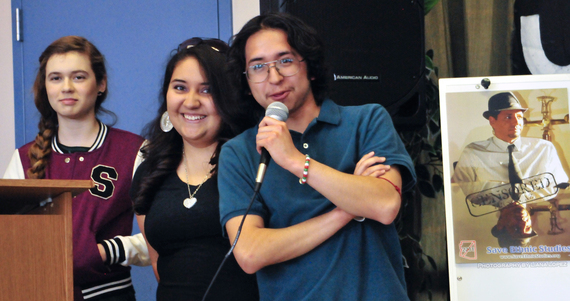 The Tucson students who launched the lawsuit against the state of Arizona to overturn H.B. 2281 -- Maya Arce, Korina Lopez, and Nicolas Dominguez -- next to a picture of former Mexican-American studies instructor Curtis Acosta at the John Valenzuela Youth Center, the location of the Tucson Librotraficante Underground Library (photo credit: Liana Lopez).
Mayra Arce even resembles Esperanza, the protagonist in The House on Mango Street by Sandra Cisneros. That was one of the 80-plus books that were part of the Tucson Unified School District's K-12 Mexican-American studies curriculum before the program was dismantled under Arizona House Bill 2281.
But Maya isn't the main character of a book. She's the main plaintiff in the lawsuit against the state of Arizona.
On January 12, 2015, Maya heads to the Ninth Circuit Court of Appeals in San Francisco to overturn the law used to prohibit Mexican-American studies in Tucson.
This is a major case of truth being stranger than fiction. And it will take several semesters of Mexican-American studies courses to fully appreciate, comprehend, and document all the nuances, cultural subtexts, historical facts, and fiction against our fiction. We are a blessed generation that can fill that San Francisco courtroom to witness a young Chicana making history and fighting for every American's freedom of speech.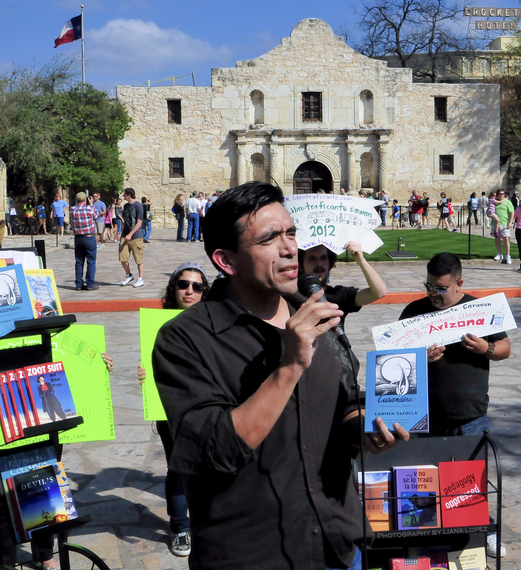 Me, "El Librotraficante," in front of the Alamo during the San Antonio stop of the Librotraficante Caravan to Tucson (photo credit: Liana Lopez).
I first met Maya Arce at the conclusion of our 2012 Librotraficante Caravan to smuggle the books banned in Arizona back into Tucson, organized by me and alums of Nuestra Palabra: Latino Writers Having Their Say: Liana Lopez ("Librotraficante Lilo"), Laura Acosota ("Librotraficante La Laura"), Lupe Mendez ("Librotraficante Lips Mendez"), and Bryan Parras ("Librotraficante HighTechAztec"). Thirty others joined us on our six-city caravan, which started in Houston and led to opening four underground libraries along the way, and thousands of Americans donating over $20,000 in banned books to the cause.
My fellow librotraficantes and I convened with Maya and Korina Lopez, also one of the plaintiffs, and Nick Dominguez, who was also on the case but lost his standing when he graduated from high school, at the John Valenzuela Youth Center, site of the Tucson Librotraficante Underground Library. It was thrilling to hand the donated books to her and her fellow students and the original teachers of the Mexican-American studies program. They were like love letters from supporters from around the country, who we hope will join them once again as we close in on the happy ending to this landmark court case.
We interviewed Maya and one of her lawyers, Richard Martinez, just before Christmas, on the Nuestra Palabra radio show, which airs on 90.1 FM KPFT, Houston. (I co-host the weekly program with Librotraficante Lilo and Librotraficante HightTechAztec.) Maya told our listeners:
I'm doing this for future generations to come [so they] can learn about their history and the history of people in their community, to better understand the contributions Mexican Americans have made to the United States and better understand how Mexican Americans play a part of society.
Her father is Sean Arce, co-founder of the Mexican-American studies program. I asked him via email how he felt about his family being delivered into this monumental civil-rights struggle. He replied:
While this case, on a day-to-day basis, has been a tremendous stress on our familia, we know that many who have come before us have struggled so we can be in the position to carry this lucha forward. My conversations with both of my children, Mayita and Emiliano, often center on this struggle and its importance. They have been inspired by this struggle, and it has led to the further development of their critical consciousness that they practice daily in school and in their social circles. We do this in the spirit of social justice, and, more importantly, we do this in the spirit of asserting the humanity of El Pueblo Chicana/o.
Richard Martinez, the legal eagle organizing the lawyers for the case, told our listeners:
I think the likelihood of this ending up in front of the Supreme Court is extremely slim, because it's a statute that deals with Arizona but no other states. So the likelihood that they would place national importance on it and the Supreme Court take it up is very small.
He continued:
On the other hand we'll find out a week before our hearing who our panel is. If we get the right panel, there's a very good chance we'll get one of the things we are asking for: either send this back for trial under our equal-protection argument or invalidate the statute on our vagueness argument.
He added that the case had been prepared for as if it were going to the Supreme Court. The lawyer conducting the arguments is Erwin Chemerinsky, who is the dean of the University of California Irvine School of Law and a leading constitutional scholar who has argued cases before the Ninth District Court of Appeals as well as the U.S. Supreme Court. (More information about the case is available at the Seattle School of Law website.)
Six amicus briefs supporting the students' appeal were filed, from a stellar group of individuals and organizations, which the Seattle School of Law website listed as:
(1) Authors of Books Banned from TUSD; (2) National Education Association and Arizona Education Association; (3) Freedom to Read Foundation (FTRF), American Library Association, American Booksellers Foundation for Free Expression, Asian/Pacific American Librarians Association, Black Caucus of the American Library Association, Comic Book Legal Defense Fund, National Association for Ethnic Studies, National Coalition against Censorship, National Council of Teachers of English, and REFORMA; (4) Chief Justice Earl Warren Institute on Law and Social Policy and the Anti-Defamation League; (5) 48 Public School Teachers; and (6) LatCrit, Inc.
I asked Barbara Jones, Executive Director of the American Library Association's Freedom to Read Foundation, why the FTRF submitted an amicus brief. She wrote:
Growing up during McCarthyism in the 1950s, I view this as a blatant attempt to stifle diversity of expression. ... We are proud to take part in this lawsuit. We believe that the best way to promote harmony among people is to challenge each of us with characters, ideas, and themes that may make us uncomfortable at first. It is through reading and discussion that we attain a more peaceful world, that we bridge gaps between police and community, that we bridge gaps between recent and more distant immigrants. (Remember, we are all immigrants except for the indigenous Americans.)
The 1930s Called, Arizona; They Want Their Racism Back
Here are more ironies. The main far-right Republicans who engendered, passed, and enforced this law are now either out of power or on their way out.
John Huppenthal, former Arizona Superintendent of Education, who is named in the lawsuit, lost a Republican primary for his post to another Republican who did not even bring up anti-Mexican-American-studies rhetoric, which Huppenthal had used to ride into office. That race included a press conference that featured Huppenthal crying after he was busted for posting racist comments online under fake names, even using state-owned computers, in some cases. Thom Horne, another enemy of Mexican-American studies, also lost in his primary. Even Arizona Gov. Jan Brewer is leaving office. She signed into law not only H.B. 2281 but S.B. 1070, famously known as the "Show Me Your Papers" law.
Of course, even with this Republican "dream team" out of office, it is vital to remove this law from the books.
The actual wording of the law does not limit its scope to Mexican-American studies. It could do all kinds of damage to other courses if it is allowed to remain. It prohibits courses that "PROMOTE THE OVERTHROW OF THE UNITED STATES GOVERNMENT," but it also prohibits courses that:
2. PROMOTE RESENTMENT TOWARD A RACE OR CLASS OF PEOPLE.

3. ARE DESIGNED PRIMARILY FOR PUPILS OF A PARTICULAR ETHNIC GROUP.

4. ADVOCATE ETHNIC SOLIDARITY INSTEAD OF THE TREATMENT OF PUPILS AS INDIVIDUALS.
Overturning this law will also probably save further teaching of Romeo and Juliet, which made me, as a teen, resentful against the Capulets. This could also save the teaching of the Civil War, seeing as the rebel South not only advocated the overthrow of the U.S. government but actively attempted to achieve it.
I asked Maya why she thought it vital to allow the teaching of Mexican-American history and culture. She said, "I feel like students my age and who come after me, like my brother, won't be able to get to learn about all of this, and it is important."
Sean Arce wrote to me:
One lesson that we have learned is that a dominant culture that demands assimilation as a condition of entry and places little premium on diversity (that which brings strength and richness to this society) will constantly seek means to deprive colonized/marginalized children of the training and tools we need to carry out the processes of asserting our rights. H.B. 2281 (now A.R.S. 115-112) is the example of this deprivation, a law passed that makes it illegal to study our history, literature, and cultura in schools.
It is clear to me that on Jan. 12, 2015, in San Francisco, we will see if America is still America. We will find out if freedom of speech and intellectual freedom are still alive and well in America. We will find out if there is still a balance of power in America. And we will find out if a young Chicana can take on Arizona oppression and win.
Welcome to the Chican@ literary renaissance.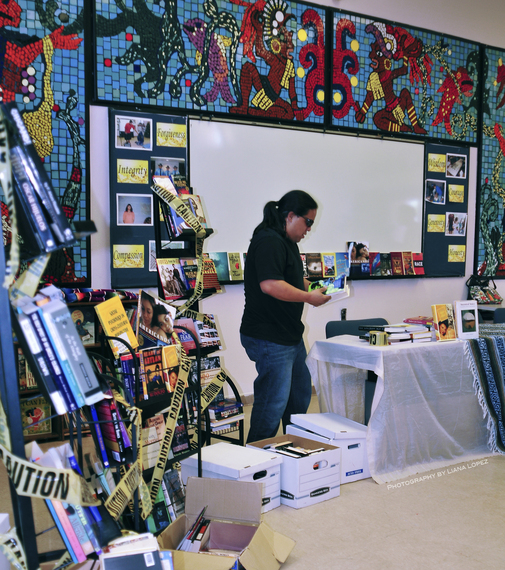 Librotraficante HighTechAztec arranging contraband prose at the John Valenzuela Youth Center, the location of the Tucson Librotraficante Underground Library (photo credit: Liana Lopez).
The Librotraficante Nation has begun the fundraising drive to help get the Tucson students to San Francisco for the court case with a donation of $2,275.
If you are in San Francisco on the weekend leading up to the Jan. 12 court case, don't miss the special summit and teach-in at Mission High School on Saturday, Jan. 10.
Of course, if you are in San Francisco on the morning of Monday, Jan. 12, join us as we swarm the courtroom and show our support for Maya and the Tucson champions of free speech.
Finally, if you want to begin making sense of all the events leading up to this case, as well as the precedents that it establishes, join 500 scholars, students, policymakers, and community members at the 2015 NACCS Tejas Foco, Feb. 26-28 at Lone Star College-North Harris in Houston, as we begin to put into perspective this monumental civil-rights case.
If you are interested in finding out more about Librotraficante Underground Libraries, visit the website librotraficante.com.