This International Women's Day I had the opportunity to travel to Washington, DC and meet with some remarkable women.
It is clear that empowering women is one of the defining issues of our generation, both in our nation's capital and around the world.
The challenges facing women at home and overseas are vast, from violence to education to social injustice. But there is clearly a movement to protect and support women on every level.
During my short trip, I had the honor of meeting some of the most inspiring women leaders in our country, including First Lady Michelle Obama, Secretary of State Hillary Clinton, and Ambassador-at-Large for Global Women's Issues Melanne Verveer. The fact that President Obama created an Ambassador-at-Large for Global Women's Issues and appointed Verveer, demonstrates our country's remarkable commitment and is a clear sign of progress.
The leaders who live in Washington, DC are undeniably impressive. They are role models and pioneers. But the real heroes of the new women's movement are the very real women I met from places like Afghanistan, Bahrain, Brazil, and Kenya. At the Vital Voices Global Leadership Awards and the International Women of Courage Awards, we had the chance to meet women who have persevered through incredible hardship to dedicate their lives to helping other women. Women like Andeisha Farid, a young woman who grew up in refugee camps in Iran and Pakistan, had the courage and the entrepreneurial spirit to open and run not one, but ten orphanages in Afghanistan to care for orphans of the war.
What's important to note about this movement is that the base of support is broad and deep. Leading philanthropists like Melinda Gates have dedicated themselves to empowering women. And corporations like Goldman Sachs are making significant investments in women through their 10,000 Women initiative.
The Tory Burch Foundation is working to do its part, helping female entrepreneurs gain access to critical business skills and funding so that they can gain the means to build a better life for their families. It may be a small start, but I could not be prouder to be a part of such a large movement that is not only strong, but growing.
Disproportionately, women in America struggle every day to lead a safe, secure and prosperous life. The struggle for many women overseas is often unimaginable. But based on what I saw this week, there is a very real reason for hope. The growing strength of the women's empowerment movement may end the rampant discrimination and exploitation of women in our lifetime. Hopefully, future International Women's Days will not be a call for action, but a time to celebrate our victory over injustice.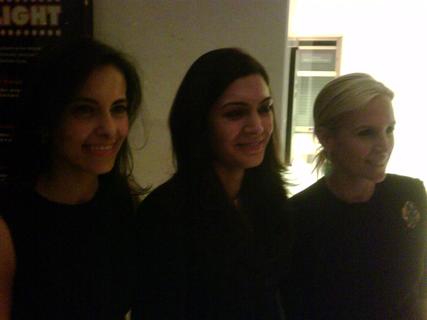 Dina Powell of Goldman Sachs, Andeisha Farid and Tory Burch