In an absurd effort to compare apples and oranges, I present a series of film reviews where two films that have nothing to do with each other go head-to-head for a showdown. Bigger is not always better, but then again, sometimes it is.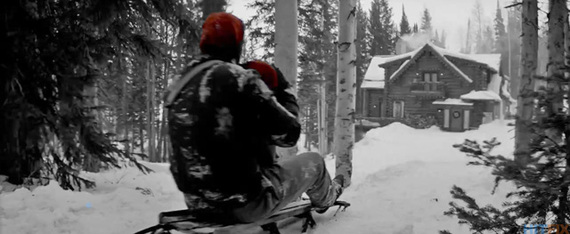 Courtesy The Weinstein Company
If only we knew the real meaning of Rosebud
THE GIVER
When we walked out of The Giver we were quite sure the film was based on a novella and the book at 200 pages made our guess close. As the credits rolled, I turned to my BFFF (Best Film Friend Forever) and said, "This is the kind of movie I enjoy while I'm watching and then hate the next morning." It's like eating a really good crappy donut that has no nutritional value and a lot of calories. It leaves you empty inside, craving a big kale salad.
There is nothing wrong with The Giver, it's just slight and almost pretty. Shades (literally as black and white becomes color) of Pleasantville thrive but only as a faint reference, not as a jumping point for new imagery and allegories. I wish Brenton Thwaites as Jonas was a little bit more James Dean-ish, but Odeya Rush is gorgeous as Fiona, almost making up for the only momentary inspired shots of cinematography.
Do I have to mention Meryl Streep and Jeff Bridges? They both did fine variations on other performances they have committed to the ethers, but this film isn't trying to break new ground and their performances are apropos.
There are plenty of plot holes and loads of Getty images montages and if that kind of thing annoys you, then stay away. It aims for feel goodness about love and mankind and doesn't attempt any critical thinking about the situation the hero finds himself in; like so much lazy storytelling today, the filmmakers assume the audience implicitly understands why individuality is good, why romance should never die and how we are all ultimately good as humans. If you don't ask for much, you won't be disappointed, but don't expect any, uh, shades of gray. Let's just say this donut, ain't no Maple Bacon Donut you'd gobble down at the Nickel Diner.
Go or No? If you want to take your grandparents to the cinema and need something completely inoffensive, this will do!
Small Screens? Meh.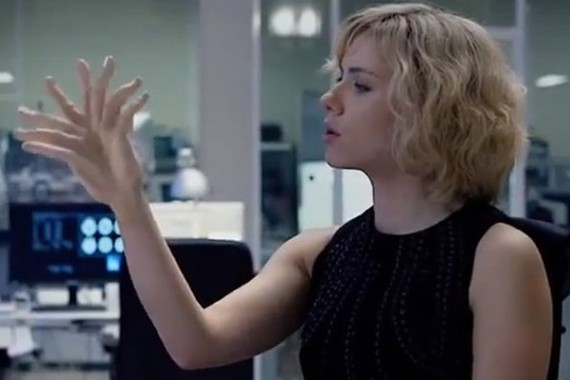 Courtesy Universal Pictures
Cool Hand Lucy
LUCY
Scarlett Johansson has magically combined the sexy disembodied computer OS she played in Her with the emotionally Icelandic alien she played in Under the Skin, into Lucy, the human who morphs into a computer. There is just enough shooting, killing and blood to slot this into the action genre while at the same time dipping its evolutionary toes into the metaphysical realm. In the end Lucy texts, I am everywhere, which I swear was lifted straight out of Her, if not literally then at least philosophically.
Johansson was brilliant in both Under the Skin and Her, the centrifugal force that compels commotion to take place in both films. In Lucy, she physically is disrupting of time and space, but we don't connect to her in the same way we do with the characters in the other two films. In Her she transcends her AI becoming everything that is; in Under the Skin, she transcends her alien-ness and begins to identify with that which is human. The Lucy character transforms into a computer intelligence that acts like an alien while losing human emotion and feeling.
It's all a bit rushed and at 90 minutes, I couldn't help but wonder what lay on the editing floor, probably a big bit that was complex storytelling. The filmmakers' underestimation of the audiences' attention span leaves us with an abbreviated version of the story.
Go or no? If you love Luc Besson (director of Le Femme Nikita, The Fifth Element) and/or Scarlett Johansson, then go.
Small screen possibilities: Yes, probably best.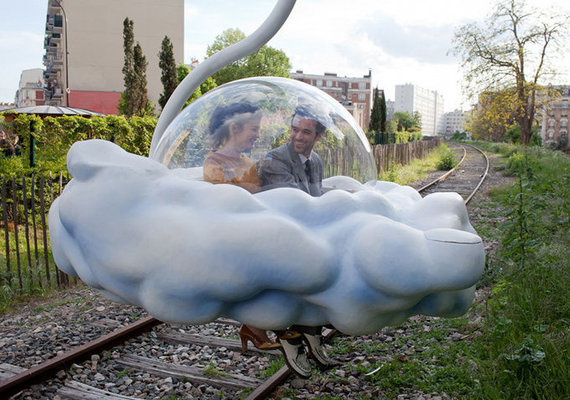 Courtesy Drafthouse Films
Chitty chitty bang bang I love you
MOOD INDIGO
Director Michel Gondry's Eternal Sunshine of the Spotless Mind was one of my favorite movies the year it came out. Perhaps because Audrey Tautou, star of Amelie another favorite film, is the lead in Gondry's Mood Indigo I presumptuously hoped for a marriage of both films that would birth a visual fantasia and sharp screenwriting. Instead, we get an Anthropologie-esque landscape spiked with would be Busby Berkeley numbers and Luis Bunuel inspired surrealism. Gondry has a love affair with the American love affair with 30's France and it's a phony faux vision, much like the way Anthropologie buyers find antiques in Europe and then have them cloned to sell in US stores.
The film's import is unfortunate because the script is thin and the whimsical visuals aren't enough to compensate for the lack of depth in the narrative. I think I'd prefer the film minus the audio; the subsequent elimination of the scant storyline replaced with a loop of Duke Ellington's Mood Indigo the film's namesake. That would emphasize the cinematography highlights and the best thing about the film, the high contrast black and white footage that overtakes color as the characters grow into darker despair.
Go or no? Nope, save it...
Small screens? Yes, but don't kill it with HD! Turn that bugger off and let the movie roam your screen for its imagery alone.
The winner: Lucy
In this triple fantasy face-off where three anorexic scripts attempt visual dexterity as compensation, it's Lucy that engages best, most probably because Scarlett Johansson is in every shot until she vaporizes into a consciousness beyond the physical (oh the irony). Even with her non-emotive eyes, she still brings energy and vitality to the screen that almost makes up the missing pieces that surely were displaced from an earlier (pre-millionth edit) version of the film.