Halloween may not seem like it counts as part of the official holiday season, but this first fall event really does mark the beginning of a very busy, intensely social, and calorie-laden few months that we dread for our bodies and crave for our spirits. But you really don't have to completely derail: There are so many ways to enjoy these festive periods without losing too much ground.
Halloween marks the time of year when we can all dress up to be anything we want. My father is an artist, and I can still recall when he transformed me into a butterfly by painting a sheet. Not only is the holiday a great time for creativity, whether you're channeling a witch, Walter White, or Willy Wonka, but it's the perfect opportunity to find your balance before the holiday season gets into full swing. It's so important to take a beat, to acknowledge what's ahead, and to figure out a plan for enjoying this time while still owning our figures. Despite the processed piles of sugar that represent this holiday (which, admittedly, I find most unhealthy), you can find balance.
Even though we're now adults, it's still important to find the best way to take care of the little kid inside of all of us. Would we let ourselves eat a pillowcase full of candy? Stay up all night drinking soda? Camp out on the couch in front of the TV all day? I hope the answer to all of these questions is no. That said, there are many emotional ties to the holidays that trigger various cravings that are engrained in all of us, and it can be incredibly difficult to change what seems like an undeniable destiny. It's essential to learn how to enjoy without crashing our operating systems. Our bodies aren't that different from our beloved tech devices: If we start downloading without thought or consideration we may end up with viruses that slow down our hard drives. It's also possible to think that you're doing well and making great choices and still end up with a Trojan horse that can wipe you out.
While the easy answer might seem like it's to avoid anything and everything that might derail your diet, that's not the right solution. You shouldn't cut out all things that sound delicious, because the truth is that your system may not be allergic to any of it. Every single one of us operates differently. In fact, I'm allergic to many superfoods -- they cause upset in my system. If I listened to any old diet book, my system wouldn't operate at its best. In the same vein, you need to know yourself, and how various food groups affect your system, before you go wildly cutting them out of your life.
We found inspiration for these first recipes in an amazing woman who is all too familiar with the terrors of processed food. She is a cancer survivor who now works at Whole Foods, inspiring and empowering others to eat well through education and support. She is amazing and one of the women part of my new show with AOL. My favorite food guru Megan and I whipped up several ways you can use a little bit of fresh organic Parmesan cheese to make the most delicious gluten-free hors d'oeuvres. Even the men will include these in their football party fare line-up. I'd also like to note that while I'm allergic to gluten, I have no sensitivity to dairy. While it's pretty cut and dry that grains and manmade fats and sweets don't add much in the way of health benefits, dairy is debatable. When you're picking out cheese, make sure it's slow-pasteurized or raw and always organic and grass-fed, which ensures that it has more live nutrients and enzymes.
Try our gluten-free pumpkin log and then tell me that it isn't to die for. Megan is a genius in the kitchen, and she will be providing all sorts of delicious treats throughout the holiday season that will ensure you can indulge without chucking your results out the window. And it goes without saying that the best way to stave off holiday weight creep is to stick to your workouts: These will see you through more calorically-turbulent waters.
If you still feel like you're derailing, despite your best efforts to find balance, don't despair: We're introducing a cleanse component to The Food Program next month, which will quickly reset your system and get you back on track.
When shopping for these treats, please pick up organic ingredients whenever possible.
Have a happy and healthy Halloween.
With love,
Tracy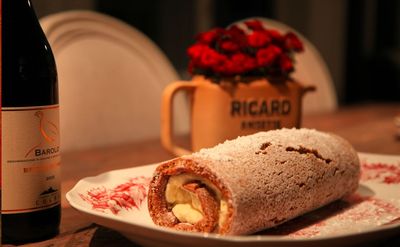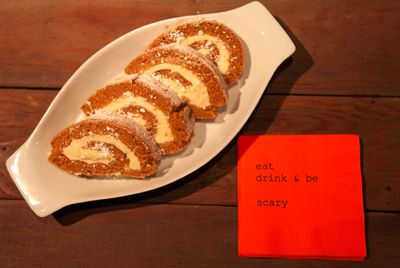 Gluten Free Pumpkin Roll With Cream Cheese Filling
Roll:
3/4 cup all-purpose gluten free flour
1/2 tsp baking soda
1/2 tsp baking powder
2 tsp cinnamon
1/4 tsp salt
1 cup granulated sugar
3 large eggs, lightly beaten
2/3 cup pumpkin puree
Filling:
1- 8 oz. package of cream cheese
1 cup powdered sugar
6 tbsp unsalted butter, room temperature
1 tsp vanilla extract
Gourmet Filling Alternative:
8 oz. Cavaniola's Mascarpone Pesto
1 cup powdered sugar
6 tbsp unsalted butter, room temperature
1 tsp vanilla extract
1. Preheat oven to 375 degrees.
2. Mix all dry ingredients for roll first, and then add in eggs and pumpkin puree.
3. Place the mixture in a jellyroll pan under parchment paper and bake for about 15 minutes.
4. Take a thin dishtowel and lightly line it with powdered sugar.
5. Place the warm pumpkin roll on the towel and sprinkle the top with powdered sugar before slowly rolling in towel until it's as tight as possible without breaking the roll.
6. Place in the fridge and let cool for about 30 minutes to an hour.
7. Meanwhile, create the filling by blending all the ingredients together in a high-powered mixer.
8. Unroll pumpkin roll and spread out before applying the filling evenly.
9. Roll back up and place in the refrigerator until ready to serve.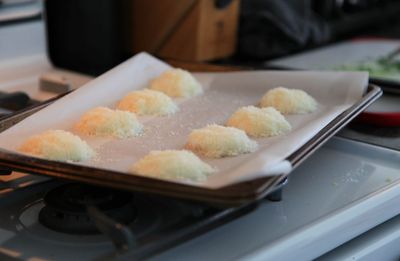 Parmesan Crisps
2 cups grated Parmesan (we like Cavaniola's Parmesan)
1. Preheat the oven to 350 degrees.
2. Take ¼ cup grated cheese and create a small ball on parchment paper on a standard baking sheet. (You can fit eight balls on the sheet.)
3. Bake them for about 10 minutes or until they're melted and flattened out. If you like your cheese nice and brown, you can leave them in a tad longer.
4. Remove them from the oven and place on a paper towel covered plate to collect any oil.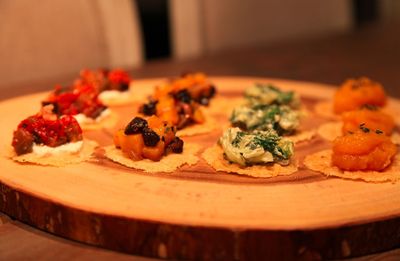 Parmesan Crisps Toppings
Spinach Feta
2 tbsp Olive oil
1/2 cup chopped red onion
1 garlic clove, chopped
1 handful of spinach, chopped into 1/4-inch cubes
4 tbsp of Feta (we like Cavaniola's Rosemary-Infused Feta)
1 dash pink Himalayan sea salt
1 tbsp fresh parsley, chopped
1. Add the olive oil to a pan and sauté the onions.
2. Once the onions appear translucent, add the garlic.
3. Then, add the fresh chopped spinach and sauté for a few minutes.
4. Turn the heat off and add the feta.
5. Mix together and add a dollop to each Parmesan crisp.
6. Season with Himalayan sea salt and fresh chopped Parsley
Butternut Squash with Fig
1 cup diced butternut squash
¼ cup chopped figs
¼ cup diced shallot
Dash orange-infused olive oil
Dash pink Himalayan sea salt
1 tsp Fresh chopped Oregano
1. Sauté all ingredients in a pan until tender and then place a dollop on each Parmesan crisp.
Eggplant Parmesan
1/2 cup diced eggplant
1/2 cup diced tomato
1 tsp Olive Oil
Dash smoked sea salt (we like the homemade version from Cavaniola's Cheese Shop)
1 garlic clove, chopped
1 tsp fresh chopped basil
8 tbsp ricotta
1 tbsp Panko bread crumbs as a topping
1. Sauté all the ingredients in a small sauce pan until tomatoes and eggplant are tender.
2. Place 1 tbsp ricotta on each Parmesan crisp and then spoon the eggplant mixture on top.
3. As a garnish, sprinkle gluten-free Panko breadcrumbs on top.
Butternut Squash Puree
1 cup butternut squash
¼ cup pomegranate seeds
1 tbsp raw honey
8 tsp ricotta
8 small sprigs of fresh Thyme
1. Preheat oven to 350
2. Bake butternut squash (you're going to need to take a whole butternut squash and cut in half on a foil lined baking sheet) for about 20 minutes, or until it's tender.
3. Cube without the skin and place in a blender with pomegranate seeds and honey.
4. Pulse until it's resembles a smooth consistency
5. Place 1 tsp of ricotta on top of each Parmesan crisp and then add 1 tsp of butternut squash puree on top.
6. Garnish with Thyme
7. You can also add fresh or dried cranberries to the butternut squash puree or as a garnish.