It's Friday morning and cable news is flaring with the latest incarnation of the working vs. stay-at-home mommy rants. It is crisp and sunny here in Denver, as working mother extraordinaire, Madeline Albright leads on a tour of the Read My Pins: The Madeline Albright Collection, exhibit at the Denver Art Museum. Dazzling us with tales of her years as a diplomat, U.N. Ambassador and America's first female Secretary of State, she was the perfect example of Working Mother of the World. Outspoken, insightful, vulnerable, strong and humorous, I imagined her on the world stage healing wounds and cracking the whip as she sent global leaders to their rooms without supper.

Madame Secretary's jewelry box is more than a collection of Grandma's brooches -- it is the telling of history unfolding, a disarmingly strong woman of power and the secret language diplomacy she speaks. Sharing stories of the pins she'd become famous for wearing and the people, places and circumstances that brought them into her life, Ms. Albright was refreshingly candid, matter-of-fact and alarmingly funny as she regaled the crowd with stories of mildly inappropriate moments from foreign dignitaries. (Must be the language barrier ... or does it go with the job?)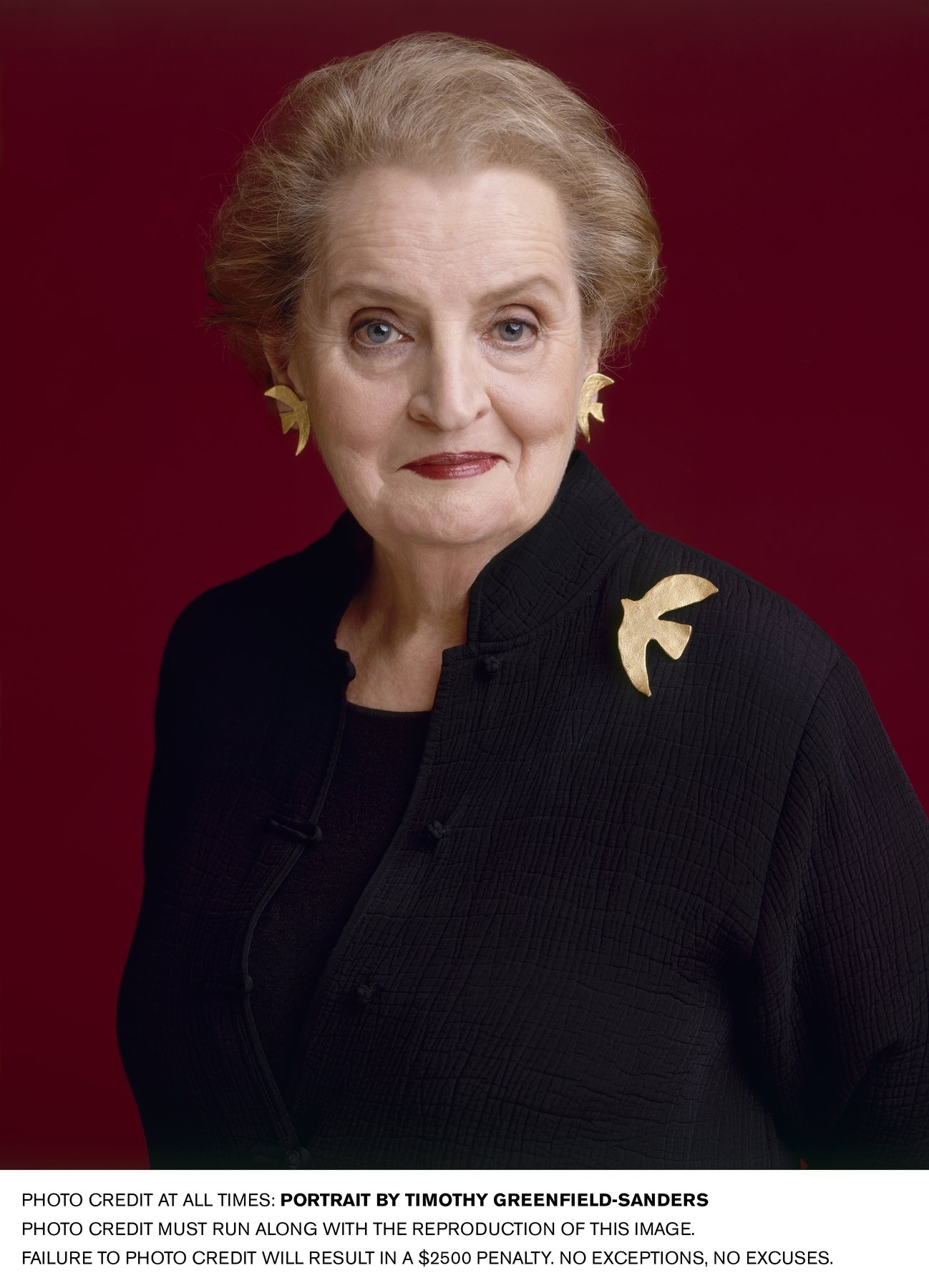 "I started out buying pins and brooches at vintage stores and flea markets and the collection grew from there. Some were gifts, many are family heirlooms or hand-crafted pieces of fine jewelry, and others are pure costume pieces." A well-placed brooch, intentionally selected for the occasion, became not only Ms. Albright's fashion signature, but a silent signal to her host about what she expected from their meeting. "I found that jewelry had become part of my personal diplomatic arsenal," Albright has said. "While President George H.W. Bush had been known for saying 'Read my lips,' I began urging colleagues and reports to 'Read my pins.'"
It is said that Russian diplomats used to send their aides to scout what pin she was wearing.
Organized by the Museum of Arts and Design in New York, where it was their highest attended show, the exhibition itself is fascinating. Clustered into expressive categories beyond "like kind," there are stories here; time and place are given context as well as insight into the diplomatic maven's mind, and inspired me to look into my own gem box to see what messages might be lurking.
Many of the pins are surprisingly large, a delightful contrast from a petite woman who "had to stand on a box behind the podiums." They are works of art and fine jewelry. They are plain, silly, elegant, poignant and flat-out gorgeous. There's an abstract piece made from fragments of the Berlin Wall, a golden serpent worn after Saddam Hussein referred to Madame Secretary as such and a golden dove given by Israeli Prime Minister Yitzhak Rabin's wife, Leah, which is heartbreakingly hopeful. Like Madame Albright herself.