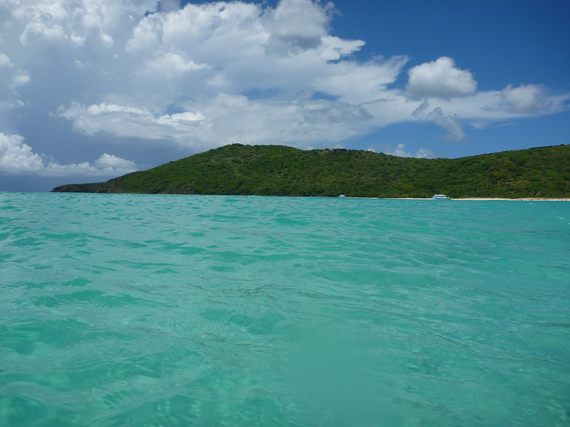 Shaded cabanas, bright beach towels, shell-collecting, sunscreen and sand between your toes -- a little sun and beach time can do wonders. Although adding stamps to our passports gets bonus points for adventure, we wouldn't mind trading in the hassles of international travel to lounge along these scenic stateside beaches.
Check out our list for the 12 top beaches you don't need a passport to visit:
West Coast
• 1. La Jolla Shores, San Diego: The shores may only be a mile long but is full of activity sun up to sun down. In the morning brings the surfers, daytime means swimming, snorkeling, kayaking and intro scuba lessons, and at dusk beach fires light up the landscape. This beach is also a family favorite as its waves are considered some of the most gentle in Southern California. A San Diego vacation is a click away with these flights and hotels.
• 2. Lake Powell, northern Arizona and southern Utah: Stunning red rock formations and water revelry collide at Lake Powell. The geology of the lake is what sets it apart: Two spots not to miss are the Rainbow Bridge, one of the world's largest natural bridges, plus the Hite Crossing Bridge, which spans the lake. Visitors can spend a day splashing in the lake or hiking and mountain biking among the designated canyon trails. Parts of Lake Powell were filming locations for the 2013 Oscar-winning film "Gravity."
• 3. Lanikai Beach, Oahu, Hawaii: Hawaii and beautiful beaches are almost synonymous, but Lanikai Beach is a less "touristy" picture-perfect option. There's a reason Lanikai is a go-to destination for photo shoots, as it is less crowded during the week and is only accessible through access paths. This beach is also secluded enough that it does not have lifeguards or bathrooms. Travelzoo Tip: This stretch is a great place to watch the moonrise over the Mokuluas. Say aloha to Hawaii with these hotel deals, flights or vacation packages.
• 4. Paradise Cove in Malibu, Calif.: In the tony town sits this private beach (with an entry fee) widely considered one of Los Angeles County's best by locals. Oceanside revelers can rent private cabanas, beach beds and lounge chairs or dine at a café right on the sand. This coastline has also served as the backdrop for feature films and television shows. Take on Tinseltown with these deals on Travelzoo's Los Angeles Featured Destination page.
• 5. Pfeiffer Beach, Calif.: Located along California's Central Coast, this beach is known for its purple sand and striking rock formations. The beach is about a mile south of the entrance to Pfeiffer-Big Sur State Park, which also offers hiking, camping, sand dunes and fishing. "Be sure to check out the famous 'keyhole' in the rock formations at sunset," says deal expert Melissa Stroud.
U.S. Territories and Outlying Areas
• 6. Flamenco Beach, Culebra Island, Puerto Rico: This beach was once a pirate hideout, but now it's a top destination for snorkelers and those with discerning tastes in beaches. And for those who can't bear to leave the aquamarine water at the end of the day, it's also the only spot on the island where camping is allowed. Deal expert Chris Vassil blogged about his alternative Caribbean adventure, which included a stay near Flamenco Beach. Retreat to San Juan, Puerto Rico with these flights.
• 7. Trunk Bay, St. John, U.S. Virgin Islands: An entry fee will be the last thing on your mind when you step foot on this striking beach known for its postcard-worthy views of the brightest blues and soft white-yellow sand. The island has gone to great lengths over the years to preserve and maintain the beach as well as the coral reefs, which has made it a favorite spot of locals as well as visitors. Make your way to St. John by flying into St. Thomas and taking a ferry.
East Coast & Midwest
• 8. Delnor-Wiggins Pass State Park, Naples, Fla.: Commune with nature at Delnor-Wiggins Pass State Park beach, but take note, beautiful seaside areas abound in Naples, so choosing a place to spread your towel can be tricky. Special areas have been designated for anglers and boaters, so other visitors are able to snorkel in the reef, bird-watch, search for shells, hike or just relax.
• 9. Oak Street Beach, Chicago: This city dwellers' beach, a space that's over 100 years old, is consistently ranked among the best in the Midwest. Off the Streeterville neighborhood, the sandy stretch is a favorite of beach volleyball players, runners zipping by on the lakefront path, sunbathers and families from across the area. Its close proximity to downtown and its impressive skyline means it's also easy to get to. Three bus lines run to the beach and the Red Line El train has a nearby stop as well. Stay and play in the Second City with these deals found on Travelzoo's Chicago destination page.
• 10. Oval Beach, Saugatuck, Mich.: The smooth sands of this Midwest beach are also the backdrop of a town with a blossoming art scene, wineries, antique shops and breweries. "I had a great time when I was there this past summer, and it's so surprising that a beach like this can be found in the Midwest," says deal expert Gia Anayas. Saugatuck is a three-hour drive west of Detroit and about two hours from downtown Chicago.
• 11. South Beach, Miami Beach, Fla.: "Get the Caribbean blue waters without leaving the country," says deal expert Amanda Mulligan. This oceanfront oasis is more than just that, it's also a perennial nightlife capital for those looking to extend the revelry into the wee hours. The strip along the water is also dotted with lively restaurants and hotels -- a top-notch spot for people-watching. Jet down to Miami with these flight and hotel deals.
• 12. The Outer Banks, N.C.: This expansive stretch of barrier islands off the coast of North Carolina is dotted with idyllic beach towns and villages like Manteo, Rodanthe and Corolla. "There are so many little places to explore, gorgeous light houses, camping on the beach, sand dunes for days and there are wild horses, which are awesome to see," says deal expert Olivia Salmonese. Start off your Outer Banks exploration with a stop at one of these hotels.
-- Heidi Stallings is a deal expert at Travelzoo and based in Chicago. Travelzoo has 250 deal experts from around the world who rigorously research, evaluate and test thousands of deals to find those with true value.