I hadn't heard of a babymoon until a few years ago when my friends starting having children. Then suddenly everyone around me who was pregnant was talking about their babymoon. For some, the babymoon might be a "last-chance at the bucket-list" adventure, but among my friends, most trips were beach-oriented -- a last chance at lounging around, doing absolutely nothing on a sandy beach while gazing out into the crystal clear blue sea.
Sounds good to me! Having returned from a recent babymoon to the Cayman Islands, here are a few tips for first-time babymooners.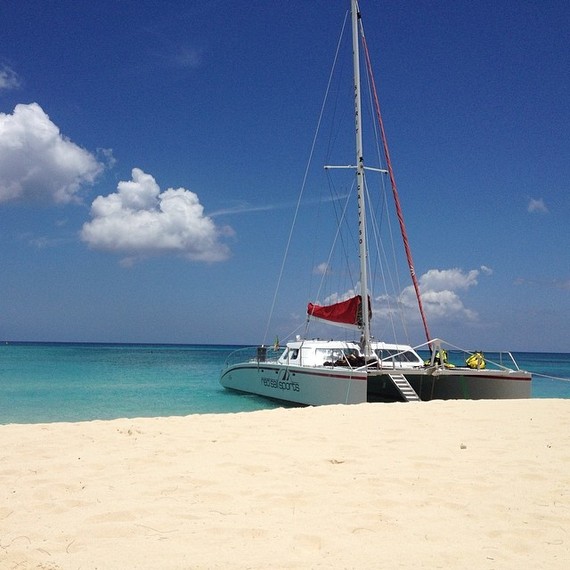 (Photo credit: Travelzoo)

Tip No. 1: Figure out what you want
My husband and I had never been on a vacation together where we just relaxed. We are typically pretty active -- touring, walking, hiking, biking and roaming are usually our activities. Soon after my husband and I found out we are expecting our first child in October, we started discussing our babymoon, and I wanted the beach, the ocean, the laziness and the relaxation.
We checked with my doctor and got the OK to fly six hours or less, so a Caribbean island with a direct flight from New York was the ideal scenario. I absolutely adore the Caymans -- the ocean is beyond perfect: a see-through turquoise that lures you to submerge your sun-kissed body beneath it. I needed that, pronto, especially after the brutal NYC winter we had. We found a nonstop on JetBlue from JFK leaving on Memorial Day, returning the following Sunday, and we were off soon after that.
Tip No. 2: Know your limits
It sounds pretty basic, but obviously you're traveling for two. Remember, every pregnancy is different, and your doctor will most likely have specific recommendations for your pregnancy, so before you travel, consult with your doctor. My doctor told me to get up every two hours while flying and walk around the plane -- an easy requirement on the three-hour flight to the Caymans. You may also want to look into medical travel insurance, if you're leaving the States -- just to be safe.
Tip No. 3: Spoil yourself -- if you can
Pretty soon, it's not going to be about you anymore -- and that's perfectly fine. It's what you sign up for with motherhood. But on a babymoon, it can still be all about you, so don't be afraid to splurge a bit.
We stayed at the Westin Grand Cayman Seven Mile Beach Resort, which was absolutely perfect. The rooms were comfortable, the staff was friendly and helpful and the private beach was gorgeous. We spent most days on the beach relaxing, bouncing between sitting in the sun and cooling down under an umbrella.
The weather at the end of May and through the summer in the Caymans is extremely warm and humid. Spring and summer are off-season months there, so your vacation dollar goes farther and you can take advantage of smaller crowds, which my husband and I enjoy. Plus, we love the heat!
Tip No. 4: Try something new
Swimming with sting rays? To be honest, I was slightly terrified to hop in the water with wild creatures, but I figured this was a chance for me to be adventurous and do something I won't be able to do when I have a baby in tow.
So, one morning we left at 7:30 a.m. on a beautiful catamaran, had breakfast on the boat and then dipped into the ocean in Sting Ray City. We went on the early sail to avoid cruise crowds, which hit around lunchtime. If you plan on booking activities and want to be in a smaller group, ask the booking agent or tour guide what they would recommend. We ended up being the only boat in the water and got to enjoy some personal time with the sting rays. It was absolutely amazing to see these wild creatures come up to the boat and act like domesticated pets. My husband and I held a sting ray, and we even gave her a kiss!
Tip No. 5: Baby's gotta eat
As huge foodies, we were looking forward to taking advantage of authentic Caribbean food while in the Caymans. However, we found that most restaurants were very expensive, even by New York City standards. Entrees at restaurants that were recommended to us ranged from $35-$45. Our first night we ate at a restaurant that was pretty pricey. The food was good; however, it wasn't unbelievable, especially not for $180, which was our final bill.
After that we decided to stick to local joints with less hefty price tags. We found Sunshine Grill on Seven Mile Beach to be an absolute pleasure. The restaurant itself has a beach bar vibe. They are famous for their fish tacos, which were delicious; however, my husband and I found the shrimp tacos to be the winner -- fresh shrimp, cilantro, creamy chipotle sauce and a few other tidbits.
Typically we are much more adventurous when it comes to eating, but being pregnant made it difficult for me to take part in raw marinated conch (yum), spicy ceviche (double yum) or island cocktails (yes, please). Instead I sipped on virgin pina coladas, which surprisingly hit the spot and discovered that authentic Cayman cuisine includes West Indian and Jamaican flavors. I aimed to order items with bolder flavors that were pregnancy-friendly like jerk chicken, seafood chowder and curried vegetables.
Tip No. 6: Relax
Late nights are also usually on our radar when we travel, however this go-around we opted to hit the sack on the early side, taking advantage of every hour of sleep we can before our first little one arrives. If you head to the Caymans and are looking for some nightlife, keep in mind that on Saturday nights, most bars close at midnight.
Tip No. 7: Enjoy the time for two
We all need something to sustain us during 3 a.m. feedings and the 10th diaper changing of the day. For me, it will be babymoon memories such as this perfect day with my husband.
We took a day trip to Rum Point from Seven Mile Beach, which is about an hour's drive. Rum Point is a quiet little beach with a cute bar and restaurant. We lounged in hammocks all day and enjoyed a jerk chicken lunch on the beach. On our drive home we stopped at Over the Edge, a delicious and well-priced restaurant. I enjoyed a very large grilled lobster tail (for $25!) and my husband had the red snapper, which was perfectly cooked.
Grand Cayman is the perfect place to visit if you are looking for a relaxing getaway. You can definitely have some adventure if you like scuba diving and water sports. If you like strong sun rays and aren't afraid of frizzy hair days, take advantage of the Caymans during off-season when there are less crowds and more room for you to enjoy the beautiful beaches.
Learn more about Caribbean vacations, good for babymoons of your own, on Travelzoo.
-- Monica Caron is a deal expert at Travelzoo and based in New York. Travelzoo has more than 250 deal experts from around the world who rigorously research, evaluate and test thousands of deals to find those with true value.