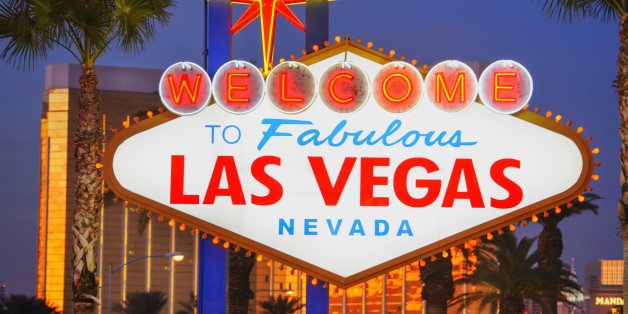 With so many shows to choose from, there's something for everyone in Las Vegas. To help you get started, we've narrowed down the list and shared our favorite options for Vegas visitors of all types.
Vegas for TMZ lovers: Madame Tussauds outside The Venetian
• Get up close and personal with your favorite celebs -- without having to worry about their bodyguards. Selfies with these wax figures are so close to the real thing, you'll have your Facebook friends fooled.
Vegas for the whole family: Blue Man Group at Monte Carlo Resort and Casino
• Kids don't have worry about following a plot during this dynamic, family-friendly show, and parents won't be bored to death. It's eye-popping and inventive enough to keep everyone's attention.
Vegas for tough guys and girls: Andrew Dice Clay at Hard Rock Hotel & Casino
• If you can laugh at the dirtiest of limericks and take a few hits yourself, this comedian's show is for you. You have to be a tough cookie to make it in the front rows, where Dice is likely to target you in his act.
Vegas for your mom: Donny & Marie Osmond at Flamingo Las Vegas
• If you're in town for a girls' weekend with your mom, treat her to tickets to see the famous siblings' variety show. You can't go wrong with a classy classic like this.
Vegas if you'd rather be on Broadway: "Million Dollar Quartet" at Harrah's Showroom
• Music and musical fans will love to see Elvis Presley, Johnny Cash, Jerry Lee Lewis and Carl Perkins sit down for a fictional jam session. It had us tapping our feet and singing along.
Vegas if you want to go full-out Vegas: "Frank Marino's Divas Las Vegas" at The Quad
• Robin Leach calls this "the world's best and more outrageous drag star spectacular." For its sequin and feather count alone, this show is as Vegas as it gets.
Vegas for reality talent show junkies: Terry Fator at Mirage Las Vegas
• Seven years after his winning run on America's Got Talent, Terry Fator is one of the most popular headliners on The Strip. Reality talent show junkies can see how their votes paid off, live on the stage.
Vegas for bachelors: "Fantasy" at Luxor
• Keep it fun but classy by skipping the strip clubs and visiting "Fantasy" instead. It was voted Best Topless Show in the Las Vegas Weekly's Best of Vegas 2014 poll.
Vegas for someone who's seen it all: "Le Rêve -- The Dream" at Wynn Las Vegas
• When you feel like you've already seen it all -- magicians, tribute artists, musicals and comedians -- this show's stunning aqua theater-in-the-round will make you say "wow."
Vegas for, well, anyone: Cirque du Soleil, 8 shows
• Cirque du Soleil is a must for Vegas visitors of all types and ages. There are eight shows on The Strip, including "The Beatles LOVE" (great for fans of the Fab Four) and "Zumanity" (great for couples out on a date night).
While hitting the town, use Local Deals for discounts on spa treatments, dining and more.
Anna Heinemann is a producer at Travelzoo and based in Chicago. Travelzoo has 250 deal experts from around the world who rigorously research, evaluate and test thousands of deals to find those with true value.