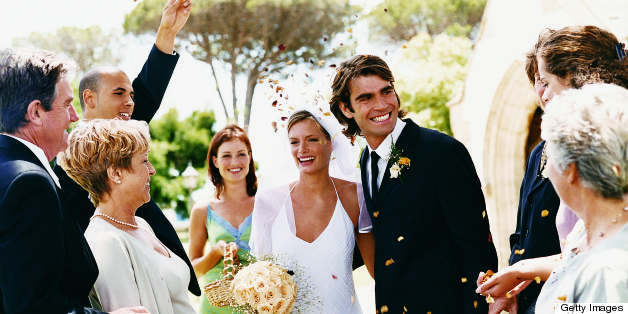 A wedding is expensive, but is taking out a loan to cover wedding expenses a viable option for brides and grooms? Maybe yes, maybe no. The answer is not simple.
According to the latest statistics, the estimated cost of a wedding in 2012 grew to more than $28,000. One way wedding couples tackle the problem of high wedding costs is to take out a wedding loan. But is that a wise wedding planning decision?
As with any loan, the ability to pay it back is a priority consideration. For brides and grooms uniting two healthy incomes, a reasonable expectation of paying back the loan without extraordinary sacrifice may exist. Under such circumstances, a wedding loan can be a convenience that makes sense. Taking out the loan would allow more immediate money to produce a dream wedding without delaying the nuptials.
On the other hand, if a couple is uniting two average incomes, the burden of paying back a large loan may bring unnecessary stress to a new marriage. Even worse would be a scenario in which newlyweds share a single income after marriage. A marriage loan is enticing, and amidst the excitement of wedding planning, it's easy to think only of the present. But for some couples, a wedding loan can be a devastating blow, the kind of blow that a new marriage may not survive.

Where the loan originates is also a deciding factor. It is no difficult feat to find a predatory lender who specializes in bad-credit loans for weddings or any other purpose. These lenders usually possess superior power-of-persuasion skills, and no one is more vulnerable than a bride who simply wants the wedding of her dreams. But taking out a high-interest personal loan to finance a wedding makes little sense for any bride and groom.
An exception to this rule would be the existence of money in reserve to repay the loan, such as an imminent inheritance, an insurance settlement, or another guaranteed windfall sum. If there is money on the horizon that can be earmarked for loan repayment, and there is no other way to obtain a loan, a bad-credit unsecured loan could work. The interest will no doubt be very expensive, but if it means not delaying a wedding, and getting the wedding underway sooner rather than later it is important to you, it can be a choice of last resort as long as the means for quickly paying it back exists.
Budgeting for a wedding is crucial in order to keep the costs in check, and a wedding budget is a great trial of how the household money will be handled after the wedding day. Learning to budget, and sticking to it, is one of life's most valuable lessons. For wedding couples it may mean choosing less of "this" to have more of "that" at the ceremony, reception or honeymoon. But in the end, adhering to the budget will be rewarding.
The burden of debt is detrimental to everything from a sense of self-worth to physical health to intimate relationships. No wedding couple wants to start a marriage with staggering debt. One way to help avoid that debt is to use budgeting software.
Software doesn't have to be specific to wedding planning for it to be useful to wedding couples. For instance, Quicken's "Mint" is a free online software program than can be adapted for personal use, wedding planning, or any other budget projects, and it's just one of many budgeting programs that can keep brides and grooms on the right track. Pricier budgeting software may provide more bells and whistles than free software, but for wedding couples, more is not always necessary.
Every wedding couple is unique, and every wedding couple's finances are just as individualized. The decision of whether or not to obtain a wedding loan to cover wedding costs is personal. But it's a personal decision that benefits from a thorough examination before any action is taken. Consider these questions:
• Can the loan be repaid without hardship?
• Is a more expensive wedding worth the burden of the debt?
• Is there a safeguard for repaying the loan in the event of a loss of income?
• Do both the bride and groom agree on how wedding and marriage finances should be handled?
• What desired, after-wedding item could be purchased with just the interest expense that will be forever lost to the payback of the loan?
If these questions are answered honestly, it will be easier to come to a decision about utilizing a wedding loan. For some, a loan will work. For others, taking out a wedding loan may be the first horrible decision a couple makes. It probably won't be the last terrible decision made in the course of the marriage, because all of us married folks make some doozies from time to time. But it is one that can set the stage -- good or bad -- for the future.
For the happiest wedding, it's a saving grace to make no debt decisions in haste. Easy financing is not always what it's cracked up to be, even for a dream wedding.