AfterEllen.com is Logo's site for lesbians and bisexual women in entertainment and media, which means we pride ourselves on knowing all kinds of Sapphic pop-culture facts. Each week we'll share some of the best tidbits on The Huffington Post in our new series, "Best Lesbian Week Ever."
Here's who and what was on our raging gay radar this week.
Glee gals do gay things: This week Dianna Agron hosted the GLAAD Awards in San Francisco, where she said she's kissed girls before and that it's "fun." Meanwhile, Lea Michele appeared on the first episode of The Glee Project, where she gushed over lesbian contestant Dani Shay, saying how striking she was and how she couldn't stop staring at her. Are they trying to outgay one another? We'd be OK with that.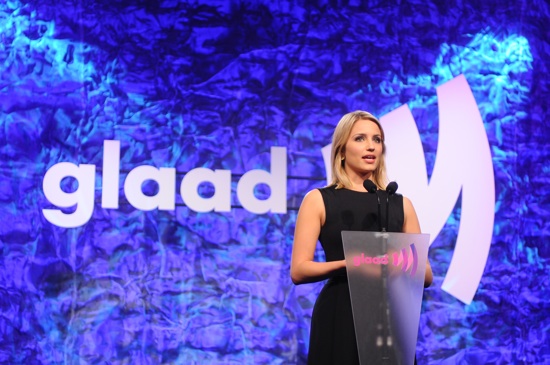 Photo from Getty
A Marie Antoinette movie worth watching: The American poster for Farewell My Queen came out this week and gave us a sneak peek at the lesbian love triangle at the center of the French film. Oh là là.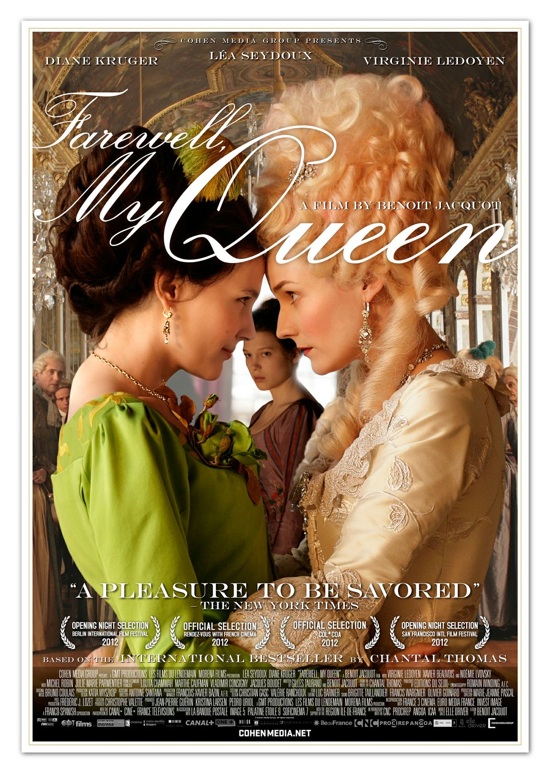 Brandi Carlile's Best Lesbian Week Ever: The out folk-country singer released her new album Bear Creek and a music video starring Kris Kristofferson. She's also on the cover of Paste magazine and never shies away from being open and proud about her sexuality in any interview. I'm willing to bet even Kris Kristofferson has a crush on Brandi and that that's why he's trying to get her drunk in this video.
Push it real good: Tiphany Adams dates men and women on the new Sundance Channel reality show, Push Girls. The show might be about women in wheelchairs, but Tiphany is the hottest dancer at West Hollywood's Truckstop. Her biggest problem? Dealing with a guy who broke her heart while she gets to know a new woman she's into. I like this so much better than A Shot at Love With Tila Tequila.
Lesbians win at literature: At this year's Lambda Literary Awards, Jeanne Cordova, Laurie Weeks, Kim Baldwin, Xenia Alexiou, Kenna White, and Debra Hyde were awarded for their respective memoirs or novels. The sad thing is you might not have heard of any of them if it weren't for these awards. They're probably a little hard to find at your local Barnes & Noble. Support your local feminist/LGBT bookstore!
Not just on Netflix: Now you can watch lesbian-themed films online through Wolfe Video's On Demand service. And it's a good thing, too, because I'm tired of having Netflix recommend the same three films to me. Don't they have a record of how many times I've watched The Incredibly True Adventures of Two Girls in Love?
Jamaican me lesbian: Two women got married in what is being referred to as the first lesbian wedding in Jamaica. Congrats to the brave women. I hope they didn't stick around for their honeymoon and give the anti-gay place their gay dollars.
Beth Ditto shares her wares: The out Gossip frontwoman has a line of cosmetics out with MAC, and in time for Pride! Just when you thought MAC couldn't get any gayer.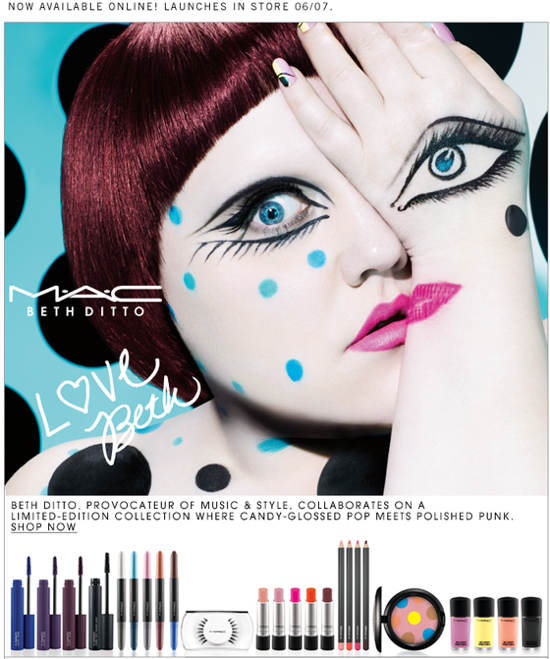 Photo from MAC
Something in the White House water: Another politician has a gay daughter. House Minority Whip Steny Hoyer is father to out lesbian Stefany Hoyer Hemmer. As far as we know, though, Meghan McCain is still straight.