AfterEllen.com is Logo's site for lesbians and bisexual women in entertainment and media, which means we pride ourselves on knowing all kinds of Sapphic pop-culture facts. Each week we'll share some of the best tidbits on The Huffington Post in our new series, "Best Lesbian Week Ever."
Here's who and what was on our raging gay radar this week.
SaShay away: Out contestant Dani Shay was booted off The Glee Project this week for not being obnoxious enough. Glee creator Ryan Murphy told the singer she is a singer but not a "performer" after she failed to look excited in a video for LMFAO's "Party Rock." But you'd be salty, too, if the rest of your castmates got to play Spin the Bottle while you recited your line from the couch.
American idol: Country singer Carrie Underwood voiced her support for marriage equality in an interview this week, meaning we can all stop hiding our crushes and copies of "Jesus Take the Wheel."
Joanie, are you queer?: Joan Jett took the stage with Against Me! to perform "Androgynous" in New York City. A more perfect song couldn't have been written for Joan and MTF singer Laura Jane Grace to sing. It's also a perfect song for me to try at karaoke next, so thanks for reminding me of its existence, Joan!
Look beyond the blonde: Portia de Rossi will make her return to television in NBC's The Munsters remake, Mockingbird Lane. She'll play Lily, the Munster matriarch, and she's going to have to either wear a wig or let her hair get straight-up skunky for the role. Considering she just got a new short 'do, it'll probably be the former.
Have you heard the one about the lesbian who sleeps with a man?: So there's a new movie for us all to have a love/hate relationship with, and it opens this weekend. Your Sister's Sister hits select theaters today, but something tells me director Lynn Shelton might become the new Lisa Cholodenko in a very polarizing way.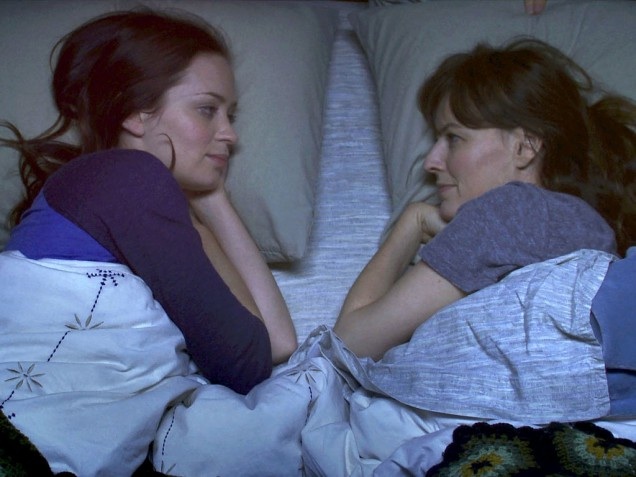 Still from Your Sister's Sister
A world without Elmo: Sesame Street writer (and "Elmo's World" creator) Judy Freudburg passed away this week at the age of 63. An out lesbian, the children's television and film writer was behind so many beloved stories and characters that, without her, kids of any gender and sexuality wouldn't have grown up as happy or even as well-adjusted. R.I.P., Judy. May you have inspired other lesbians who want to follow in your footsteps.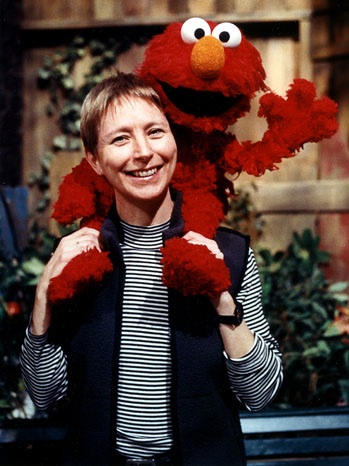 Photo from Sesame Street
I'm in love with a stripper: Sarah Silverman will take your "who would you want to dip in the lady pond" question and throw it right back at you. Instead of telling you who she might really want to french, she'll give you something ridiculous: "a faceless, slutty, big-boob stripper type." That a girl!
With Sir Paul McCartney's blessing: Brandi Carlile has announced she's engaged to partner Catherine Shepherd, whom she met while Catherine was working for the former Beatle's charity organization. Brandi told fans Paul gave the nod to Catherine's moving to the States and her working for Brandi's Looking Out Foundation. No word on whether he'll be attending the wedding or whether he's had enough of his own that he's no longer interested in attending anyone's anywhere.
Wear your Pride on your sleeve: I'll be out celebrating Portland Pride this weekend in a T-shirt from Brooklyn Industries. On my agenda: Gaycation, Hey Girl Hey, and Nina Sky performing live. And the parade, of course. Move your body, girl!