AfterEllen.com is Logo's site for lesbians and bisexual women in entertainment and media, which means we pride ourselves on knowing all kinds of Sapphic pop-culture facts. Each week we'll share some of the best tidbits on The Huffington Post in our new series, "Best Lesbian Week Ever."
Here's who and what was on our raging gay radar this week.
Jane Lynch is the ultimate power lesbian: As if she wasn't busy enough, the married stepmom/actress stopped by to mentor on The Glee Project this week and launched a special-interest fundraising group for lesbians with Billie Jean King. You have to slow down, Jane. You're making the rest of us look lazy.
Melanie Griffith goes gay for Sandy B: The actress will be on the new gay TV series DTLA, where she plays the ex-lover of Sandra Bernhard's character. We assume she was the bottom in that relationship.
Cat Cora has the best mugshot ever: In a brilliant stroke of luck, the out celebrity chef got to have a redo with her mugshot for a recent DUI charge, because they never took one to begin with. In other words, she got to go into hair and makeup so she looks camera-ready even when she's not on TV. Lindsay Lohan hasn't said, but I'm pretty sure she thinks that's cheating.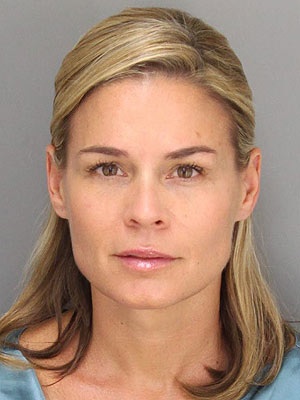 Photo from People
The belles of the ball: U.K. fashion magazine Tatler held a "lesbian ball," and some celesbians in attendance participated in a lip-sync video of LMFAO's "Sexy and I Know It." So in case you've ever wanted to see Fiona Shaw dancing to this song, it's your lucky day.
Black Swan is still being talked about: Forty people in the U.K. complained about lesbian sex in the 2011 film. That's nothing compared with how many people went to see the movie explicitly for that same scene.
Jennifer Lopez leaves Idol for lesbians: The actress/singer/entrepreneur is creating a new series with two gay female characters for ABC Family. She also left her post as an American Idol judge, which means she clearly thinks lesbians are the next big thing. Finally.
She's "The Real B Word": Season 3 of The Real L Word kicked off last night with regular cast member Romi now dating men. But instead of being upset that she's bisexual, it seemed the other girls on the show just thought she was an attention whore equal opportunist.