AfterEllen.com is Logo's site for lesbians and bisexual women in entertainment and media, which means we pride ourselves on knowing all kinds of Sapphic pop-culture facts. Each week we share some of the best tidbits on The Huffington Post in our series "Best Lesbian Week Ever."
Here's who and what was on our raging gay radar this week.
When gay goes goth: We got our look and a premiere date for Mockingbird Lane starring Portia de Rossi. The remake of The Munsters will debut Oct. 26 on NBC. Portia pulls of that Lily Munster look effortlessly.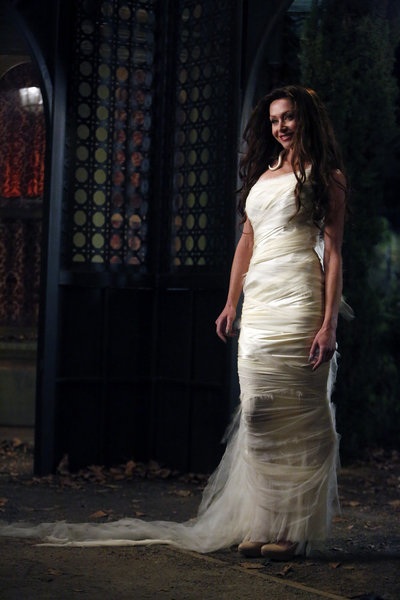 Photo from NBC
Bisexual bipartisan: Lena Dunham supports Obama and his backing of gay marriage, citing the fact that she wants to dance at her sister's lesbian wedding someday. Meanwhile Lindsay Lohan is apparently voting for Romney and against her future wedding to Samantha Ronson when they reconcile, as so many exes do.
Sister, can you spare a buck?: If you want to do some good in the name of lesbianism, consider donating to this great project that will help lesbian and bisexual women in Sri Lanka learn basic vocational skills and better their lives. Just think of it as one less overpriced drink at The Abbey.
Shore thing: Rachel Maddow went on The Ellen DeGeneres Show this week and discussed her love of Jersey Shore. Could she be any more perfect?
No "SOS" needed: Out Voice contestant De'Borah Garner won her battle round on this week's episode by making The Police's "Message in a Bottle" sound soulful and sexy. The win was made even more amazing by the fact she wasn't familiar with the song before coach Christina Aguilera assigned it to her.
This isn't Goldfinger: Out SNL performer Kate McKinnon took on Ellen DeGeneres and Jodie Foster in this spoof about lesser-known Bond girls. Now those are some Bond films I would have watched.
Soap dish: Former Guiding Light star Mauren Garrett came out as a lesbian with a partner of 20 years. She told Out that she asked for a lesbian storyline on the soap but was denied, only to see it happen in its last year on air and on the network's other soap, Bold and the Beautiful. The real question is whether she's ever dated Joanna Johnson. That would be so soapy and scandalous!