As Crosby, Stills, Nash and Young once sang on their 1970 "Déjà Vu" album, Clay, the Dog and I decide to "carry on"... and to find every leashless dog beach between LA and the Mexican border.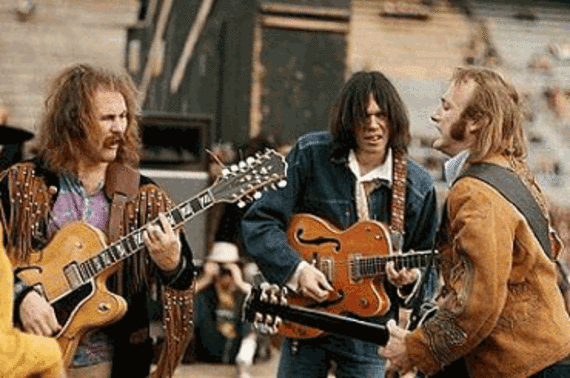 One of the old school San Onofre surfers has told us to hit Del Mar Dog Beach next. So we do. We hop back on the 5 past San Clemente and drive past Camp Pendleton and Oceanside. As soon as we can, we get back on the coastal road, which for some odd reason is called the 101 down here, and we cruise through the now San Diego County beach towns of Carlsbad, Leucadia and Encinitas. It's still a perfectly clear, balmy California winter's day as we pass the crashing waves at Cardiff By the Sea, when just south of Solana Beach, north of 29th Street, we see the sign, "Del Mar Beach, Dog Rules and Regulations."
We've hit pay dirt again, at least today, when it's off season at "North Beach", from the "Day after Labor Day until June 15." So after I feed the hungry roadside meters (no credit cards here), Clay runs past the blue port-o-potties onto the beach. There are maybe 25 other dog owners and fifteen dogs. Some of the owners are coupled as husbands, wives or friends, and they're collectively tossing wet tennis balls or retrievable driftwood into the ocean. Some dogs, like Clay, don't want to get more than their paws wets, but hey, "To each his own. It's all unknown. If dogs run free..." (Mr. Dylan again)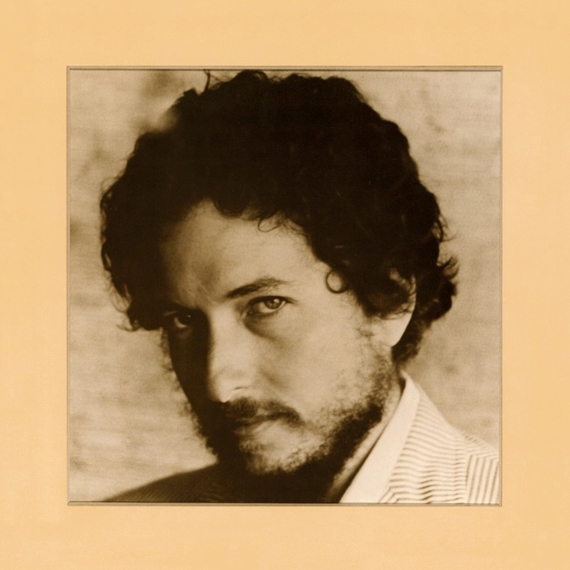 It's Day 2 now.
Saving the best for last, we decide to go to Coronado first. We glide over the graceful suspension bridge from the San Diego mainland to the island, and head to the north end of the beach, right near the naval station.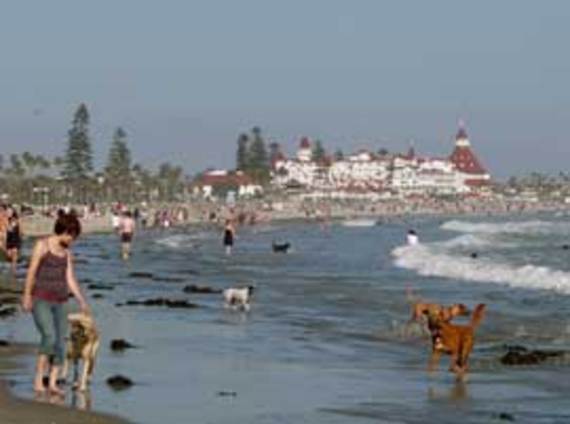 And there it is... barely... Coronado's Dog Beach, a long stone's throw from the gorgeous Hotel del Coronado. There's a perfectly manicured green shock of lawn in front of the sand where the paved beach road dead ends, and although the parking's free, it's pretty clear that you'd better keep ol' Fido off the lawn. In fact, there's a lot protective signage here, giving more the impression of "don't" than "do", but hell, it's still an off-leash dog beach. Clay does his peremptory investigation of the rather well-behaved beach, but barks impatiently, "Let's get to the real deal, man!"
"Ok, dog dude, last stop. Let's go." We eagerly head back over the Coronado bridge, and following David's map again, we rumble past laid back Pacific and Mission Beaches, and just before high noon, we hit the granddaddy of all southern California off-leash dog beaches, Ocean Beach. Just north of San Diego proper, at the western end of the 8 Freeway, the Granddaddy is open twenty four seven, year round. The town of Ocean Beach itself looks and feels like the Venice Beach of San Diego County. It's funky. You have to drive past all the dog grooming shops and veterinary storefronts along day glo-painted Voltaire, but at the end of the street, you're finally there. You're at the original California dog beach. The granddaddy of then all. Just like Dylan crooned. "Just do your thing, you'll be king. If dogs run free..."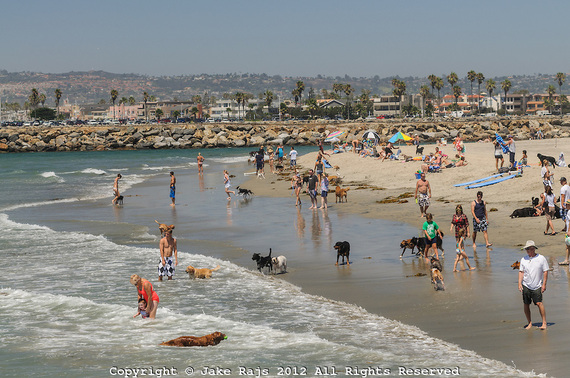 And Clay does. It's a big curved "swooping plain", but it's made of sand. This time there are maybe a hundred dog owners, a more than a hundred dogs. Some of the owners are obviously regulars, they're talking and laughing together in canine camaraderie. In fact, it's one big canine beach party: poodles, labs, pit bulls, even one huge, regal greyhound who Clay tries to mount unceremoniously. He's never done anything like this before, he's spayed, but I think he's just overwhelmed with pure... joy. The greyhound sets him straight with a warning snap or two, but then Clay takes off in a blind sprint down the beach. He zigs and zags, and looking like a canine combination of Gayle Sayers and Mikhail Baryshnikov, he twists and turns amongst the motley beachfront menagerie, throwing glorious sprays of white sand behind him.
As I strain my eyes into the midday sun, trying to track him amidst the interconnected canine crowd, it seems to me that all four of his feet are miraculously suspended in the air, in fact, in time, above the sand, in a sequence of freedom-loving snapshots straight from Olympic dog heaven. Then for a moment, I lose him altogether in the blinding sun and in the sprawl of sandy dogs, and for that moment, I truly think that both Clay and I finally "grok" the true meaning of Dylan's enigmatic song. "It can cure the soul. It can make it whole. If dogs run free..."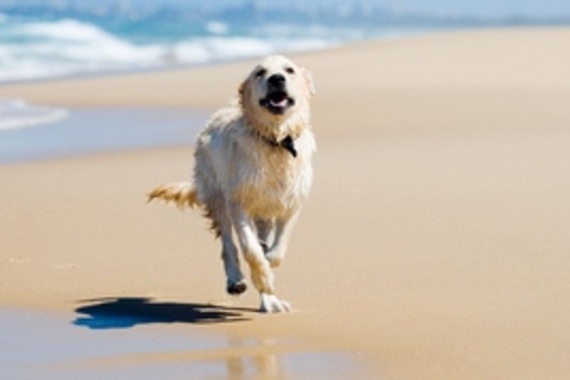 Then... quickly... the magic... is over... and we have to head, sadly, back to LA. "Sorry, ol' boy, all good things come to an end." Clay looks at me mournfully, with his beautiful brown and soulful eyes, and nods in silence. What more can he say? As we drive north into the early setting sun over the eternal western Pacific, we feel, shall we say, Mr. Dylan, sort of, for lack of a better word, "reborn".
It's been, to say the least, a refreshing two day trip. We've done some geographical discovery, some slick avoidance of police ticketing and best of all, been able to both bark and sing, "To each his own, it's all unknown. If dogs run free."
Clay highly recommends the trip.
--------------------------------------------------------------
GUIDEBOOK/SIDEBAR: "Where Dogs Run Free"
The Best Way to Get There: Get in your car and drive south. Depending on where you live in the LA area, either take the 110 south to the 405, or take the 405 from the Westside. If you want to take the scenic route, get off the 405 at Lakewood (Route 19), head west until it runs into PCH and drive into Seal Beach. From there, head south, young men, women and dogs. Otherwise, if your dog's impatient, take the 405 right to the Huntington Beach exit.
Attractions: The Best Dog Beaches in Southern California from North to South
1 - Ventura County Beaches: If you don't want to drive south into the beautiful OC, you can drive north, right across the LA-Ventura County line. According to the Malibu PD, any beach is a dog beach in Ventura. Clay and I went to the Yerba Buena Road Beach and he was not harassed being off leash. Or try point Magoo. You can even go to Leo Carrillo State Beach, just inside the LA County line, but young Fido will have to stay on a leash.
2- Long Beach: Rosie' Dog Beach. The Long Beach off-leash Dog Zone is a 3-acre, non-fenced site in Belmont Shore that was started by Justin Rudd - founder/director of Haute Dogs. Daily hours are 6 a.m. to 8 p.m. Between Argonne and Roycroft Avenues in Belmont Shore. NOTE: Only one dog per adult. This is the only legal, off-leash dog beach in LA County. Clay and I didn't go there.
3- Huntington Dog Beach (HDB): "One mile of dog heaven where dogs play and frolic with the freedom they so richly deserve." Open 5 a.m. to 8 p.m. Daily. Dogs may be off-leash in the water and on the sand. Between Seapoint and Goldenwest along PCH. Metered parking. They take credit cards! $1.60/hour. Voicemail: 714-841-8644. www.dogbeach.org
4- San Onofre State Park: The "unofficial" dog beach. It's so far off the beaten path, no one seems to patrol the place. The old school surfers say, "Dogs? Whatever, dude?" Take the 5 Freeway to the San Onofre exit and wind down to the beach. Due to the closing of the nuclear power plant, Beach Club Road is closed. But take this alternative route to the old hippie and surfer beach. You won't be sorry: http://www.mccscp.com/wp-content/uploads/2014/06/San-Onofre-Beach-Alternate-Entrance.pdf)
Parking is free.
5- Del Mar Dog Beach: The second real off-leash dog beach heading south into the OC. North of 29th Street (North Beach) along the 101 (coastal highway), just south of Solana Beach. But just between "the day after Labor Day to June 15." Parking is metered along the 101, and it's often crowded. But it's a beauteous ocean cove and your dog is guaranteed to dig it.
6- Coronado Dog Beach: On trendy and gentrified Coronado Island, at the most northern end of the beach next to the Naval Air Station. It's not as free-wheelin' as Ocean or even Huntington, but hey, after you bring Lucky down to the beach on a leash, you can let him go... with the Hotel del Coronado in the background. On Ocean Blvd, near Sunset Park. Free parking.
7- Ocean Beach Dog Beach: The granddaddy of all off-leash dog beaches. Open 24 hours, year round. The town feels like the Venice Beach of San Diego County, but hey, they let "dogs run free!" Just north of San Diego, take the 8 Freeway all the way west to Ocean Beach. Turn left on Voltaire, past the dog grooming shops and vets and you'll be in dog heaven.
8- Rumored Dog Beaches near San Diego that Clay and I didn't see: Shelter Island Dog Beach, just south of Ocean Beach Dog Beach and west of Coronado Island. And Fiesta Island-Mission Bay Dog Beach: a little tricky to find amongst all the islets and estuaries of the Sea World complex. But just head to Sea World and ask. Supposedly open 'til 10.
To Learn More:
Check out these two generous websites:
1- http://www.hautedogs.org/offleash.html
Justin Rudds's "Haute Dogs Southern California's Off-Leash Areas"
Sign up for the Newsletter.
2- http://www.sandiego.org/articles/pets/california-dog-beaches-parks-recreation-areas-in-san-diego.aspx
San Diego Dog Beaches and Off Leash Dog Parks and Off Leash Dog Parks
Where to Stay and Eat: C'mon, you don't need me to hunt around and find what suits your taste. Countless hotels, motels, restaurants and diners. It's the OC, babies! We found Jon's Fish Market at 34665 Golden Lantern in Dana Point. CA 92629. We liked it because they sold fresh fish and you could eat there too. It might have been a slow day, but they had no problem with Clay eating outside. Tel: 949-496-2807
Finally, if you and your pooch take advantage of these fantastic and liberating opportunities, please do what all the beaches tell you to do: "Keep the beaches clean."
--------------------------------
Please visit Trules' personal blog, "trules rules" at:
www.erictrules.com/blog
And his "e-travels with e. trules" blog at:
www.etravelswithetrules.com/blog