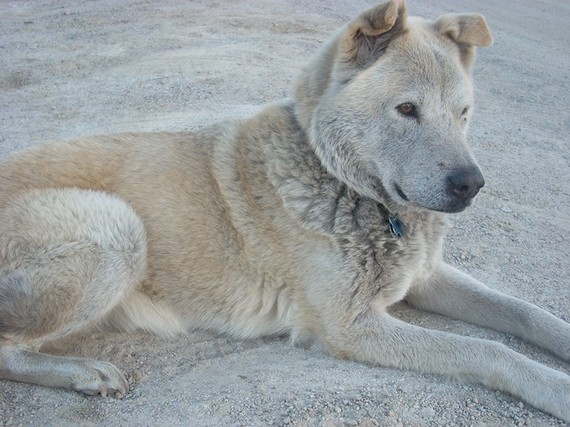 "If dogs run free, why not me? Across the swooping plain...?"
I can still hear Bob Dylan's freedom-loving lyrics from his 1970 New Morning album, in my mind any time I see a white, sprawling beach under the ubiquitously blue, mostly cloudless LA sky, in eternally sunny Southern California. The problem has always been... "exactly where?" Sure, there's one beach in all of LA County -- actually in Long Beach, Rosie's Dog Beach -- where dogs can actually run "free", that is off-leash, which is, of course... what all freedom-loving Angeleno dogs hanker to do, right? And there's another one where they can run "un-free", on a leash, at Leo Carrillo State Beach in Malibu, but what dog in his right mind wants to do that? Not run on beach? On a leash? C'mon? That's neither canine or humane! So... what's the alternative, you ask plaintively? Well, read on, all you freedom-loving owners of all your freedom-loving LA dawgs.
You see, my dog, Clay, used to love to roam. Anywhere and everywhere. Mountain trails, squirrel-harboring parks, under or over fences and especially along the sandy shorelines of white, sprawling beaches. He was always asking me that same freedom-begging Dylan question ever since I found him, abandoned, in Elysian Park in 1998. Or at least as soon as he was old enough to mingle his young puppy fur with the big boys in the second biggest park in Los Angeles. My main man, Clay, was a beautiful, gray-white husky-shepherd-Akida mutt. He weighed almost 70 pounds, looked like a wolf and ran like the wind.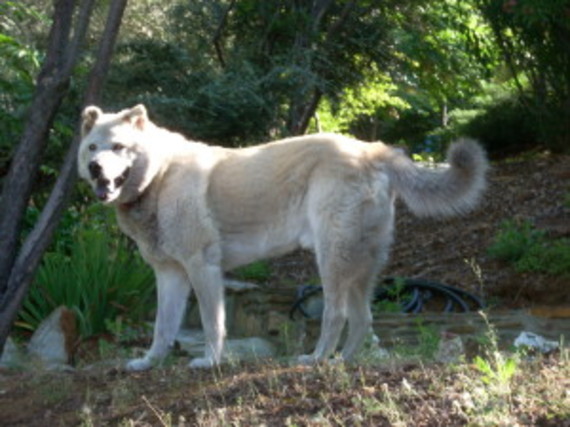 So it's a bright blue, California-dreamin' winter's day. I've packed Clay into my white '94 Corolla station wagon, and we head south on the 110 from downtown LA near Dodger Stadium towards the Orange Curtain. Fuck Long Beach. We want more! You see, Clay doesn't dig tepid dog parks, mingling with all the other gentrified huskies, terriers and Danes. He prefers wide-open spaces. He's a fun-loving, on-the-road, rebellious kinda dog dude. He's twice been ticketed at Point Dume, up along the Malibu coast, at $150 a pop, so he's overjoyed when I tell him, "We're going on a road trip, dawg, to find all the public off-leash beaches between LA County and Tijuana."
We take the 405 south to Lakewood (Route 19) which merges into PCH, and in 10 more minutes, we're at our first Orange County beach town, Seal Beach. It's immaculate, full of toney houses and perfect gardens. We're both skeptical as we drive along the quiet beachfront roads to find a residential neighborhood to park. We get out of the car and I take Clay's red, tooth-bitten leash and a doggie bag as a precaution. We meander a short 200 yards and stop right at the beach front. We look. No signs. I say, "Go, Clay dude, have a good time." Clay springs onto the perfectly manicured beach... and runs. "If dogs run free, why not me? Across the swamp of time?" He's kicking up sand, rolling in it, having a doggone great time... before I suddenly notice all the perfectly-placed signs screaming, "No dogs on the beach." Shit!
Then, out of the blue, as if by radar, a black and white police truck suddenly zeroes in on us like a cruise missile. It zooms towards us. Shit! No, Clay hasn't. I fumble helplessly with the leash as the truck stops in front of us and the stolidly-built police officer gets out of her vehicle.
"License and registration."
"I'm sorry, Officer. I didn't see the signs."
"They're all over the parking lot. No dogs!"
"We didn't park in the parking lot. Sorry. We're leaving, don't worry. Right now."
I feel appropriately ridiculous and guilty, and she nods, mercifully, and walks back to her truck. No ticket. I push my luck.
"By the way, you wouldn't know any off-leash dog beaches in Orange County, would you?"
"Try Huntington," she says matter of factly.
"Where's that?"
"Straight ahead, about 10, 15 miles."
"Thanks."
We're excited. It actually exists. A leashless dog beach in the OC. Dog Mecca. The Emerald City. Clay can't believe his no longer perky ears.
We carry on, south along PCH, further into the OC. Then... out of the perfect California blue -- we see it: "HDB": Huntington Dog Beach. It's true. Between Seapoint (north) and Goldenwest (south).
The happy sign reads, "One mile of dog heaven where dogs play and frolic with the freedom they so richly deserve."
After 25 years in the California desert, we've finally arrived: the Promise Land.
We park and get out of the car. The meters take credit cards, $1.60 for an hour. A leash is required from the parking lot down to the beach, but then, it's every dog for him or herself. Clay sprints onto the beach, running circles around me. "If dogs run free, why not we? Across the swooping plain?" We spend the full buck sixty along the rugged beach. It's full of seaweed, not nearly as clean and manicured as Seal Beach or Point Dume, but hey, it's ours. And all the other mid-week dog lovers and hounds who have found the holy land of sand, salt, and sea spray.
We make a decision. Rather than just stay here and enjoy the day, we decide to carry on. If there's one, there must be more, right? We're going to stick to the plan: every leashless dog beach in Southern California. Yeah!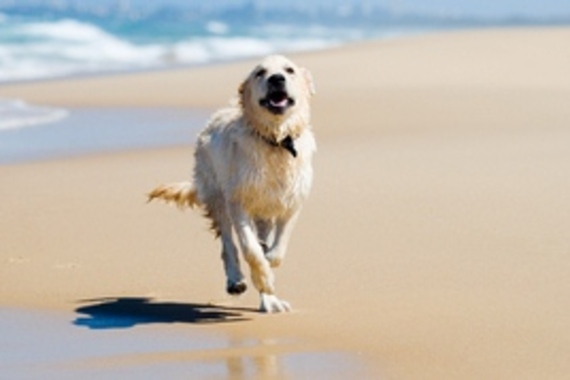 PART 2, Heading South...
-----------------------------
Please visit Trules' personal blog, "trules rules" at:
www.erictrules.com/blog
And his "e-travels with e. trules" blog at:
www.etravelswithetrules.com/blog