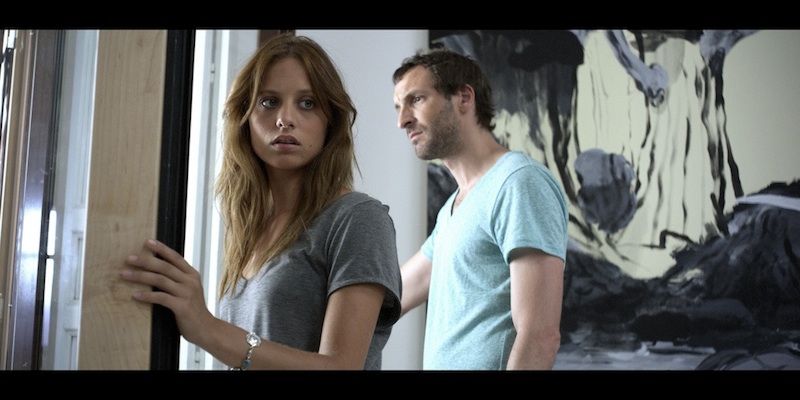 By: Noah Nelson
One of my favorite films at this year's AFI Fest was Extraterrestrial (see our review), a farcical romantic comedy with a science fiction twist from Spanish writer-director Nacho Vigalondo. The film, along with the director's cult hit debut Timecrimes, has established Vigalondo as the creator of very smart, very human genre films which use a geeky cinematic idiom to smash language barriers and reveal the romantic soul of the modern nerd.
Vigalondo himself embodies these twin polarities. At the festival he was known for his energy and wit during Q&A sessions, and for the gusto with which he tackled the karaoke at an after-hours party. Question and answer sessions can be dreadful things, but Vigalondo brought a nerdy verve to one session when he broke out the stash of graphic novels he had snuck off to buy during the screening. Like Quentin Tarantino, he's the kind of filmmaker who is as entertaining to watch as the films he makes.
***
Noah Nelson: You manage to meld such humanity with your nerd interests -- time travel and alien incursions. How does that alchemy come about?
Nacho Vigalondo: These kinds of questions are very lovely to hear, because they include a flattering and precise description of your work, but they are pretty difficult to answer, because from the point of view of the writer/director it´s not so easy to depict a process that it´s not so self conscious.  I just waned to tell something that I felt was personal and sincere, but at the same time I wanted it to be enjoyable and surprising to anyone. That's it. If the result feels like a post-nerd comedy it could be because I'm a post-nerd (I hope this horrible "post-nerd" term never gets used again).
NN: When did you first get into science fiction and comic books?
NV: I´ve been into real science fiction since my college years. When I say real, I mean the literature. Don't get me wrong, but Sci-Fi never shined on the movies as much as in the books. If you are looking for Sci-Fi movie masterpieces, you may find there are not that many, not as with horror, crime, drama or comedy. I opened my eyes when I started reading Philip K. Dick. Some of my short films are an explicit tribute to him. You can find my Code 7 trilogy with English subtitles on YouTube.
With comic books, it is different. I've been into comic books all my life.
NN: What freedoms does making genre films give you? Do you find there are limitations that you might not face making a "regular" comedy or drama?
NV: For me genre devices like time travel in my first film, or an alien invasion in this one, are tools that help you get to the point faster, without giving too much explanation. Like in pop music. Everyone knows the rules already, so you can reach faster the core of the thing. For example, in Timecrimes the main character faces himself in 15 minutes, because of time travel. If you try to reach this profound situation through a drama you would end up doing 7 years in Tibet or Dances with Wolves.
NN: You managed to make these really rich science fiction films at a small scale, what aspirations for big budget Hollywood films do you have, if any?
NV: I'm trying both, just in case. My next projects are a studio-budgeted script I wrote with the awesome Mark Millar (creator of Wanted and Kick Ass) called Supercrooks, about a supervillain heist, and a techno-thriller called Windows, kind of "Rear Window" for the Internet era. But in case these big films take too much time, [I'm] sure I´ll make another little post-nerd fantasy.
***
Extraterrestrial should see wider release in the United States next year.
Special thanks to AFI Fest 2011 Presented by Audi for the chance to see the film and speak with the director.
Originally published on Turnstylenews.com, a digital information service surfacing emerging stories in news, entertainment, art and culture; powered by award-winning journalists.
Go to Turnstylenews.com | Follow us on Twitter | Like us on Facebook | Follow us on Tumblr